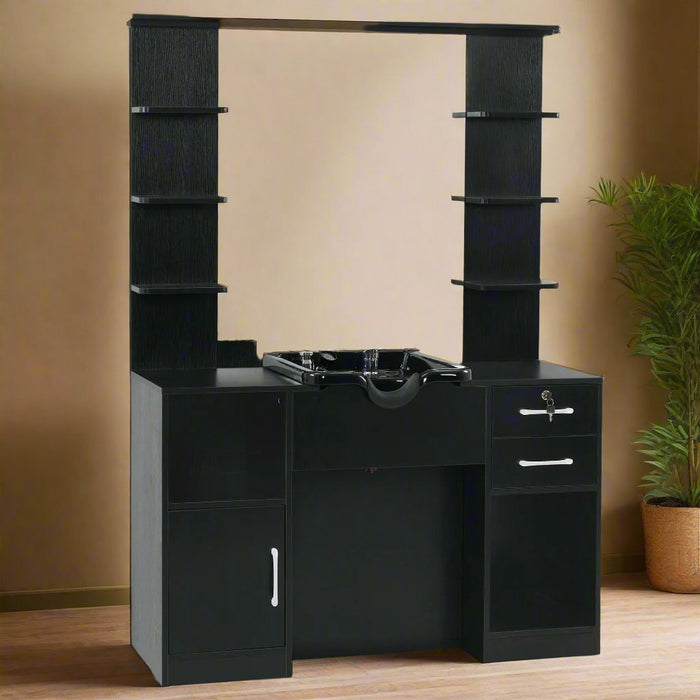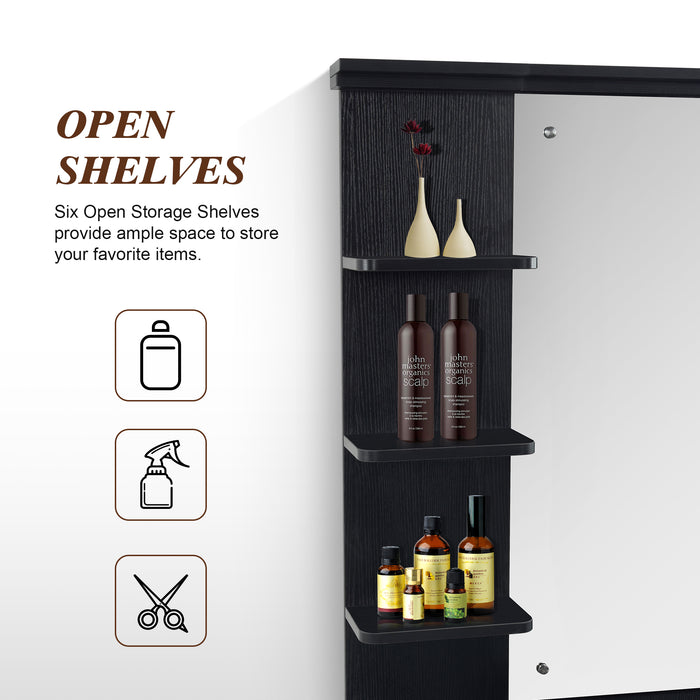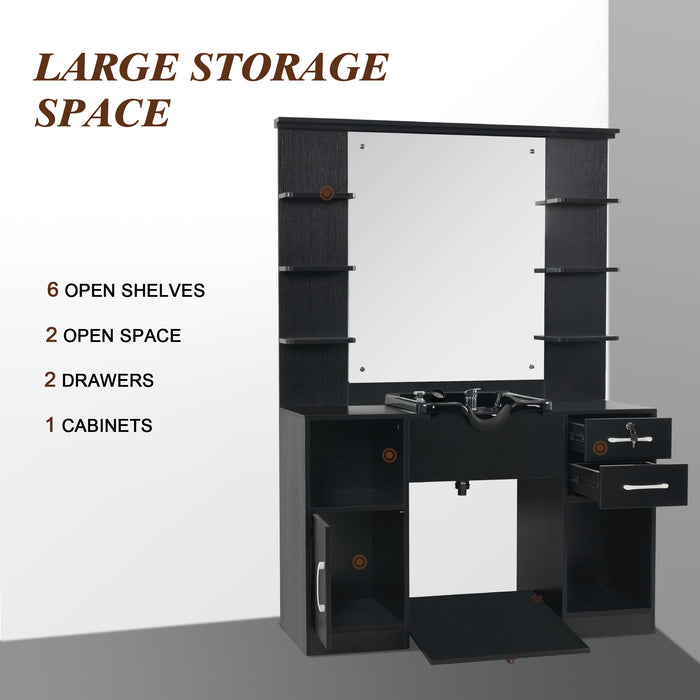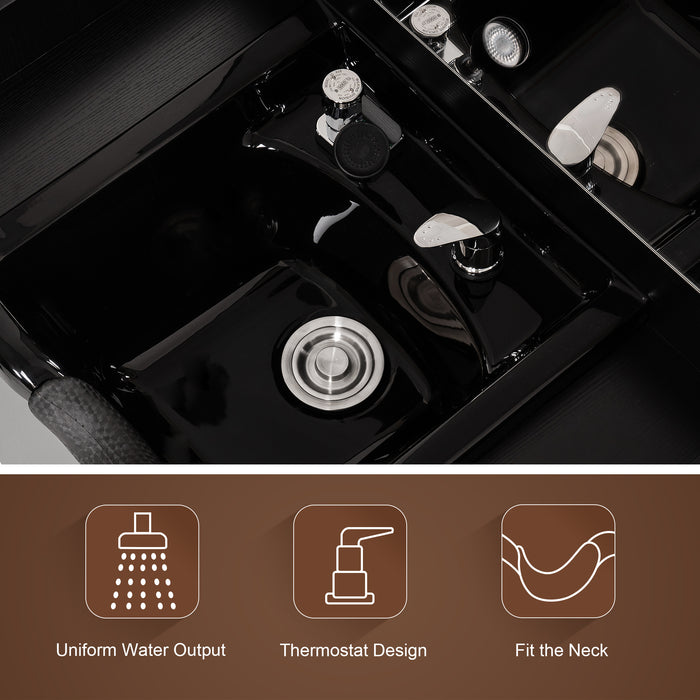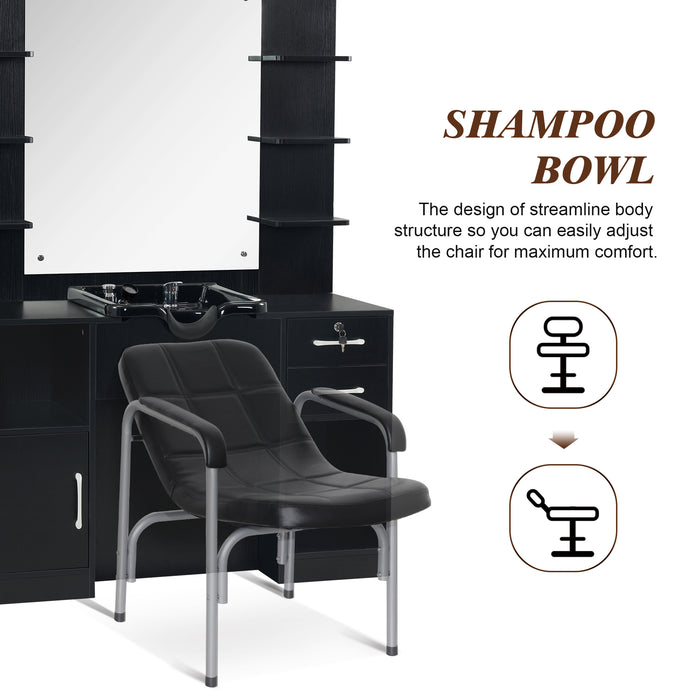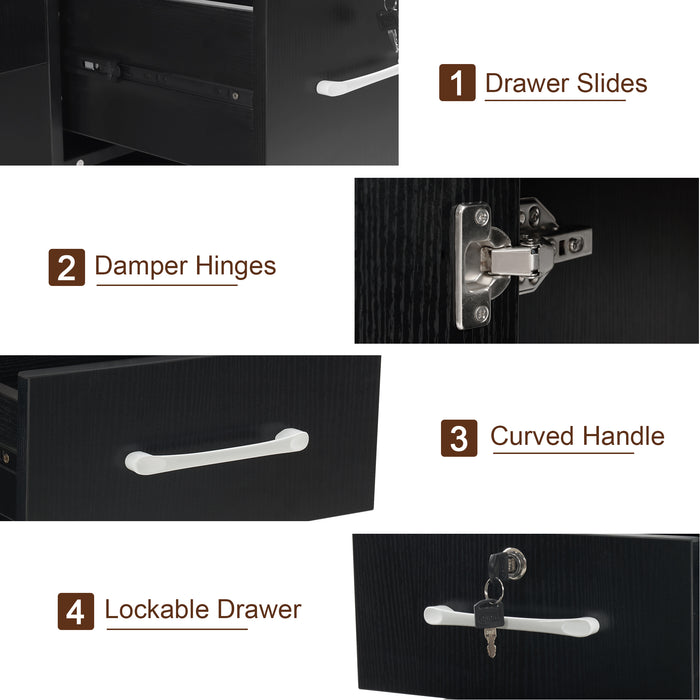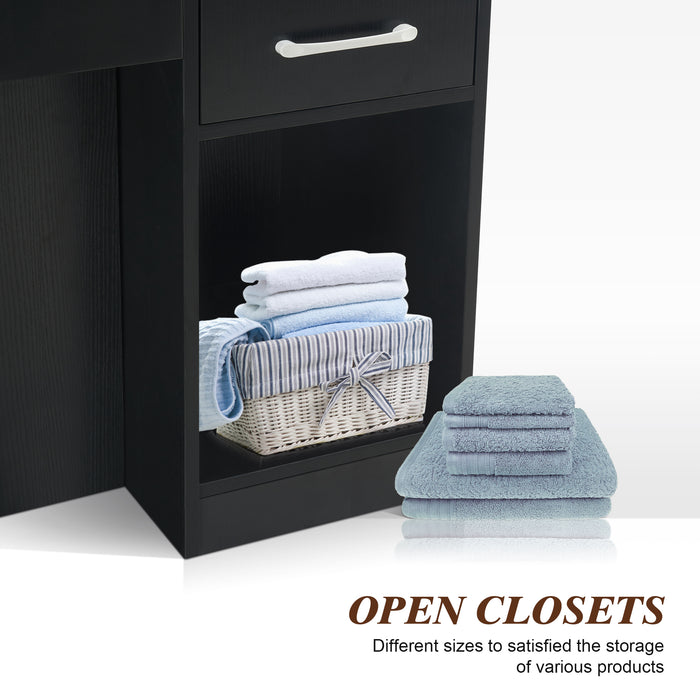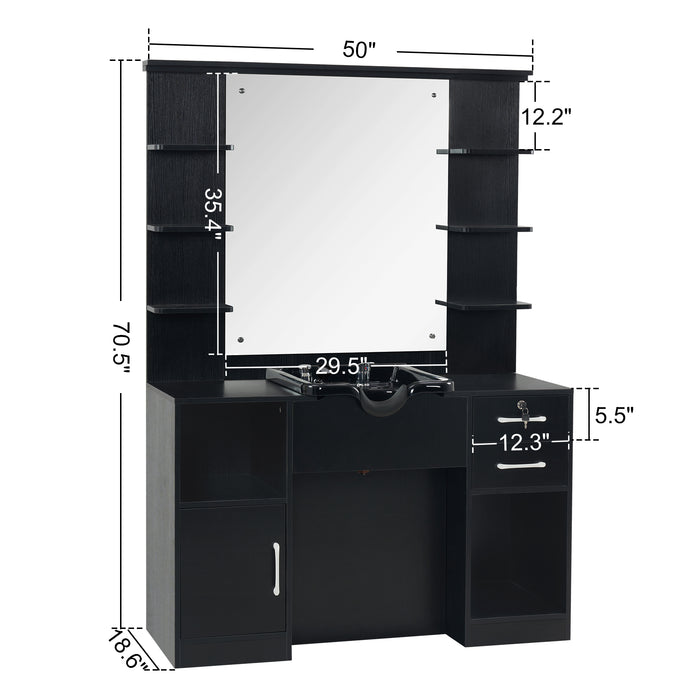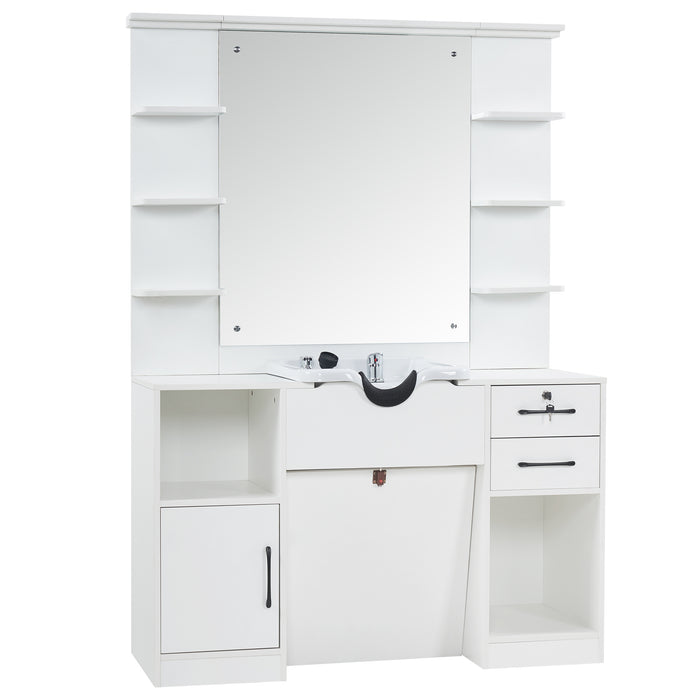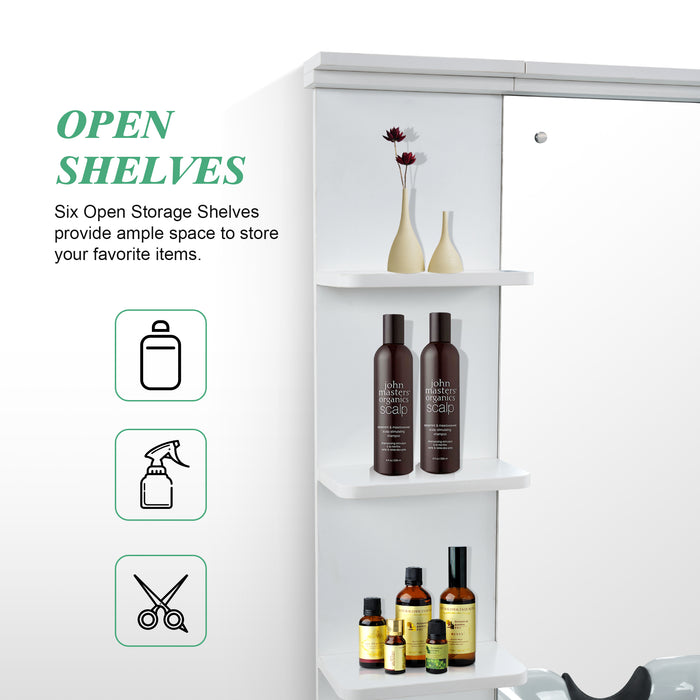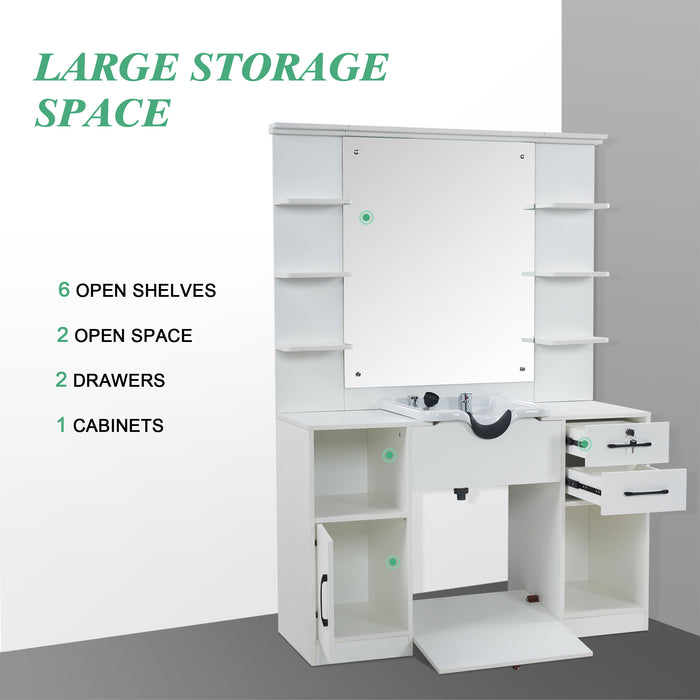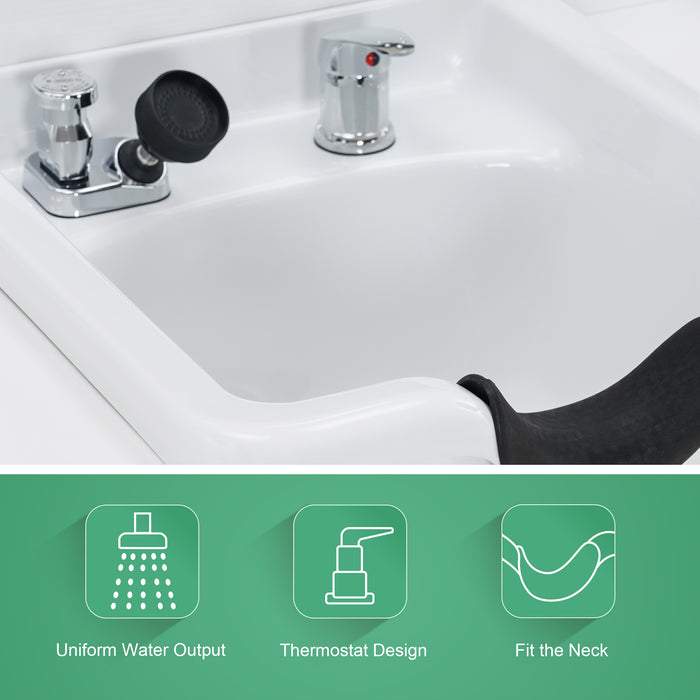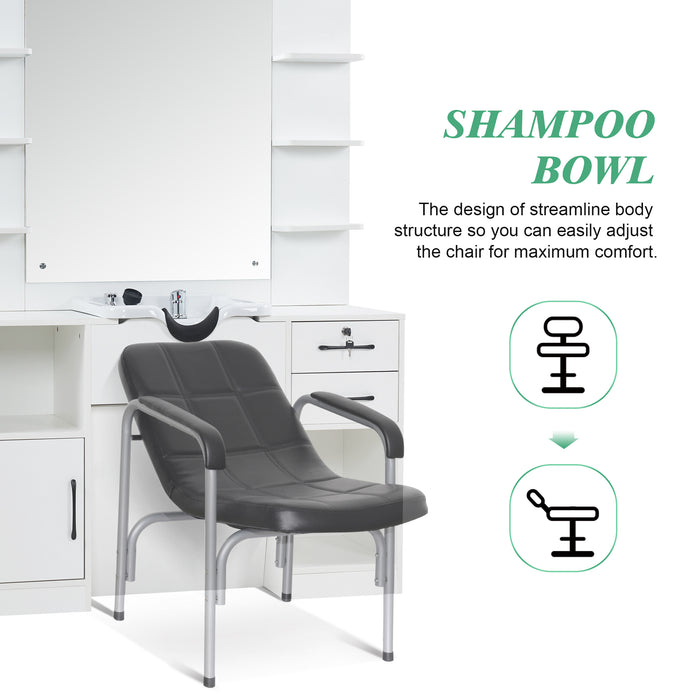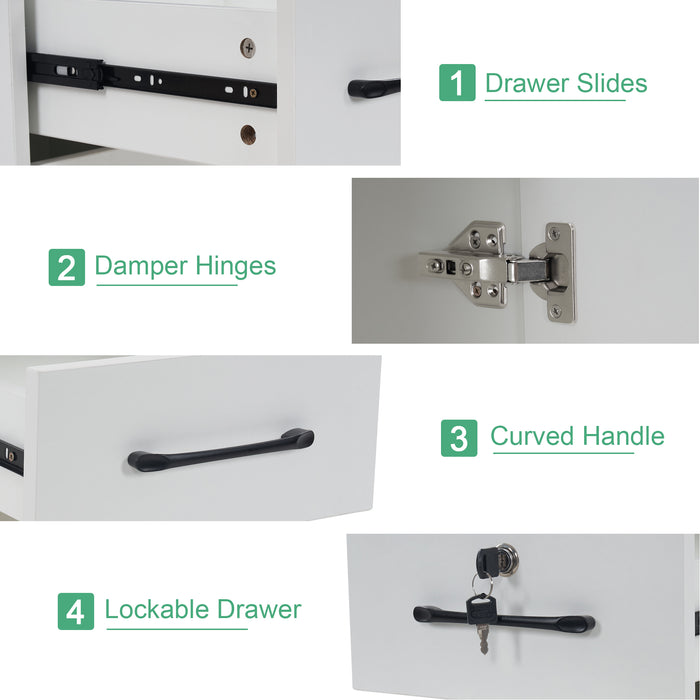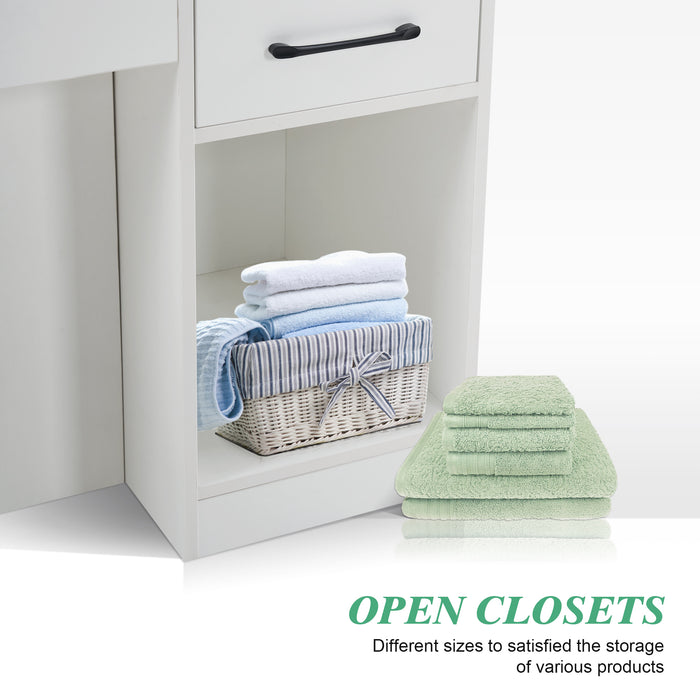 BarberPub Wall Mount Storage Station with Mirror Shampoo Bowl High-end Styling Beauty Salon Furniture Set 3145
Item Description

This wall-mounted hair styling station is a multi-functional workstation with ample space. It is designed in the light luxury and simple style of Europe. The practical salon station is a perfect solution for any salon studio. This station is made of particle board, which increases brightness to the surface and makes it look shiny. Different storage space keeps your barbershop clean and organized. Simple structure and high quality material makes your salon shop more professional.  
Item Features
Multiple Function: The shampoo station comes with a Shampoo bowl, Half body mirror, 6 Shelves, 2 Open Closets and 1 Storage Cabinets, 2 Drawers. The spacious storage space is enough for keeping salon tools. It allows various use to match different shampoo chairs or barber chairs in your barbershop. This shampoo backwash station can not only wash hair, but also can be used as a mirror table for haircuts. 
Durability Material: Upgraded High-quality fiberglass + High-quality PVC Shampoo bowl + UPC standard sprinklers as picture shows. The upgraded thermostatic shampoo bowl is more sturdy and self-adjusting heat and cold, bring more comfortable experience for customers. In addition, the shampoo bowl can be fixed together with the board behind the station, which increases the stability of the bowl. You only need to adjust the angle of the chair to wash the customer's hair, that's very convenient.
Sturdy & Easy Clean: This station is made of particle board, which increases the smoothness of the surface. At the same time, it is spacious and utility, taking into account practicality and comfort. And it is also easy to clean during daily use, you can wipe the stains with a hot towel or alcohol pad. The modern look brings a different feel to the studio.
Kindly Reminder: Item comes with FOUR packages and assembly is required. Please contact us if you received incomplete items. Sometimes UPS delivers packages on separate days. We will pack the item with buffer in the boxes to protect it from shipping damages. If there is any quality problem or damage, please contact us and we offer replacements service.
Item Specifications
Type:6154-3145
Color:Black/White
Material: Particle Board (Melamine Faced Board)/Fiber glass Reinforced Plastic Frame/High Class PVC Bowl/PVC Leather
Overall Size : 50*18.6*70.5
Package Quantity: 4
Gross/Net Weight: 190/173 lbs
Assembly Required : Yes
Buyer Reading
Please be sure to inspect your goods at time of delivery for any possible shipping damages, if there is any damage after delivery or you did not receive your complete order, please tell us immediately and offer us pictures of the damaged parts, we will solve the problem as soon as possible.
Please check the dimensions of the Salon Station before purchase.
Please be sure to provide us with the correct address for shipping including a valid phone number for contact.
About BarberPub
After nearly ten years of business progress and brand upgrade, BarberPub has been widely recognized by customers. Our goal is to bring customers cost-effective and high-value products with satisfactory customer service. In order to better supplying our U.S.A customers, we have distribution centers.