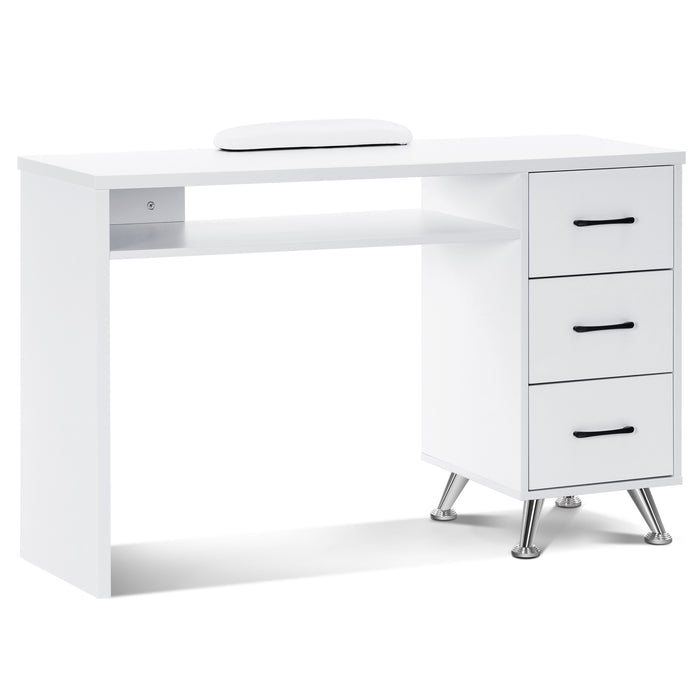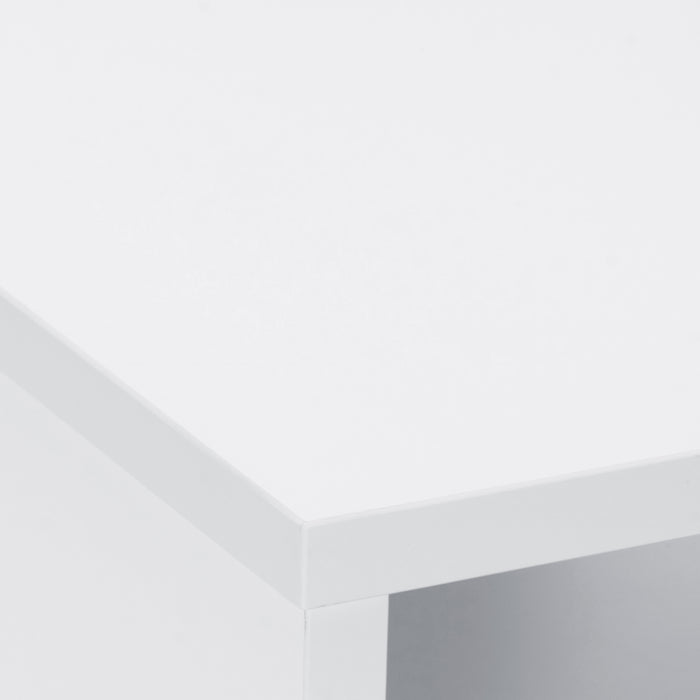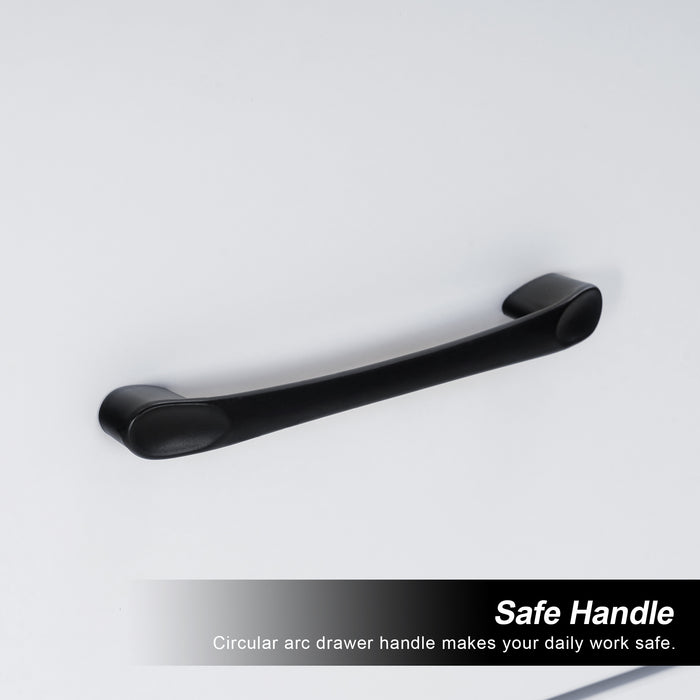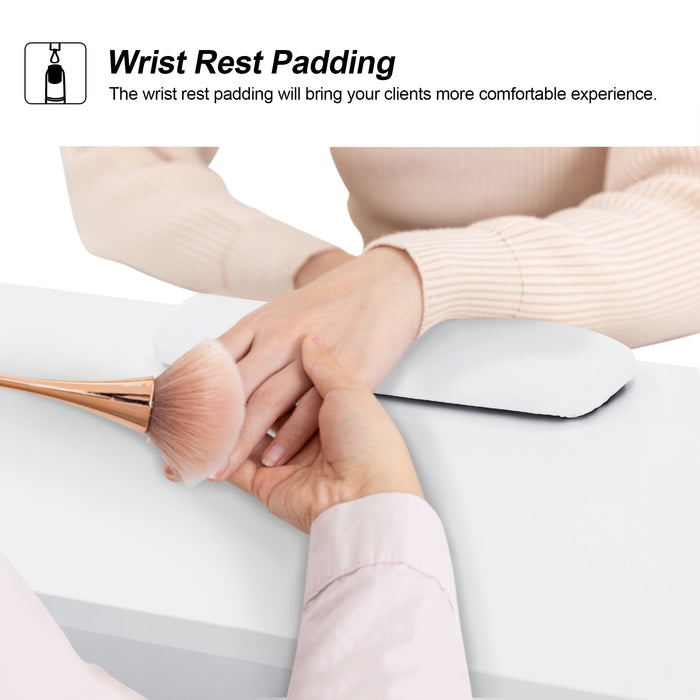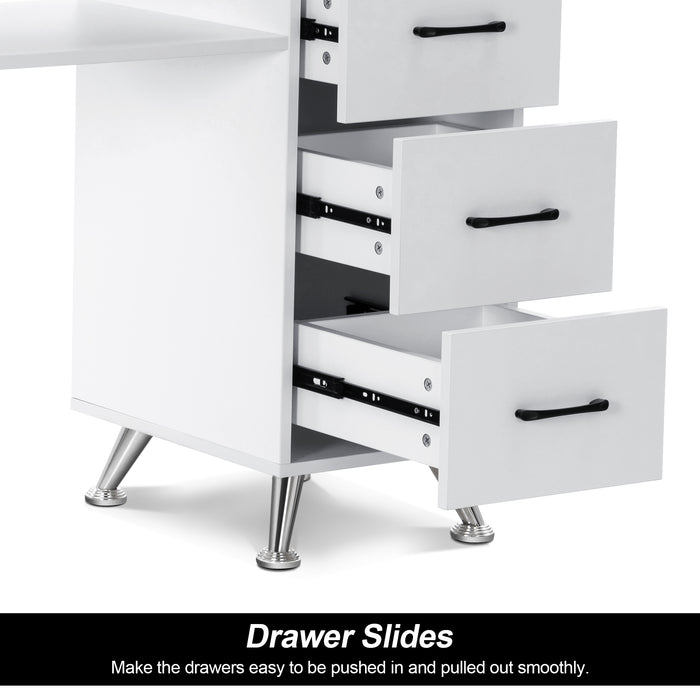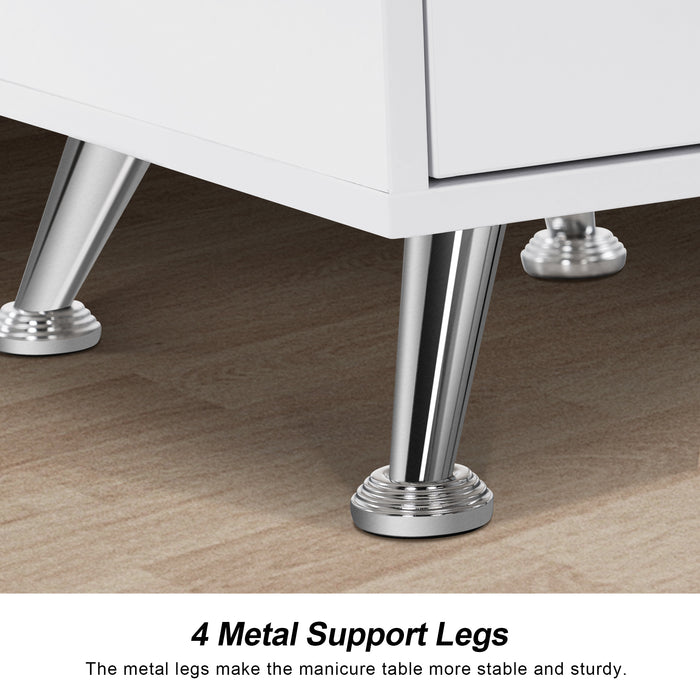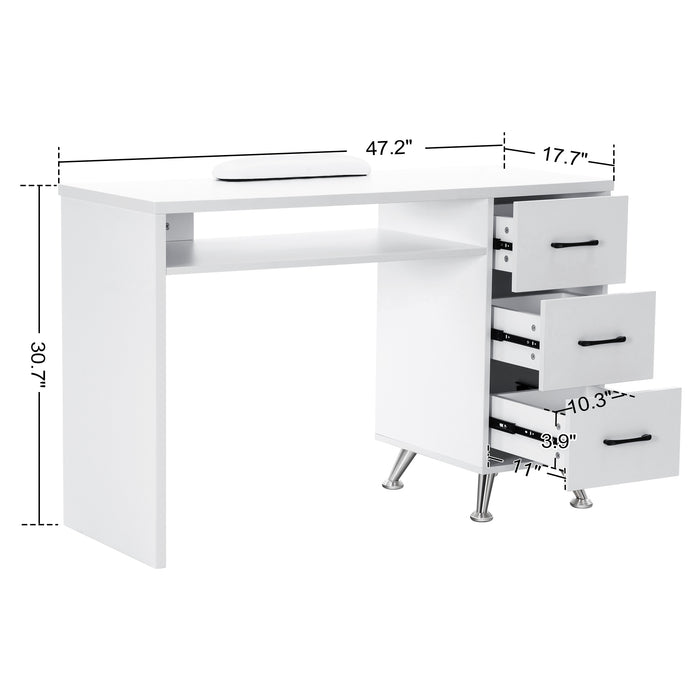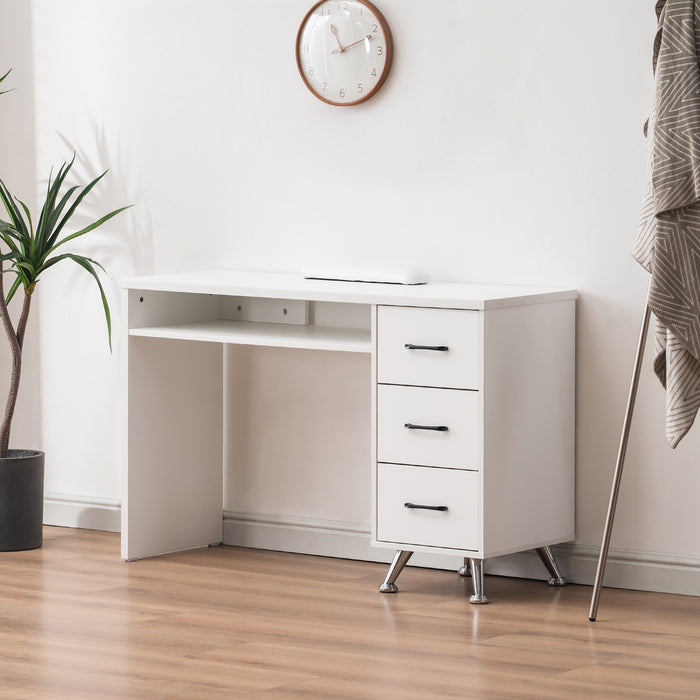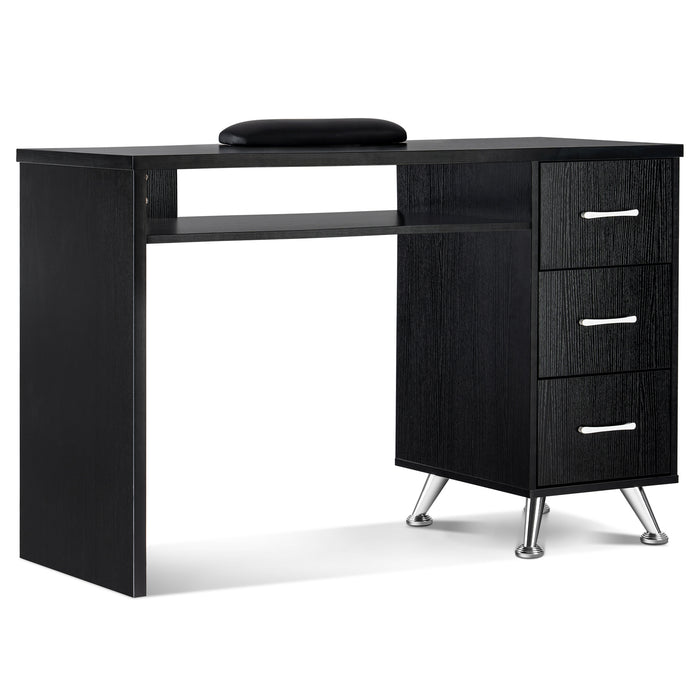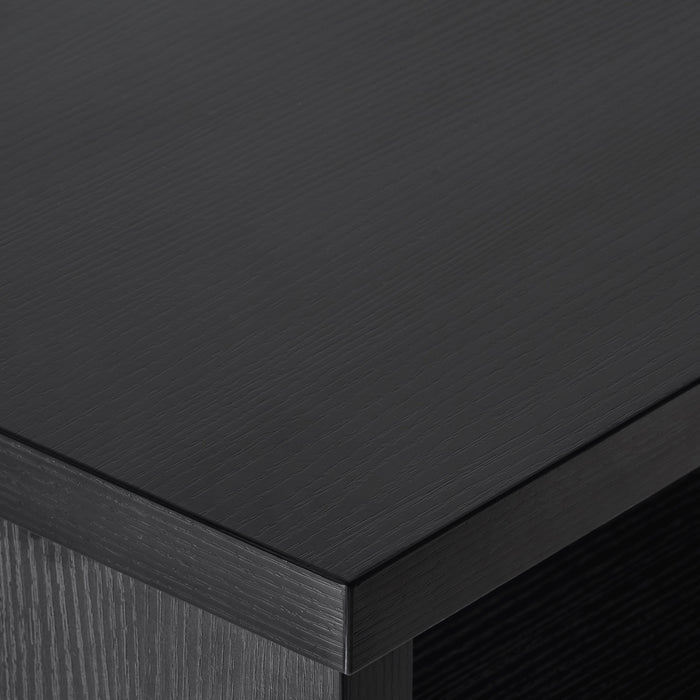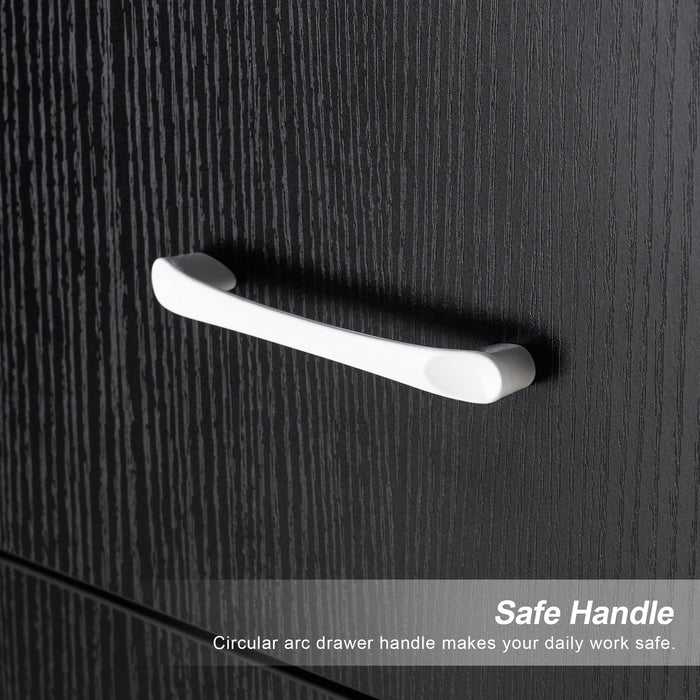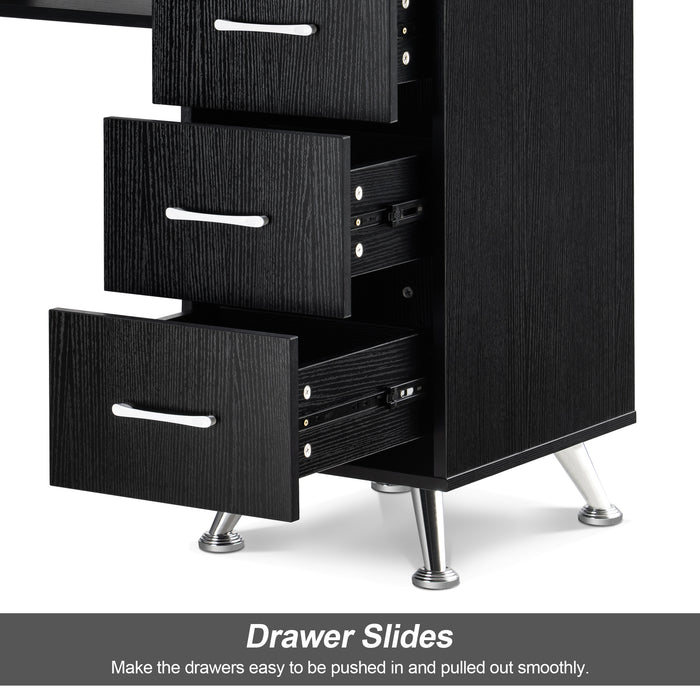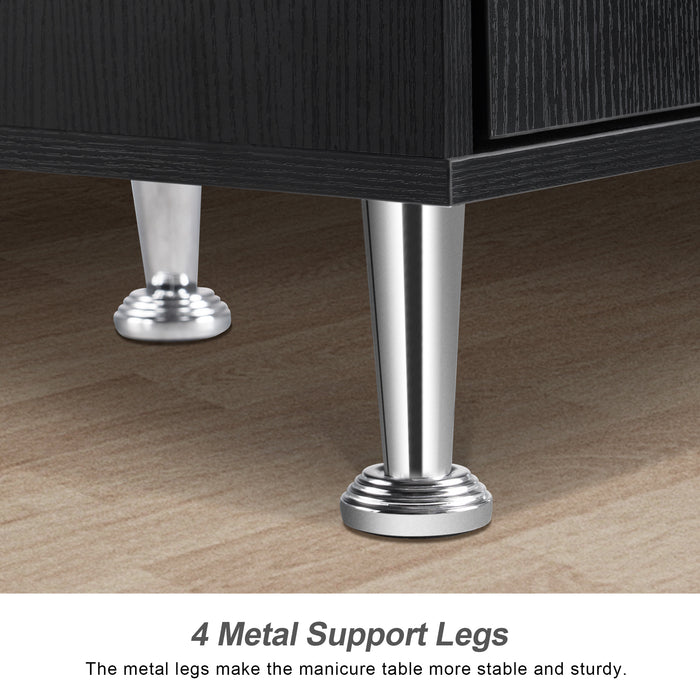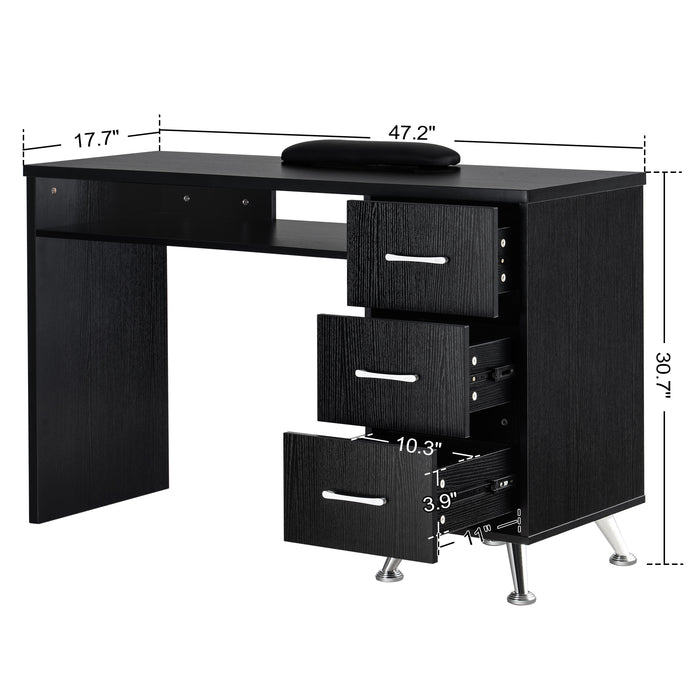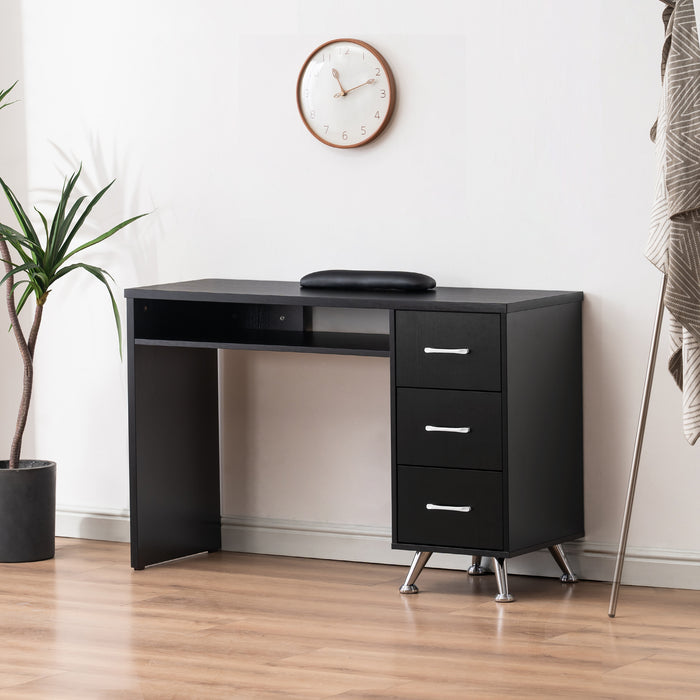 BarberPub Manicure Table, Nail Desk with Drawers and Soft Wrist Rest Beauty Salon Storage Professional Workstation 6153-2655
Item Description

If you are looking for a manicure table, this multifunctional nail makeup workstation may meet all kinds of your needs! The high storage capacity helps make your work shop look more organized. BarberPub's ergonomic and streamlined design makes the nail desk suitable for any manicure shop, living room, office and etc to bring both you and your clients a more comfortable manicure experience.
Item Features
Humanization Design: The height of the manicure table is suitable for daily manicure needs. This beauty salon workstation has elegant wrist rest padding with comfortable arc shape that will help customers maintain a relaxed gesture during their manicure experience. The circular arc drawer handles are designed to keep your daily work safe.
Storage Capacity: This desk comes with three high-capacity drawers to help you classify your manicure tools in your workspace and allows you to put more of the tools you need. There is a half panel at the back of the drawer where you can put the manicure light in the middle drawer. And You can also put some frequently used tools on the spacious top board.
Delicate Material: The drawer slides of the nail table can make the drawers be pushed and pulled smoothly and quietly. The nail table is made of acetone resistant materials -MFC (Melamine Faced Board). Thus, if the acetone spots appear on the station, you can easily remove them by using a wet cloth with alcohol. Make sure it's done in time so that the spots won't be remained.  
Sturdy & Steady: The thickness of the board will make the table stronger enough for your use. 4 metal legs make the table more stable during your work. 2 foot-pins of the left side board can prevent the table from slipping.
Kindly Reminder: Item comes with TWO packages and assembly is required. Please contact us if you received incomplete items. Sometimes UPS delivers packages on separate days. We will pack the item with buffer in the box to protect it from shipping damages. If there is any issues or damage relating to our product, please contact us as we offer replacements service.
Item Specifications:
Type: 6153-2655
Color: Black / White
Material: Particle Board
Overall Station Dimensions: 47.2*30.7*17.7
Drawer Internal Dimensions: 10.3*11.0*3.9
Packing Size: 51.6*22.8*11.2
Gross/Net Weight: 90.4*81.6
Assembly Required: Yes
Buyer Reading
Please be sure to inspect your goods at time of delivery for any possible shipping damages, if there is any damage after delivery or you did not receive your complete order, please tell us immediately and offer us pictures of the damaged parts, we will solve the problem as soon as possible.
Please check the dimensions of the Manicure table before purchase.
Please be sure to provide us with the correct address for shipping including a valid phone number for contact.
About BarberPub
After nearly ten years of business progress and brand upgrade, BarberPub has been widely recognized by customers. Our goal is to bring customers cost-effective and high-value products with satisfactory customer service. In order to better supply our in U.S.A customers, we have distribution centers.