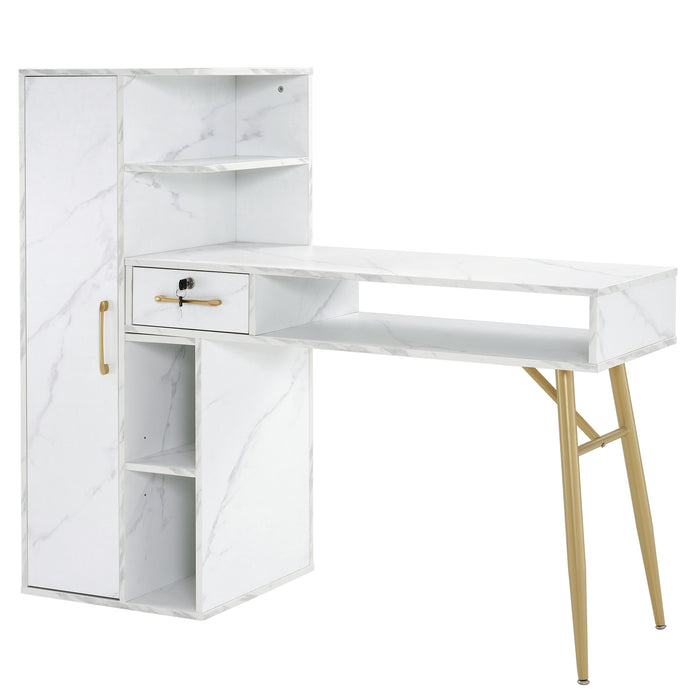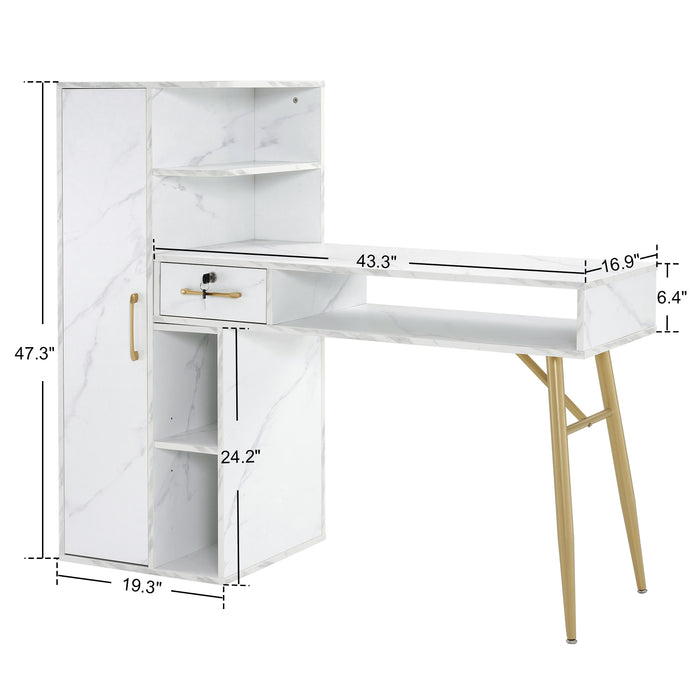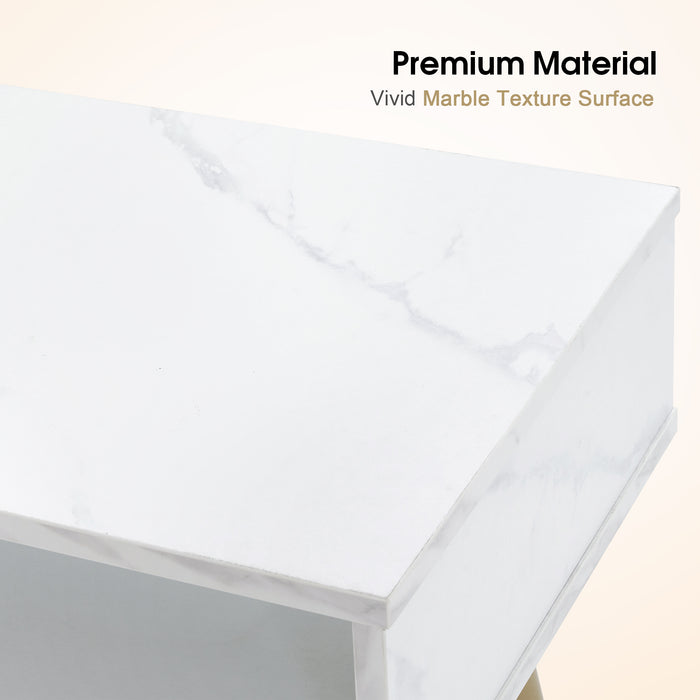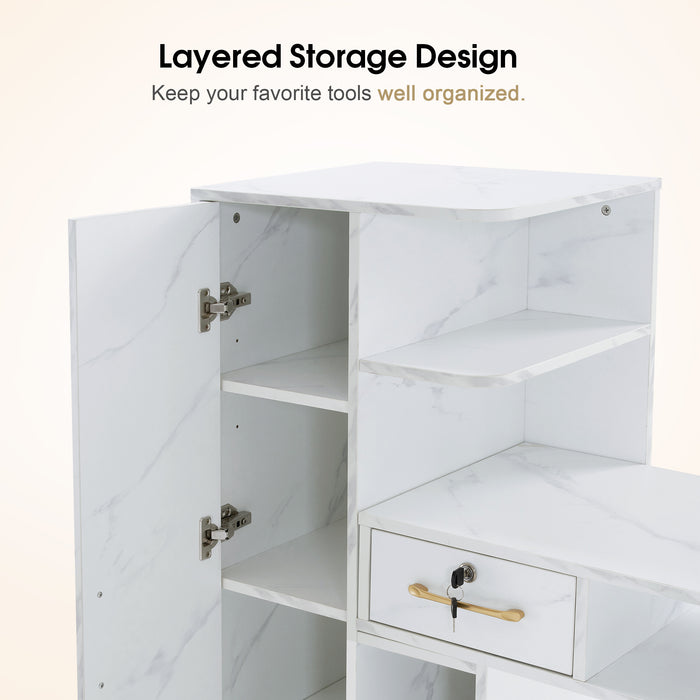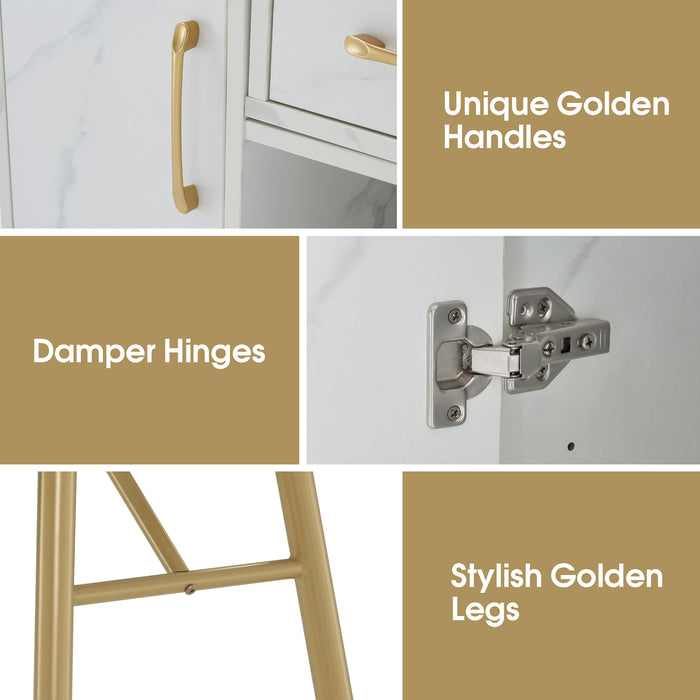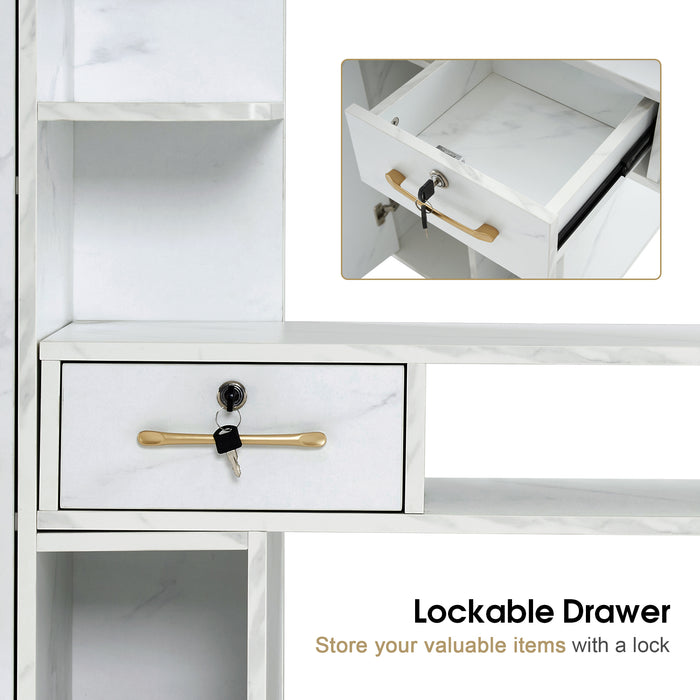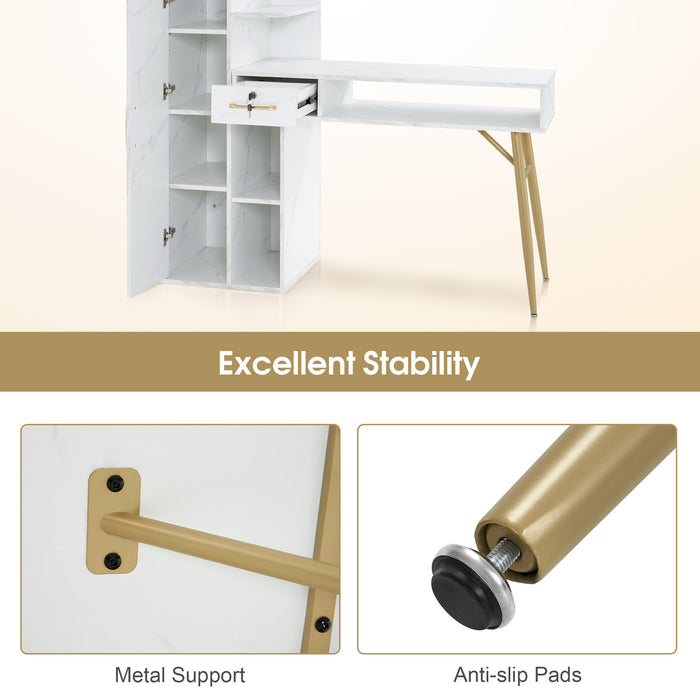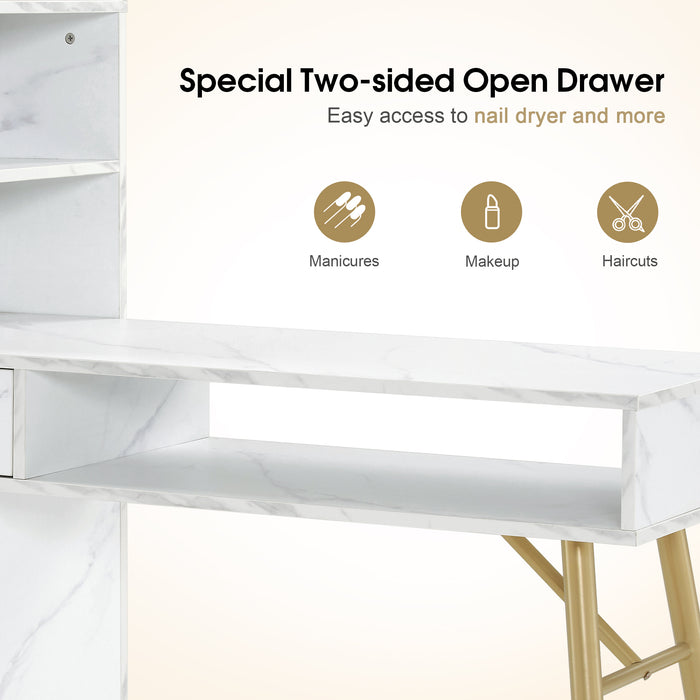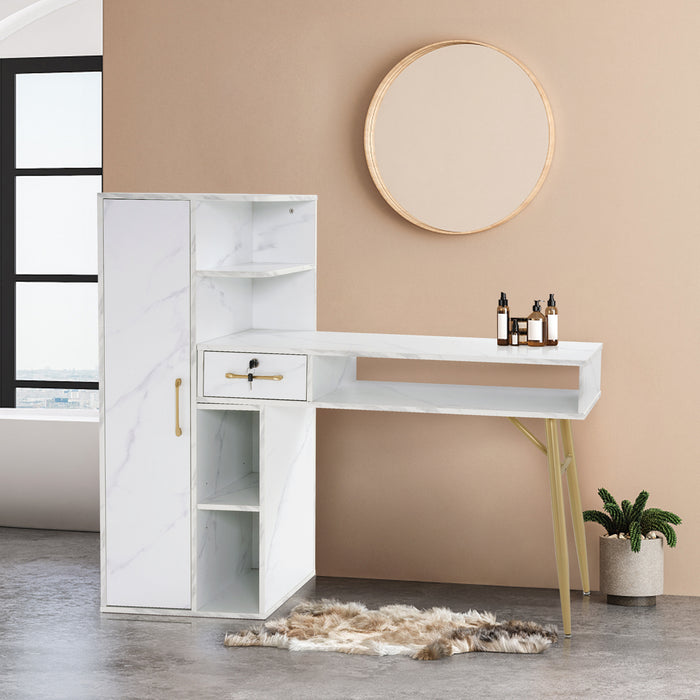 BarberPub Manicure Table, Nail Desk with Marble Texture, Nail Table with 1 Lockable Drawer, 1 Large 4-Tier Cabinet with Door, Nail Desk for Nail Tech, Beauty Salon 2622
Item Description
After enhancing the ability of storage and integrating the marble texture to the design language, our product designer has brought this new piece of art to all the manicurist that have been constantly pursuing the beauty of the nail products. With a simple design of a full body cabinet door and creative bright color tone embellished with golden elements, this nail table will be a new stylish workstation for your beauty or barber shop.
Item Features
Multi-Tiered Storage: There are four cabinets with a full-body door, two shelves on the nail table, two open cabinets underneath and one drawer with a lock. The layered storage spaces are designed to keep all kinds of your nail supplies and accessories well organized.
Simple Modern Design: We combine a vivid marble texture with bright golden element, and replace traditional desk legs with stylish skinny legs. The overall style of the nail desk gives a sense of high-end and modern feeling, which will bring excitement to you and your clients.

Excellent Stability: With multiple anti-slip pads under the nail desk, this table can provide great stability while leaving no scratches on the floor. The golden legs are made of solid metal that is suitable for long-term use.

Multi-Purpose Use: The two-sided open drawer space will provide an easy access to nail lamp. With multiple storage spaces and innovative design idea, this nail desk is made for nail tech, makeup vanity, cosmetic organizing, beauty salon workstation, etc.

Kindly Reminder: Please clean up nail polish gel with water or alcohol in time to avoid stains. This product comes in TWO packages that may be shipped by carrier separately. The part lists and instruction are included, please follow the steps to assemble the product.

Item Specifications
Type: 6153-2622
Color: White
Overall Dimension: 17.7D*53.1W*47.3H
Dimension of Drawer: 16.9D*11.6W*5.1H
Package Quantity: 2
Gross/Net Weight: 121/113 lbs
Accessories Included: Damper hinges*3, Hex Screw Driver*1, Lock*1, Leg support*1
Assembly Required: Yes
Buyer Reading
Please be sure to inspect your goods at time of delivery for any possible shipping damages, if there is any damage after delivery or you did not receive your complete order, please tell us immediately and offer us pictures of the damaged parts, we will solve the problem as soon as possible.
Please check the dimensions of the manicure table before purchasing.
Please be sure to provide us with the correct address for shipping including a valid phone number for contact.
About BarberPub
After nearly ten years of business progress and brand upgrade, BarberPub has been widely recognized by customers. Our goal is to bring customers cost-effective and high-value products with satisfactory experience. In order to better supplying our U.S.A customers, we have distribution centers.