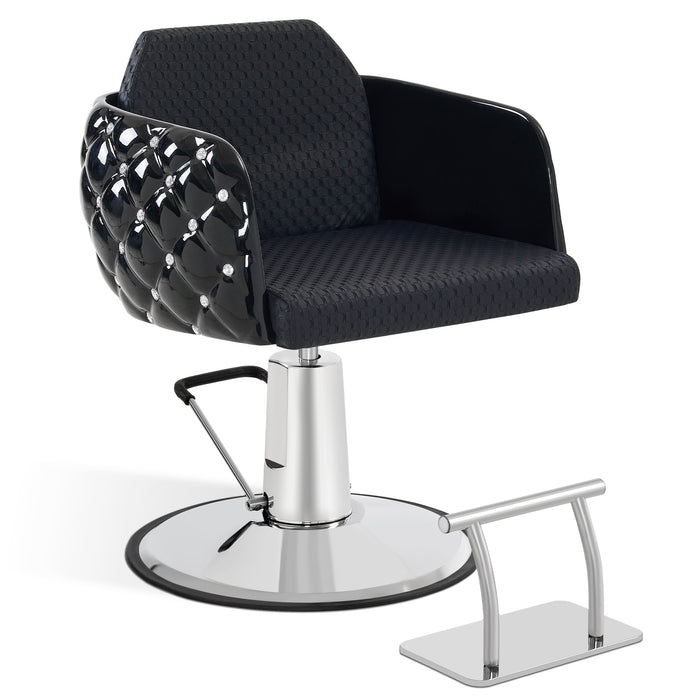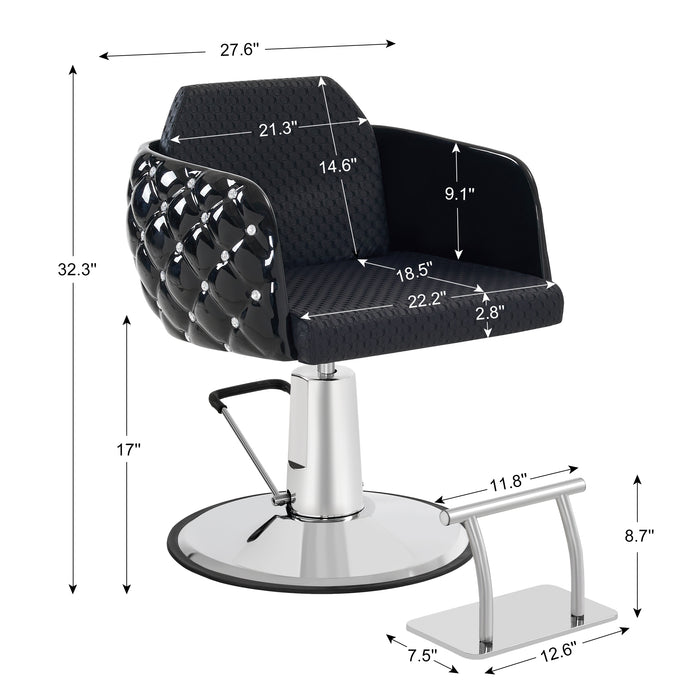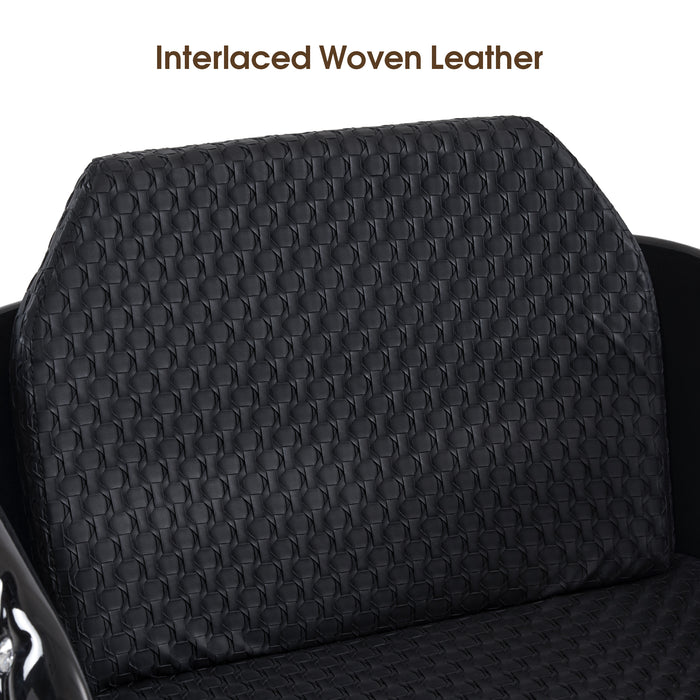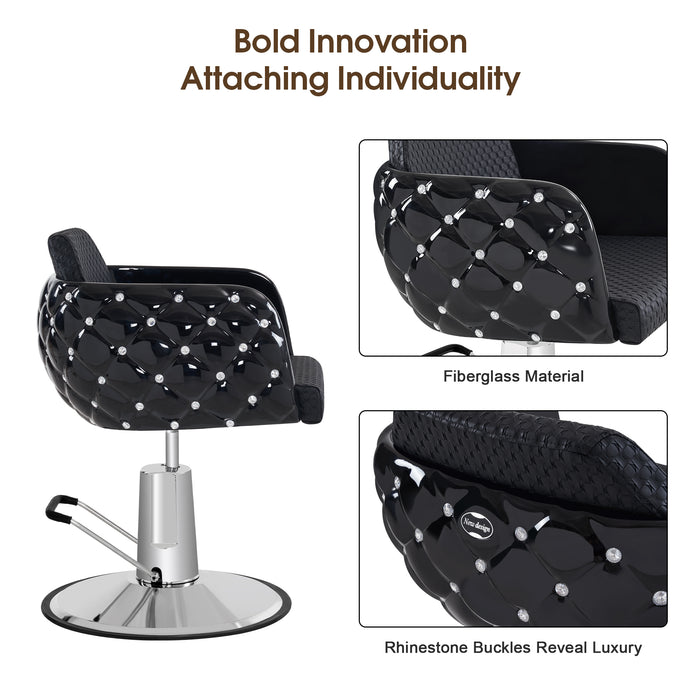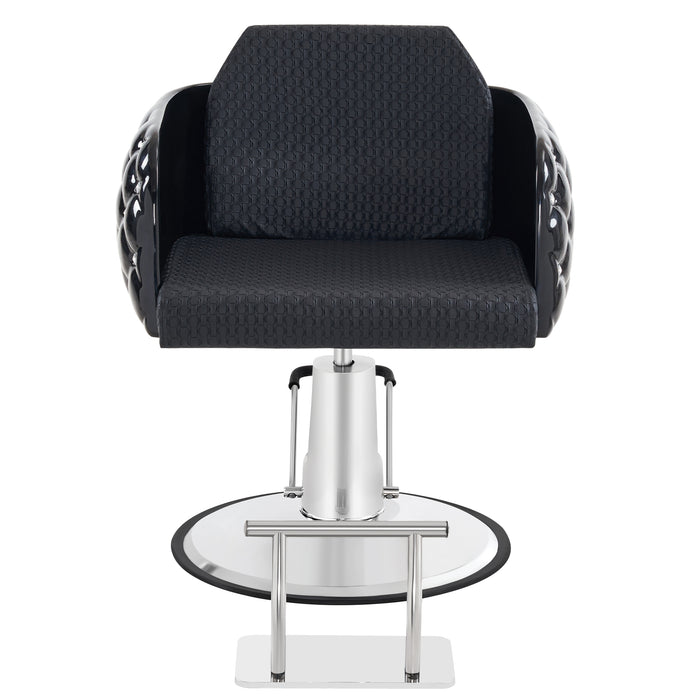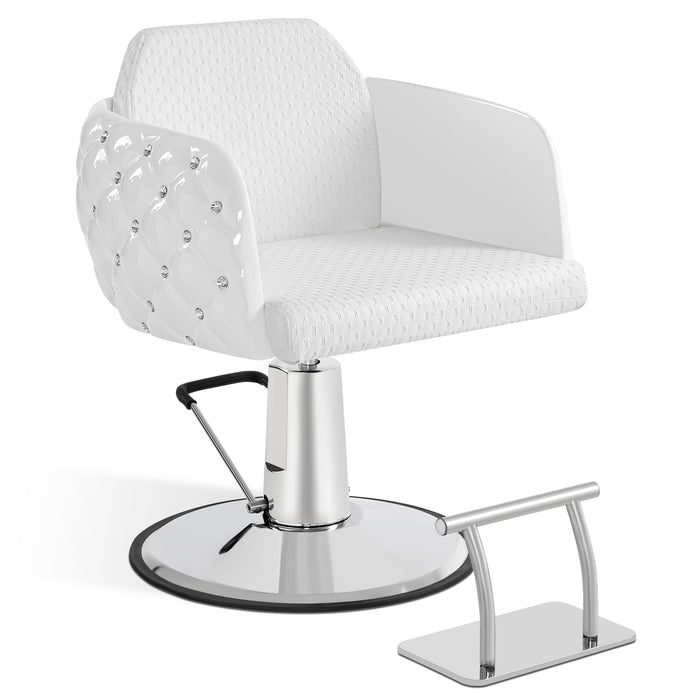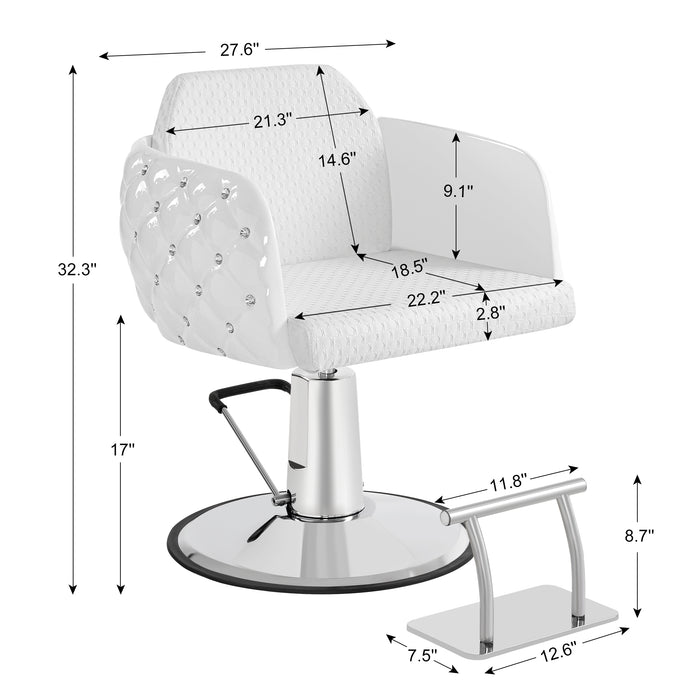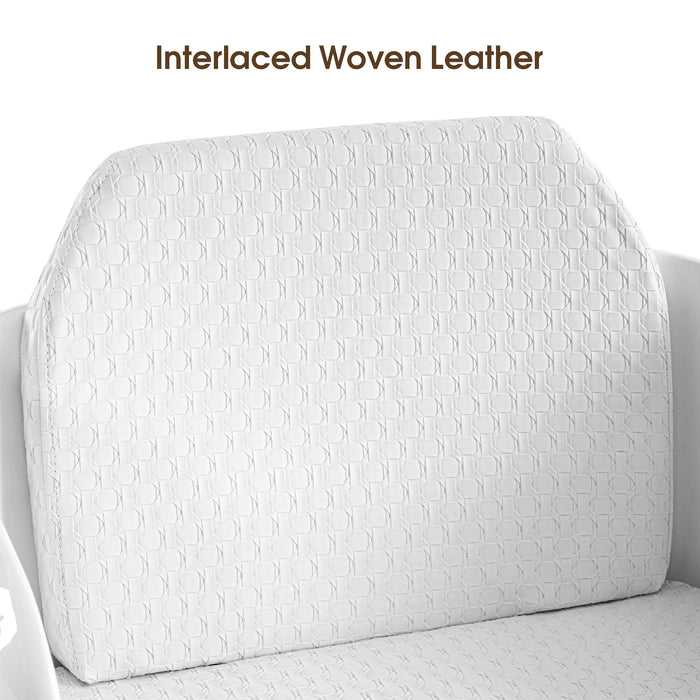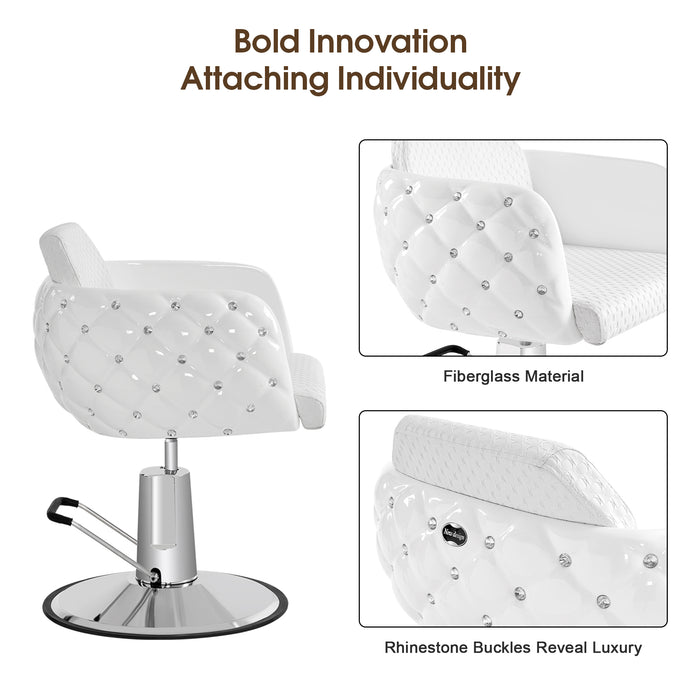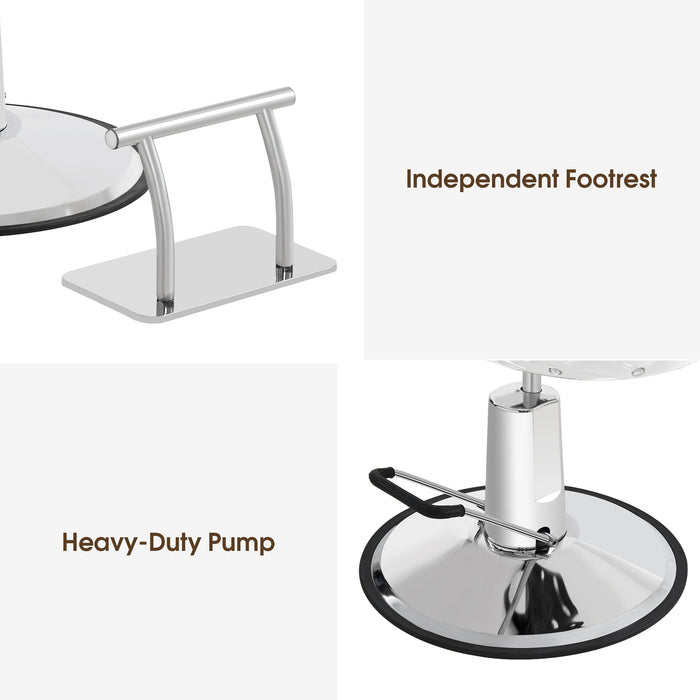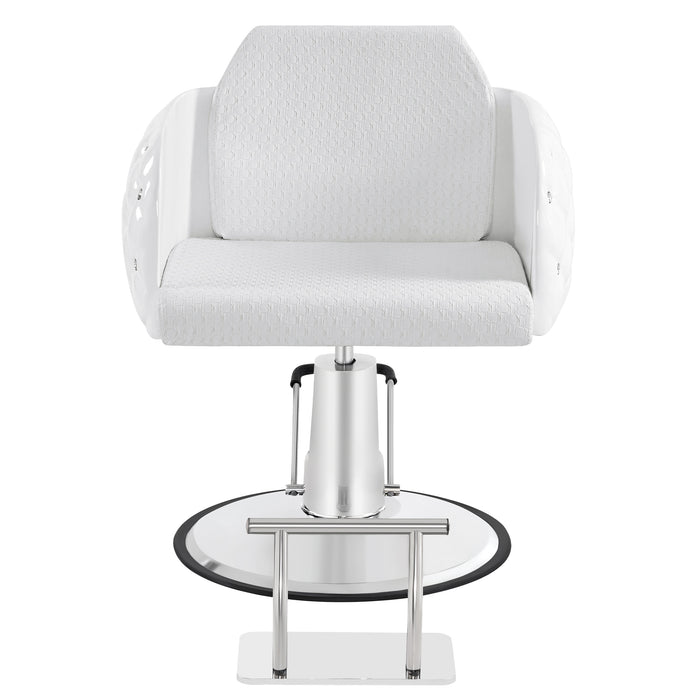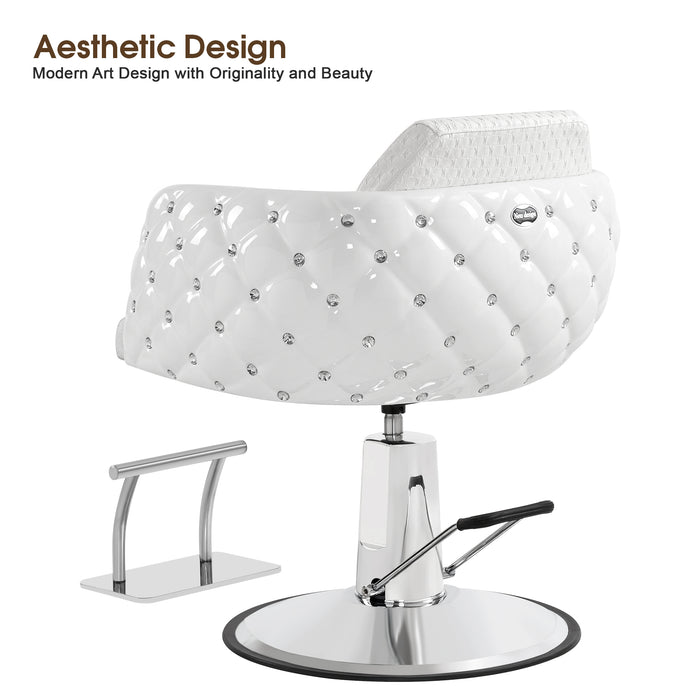 BarberPub Luxurious Professional Salon Chair with 440lbs Large Hydraulic Pump, Fiberglass Material, 360 Degrees Swivel for Hair Stylist, Spa Beauty Equipment, Home&Beauty Salon, Barbershop, Salon&Spa Chair 8609
Item Description:
The luxurious and glittering salon chair features high-quality fiberglass material and shining rhinestone buckles decorated. Elegant interlaced woven leather makes the chair more special. With such bold innovation in design, the chair can add luxury to your barber shops and makes people's eyes light up.
Item Features:
Luxurious Style: This salon chair has an attractive tub-style design with a round and beautiful shape. Smooth and glistening fiberglass material, plus shining rhinestone buckles, highlights the luxurious taste. The leather with interlaced woven style also demonstrates elaboration.  
Flexibility&Stability: The height of this salon chair can be adjusted easily. The chair can be raised about 5 inches. The chair can rotate 360 degrees and can be locked by the gas-piston lock&release mechanism. With a large pump, it can bear 440 pounds.
Comfortable&Convenient: The chair has a fixed angle and can provide good support and wrap-around for the waist and lower back. The independent footrest can make your clients more comfortable and relaxing to rest their feet when they are sitting on the chair.
High-quality Materials: The fiberglass material has a smooth surface. The backrest and seat cushions of this salon chair is made of high-quality faux leather and filled with high-density sponge.
Cleaning&Maintenance: You can use a soft wet cloth to wipe off the dust on the surface. Faux leather is waterproof. If this chair has hair dye, perm or any other hard to clean items on the surface, it can be cleaned with ordinary household cleaners.
Item Specifications:

Type: 6154-MT-8609
Color: Black/White
Material: Fiberglass Plastics/PVC Leather
Overall Dimension : 27.6"(W) x 24.4"(D) x 32.3"(H)--37.8"(H)
Backrest Size: 21.26"(W) x 14.6"(H)
Seat Size: 22.2"(W) x 18.5"(D)
Seat Height (adjustable): 17"--22"
Base Diameter: 20.47"
Backrest Angle: 108°
Loading Capacity: 440 lbs
Net/Gross Weight: 66.2/77.2 lbs
Number of Packages (one set): 1
About BarberPub

After nearly ten years of business progress and brand upgrade, BarberPub has been widely recognized by customers. Our goal is to bring customers cost-effective and high-value products with satisfactory customer service. In order to better supplying our U.S.A customers, we have distribution centers.