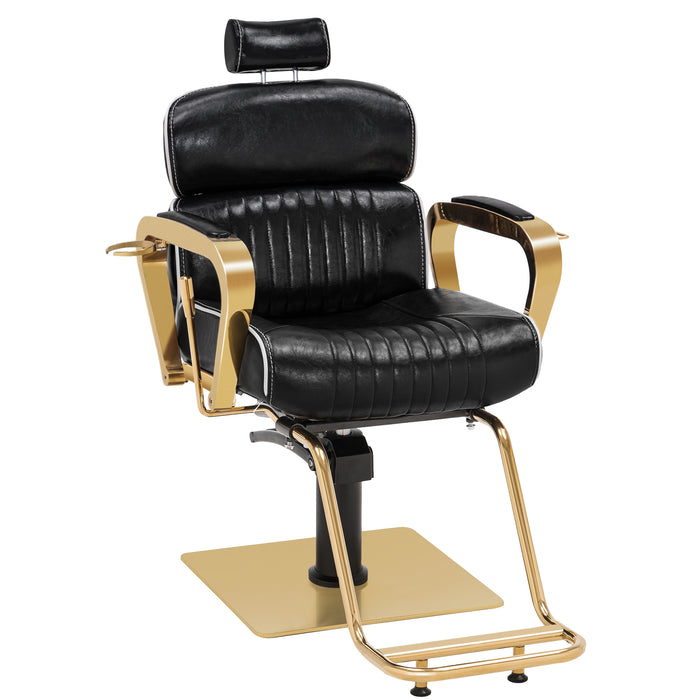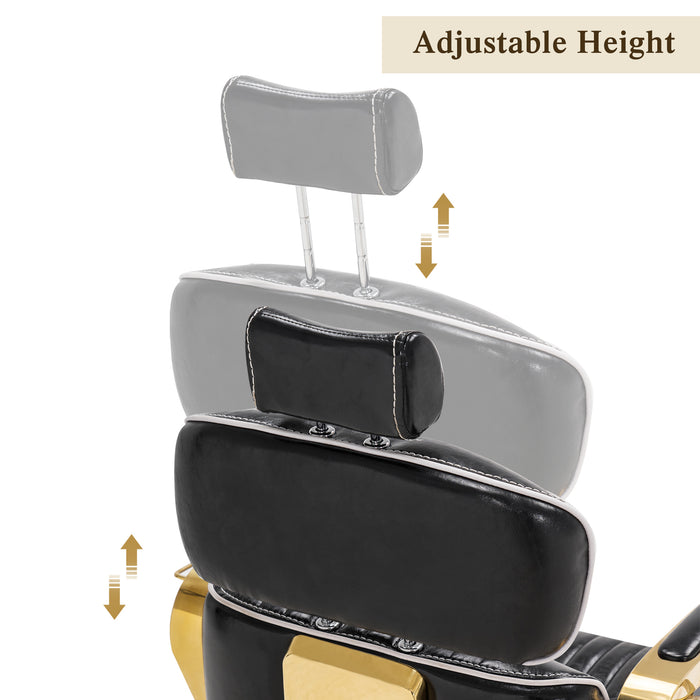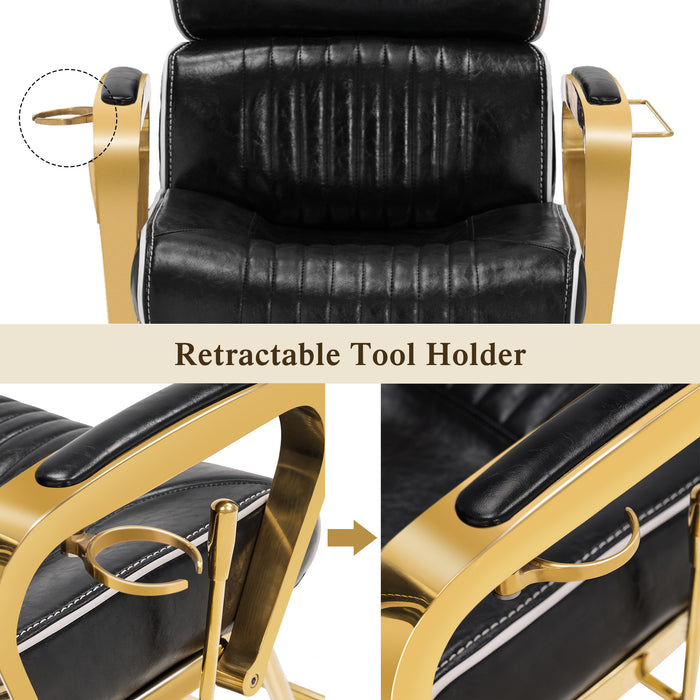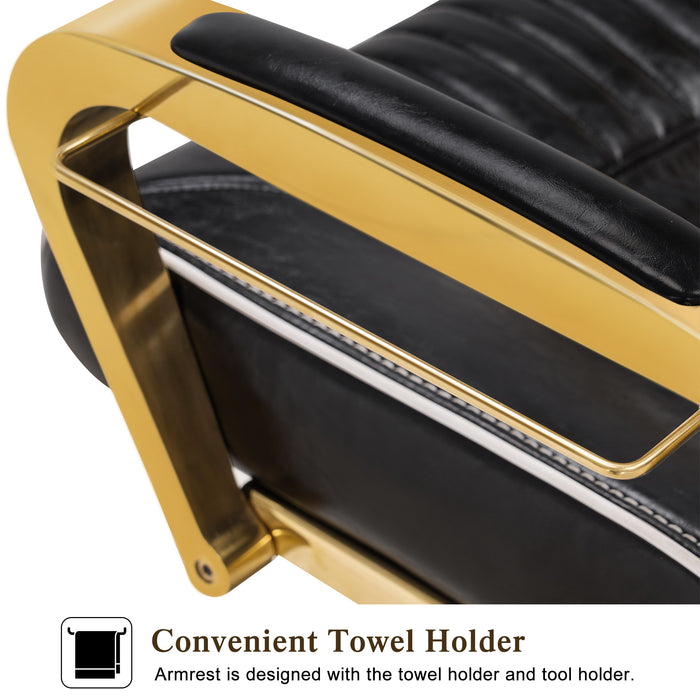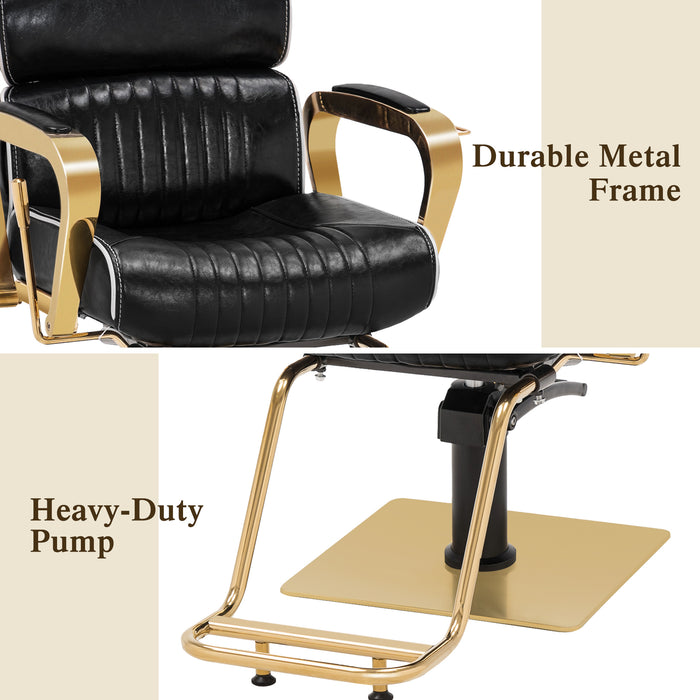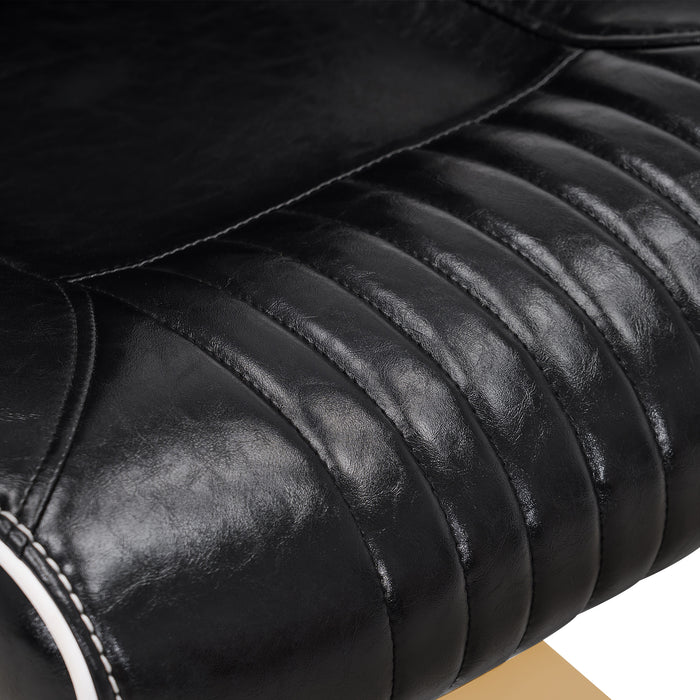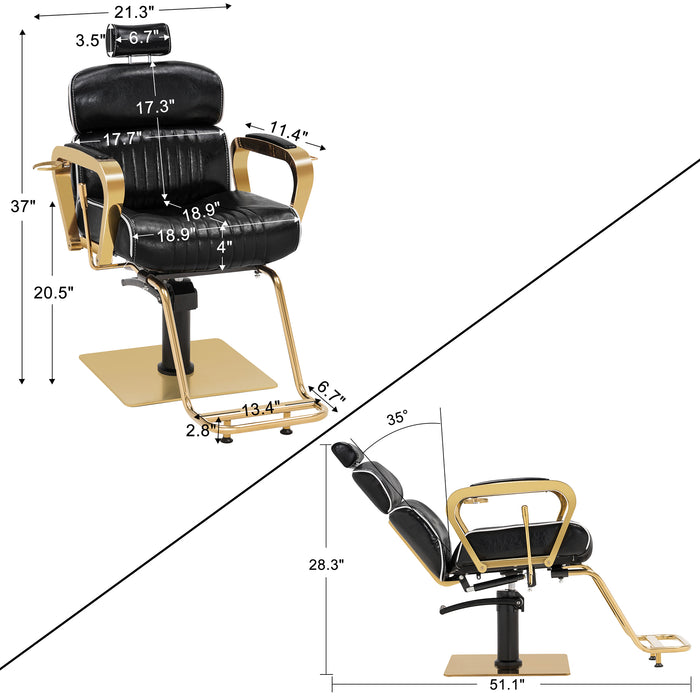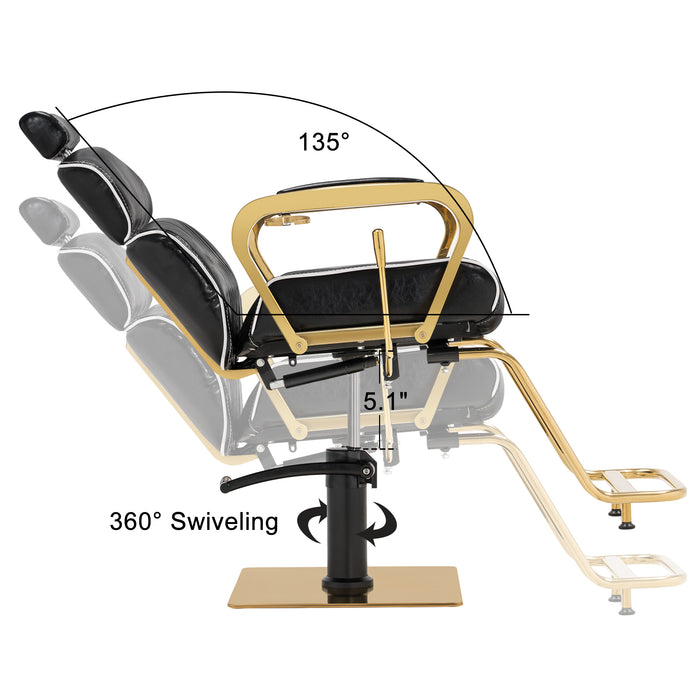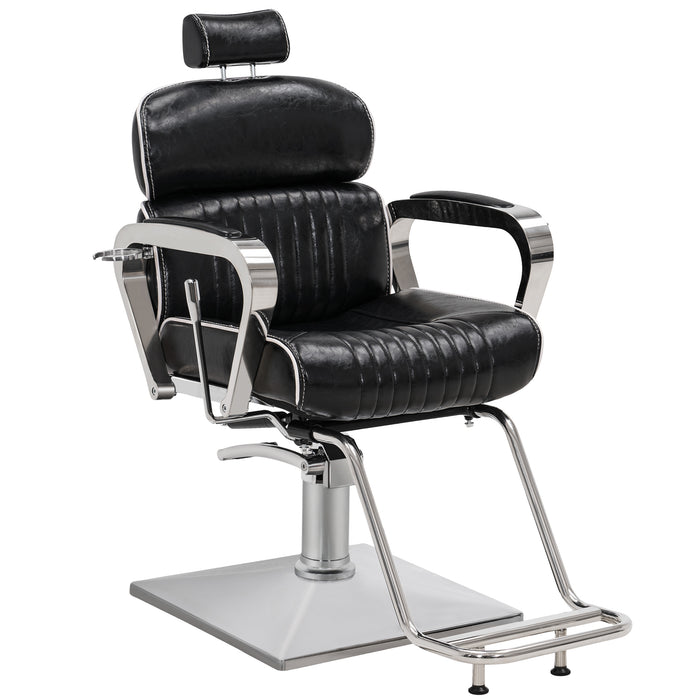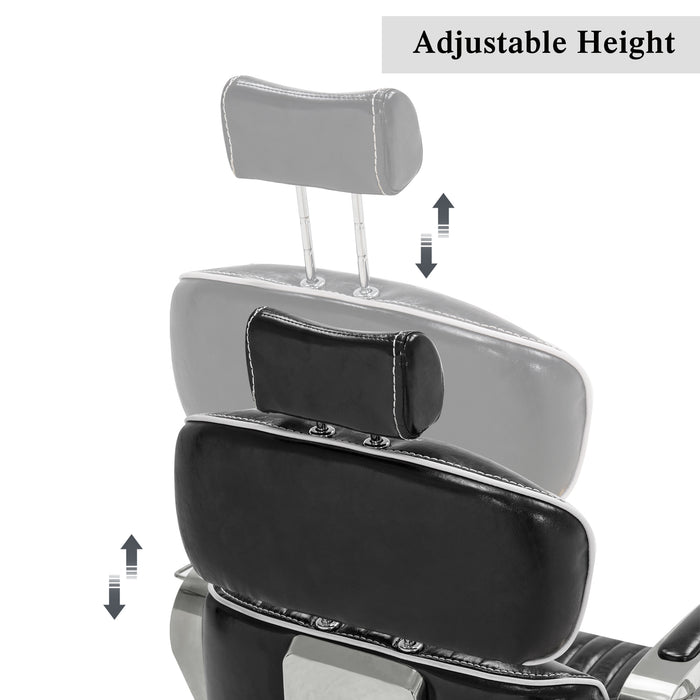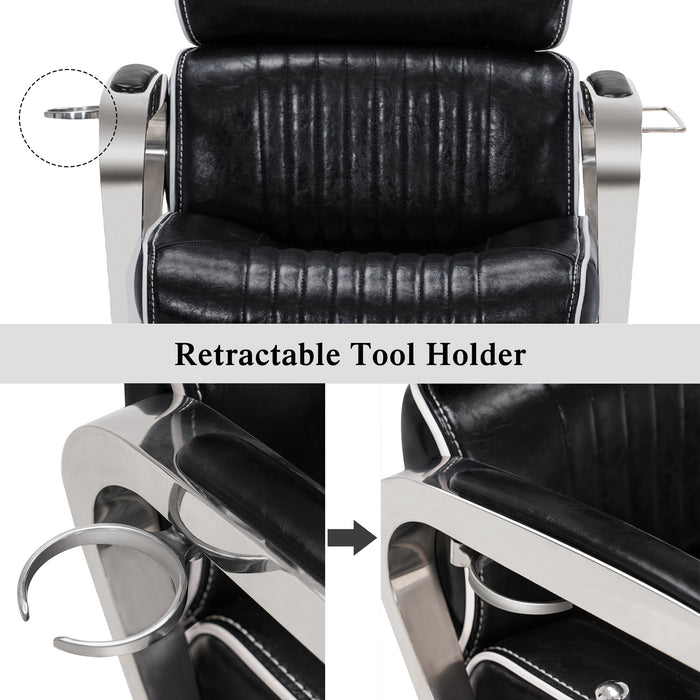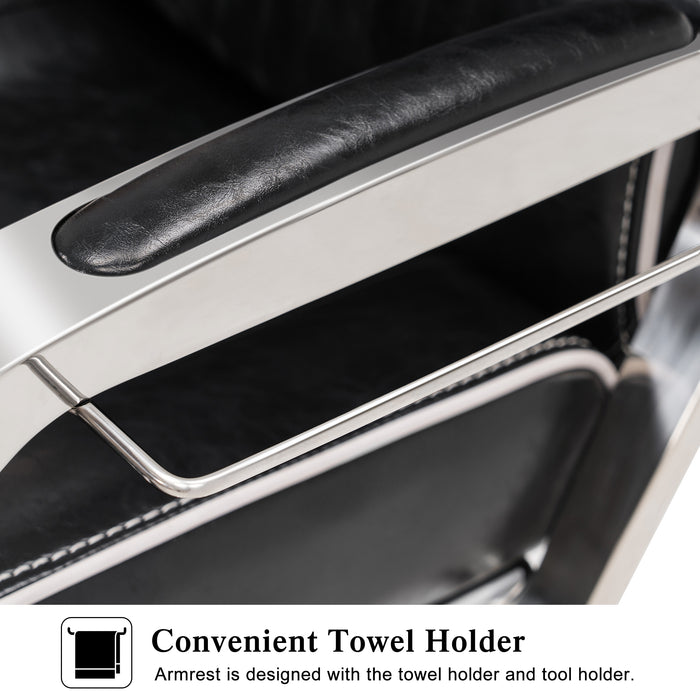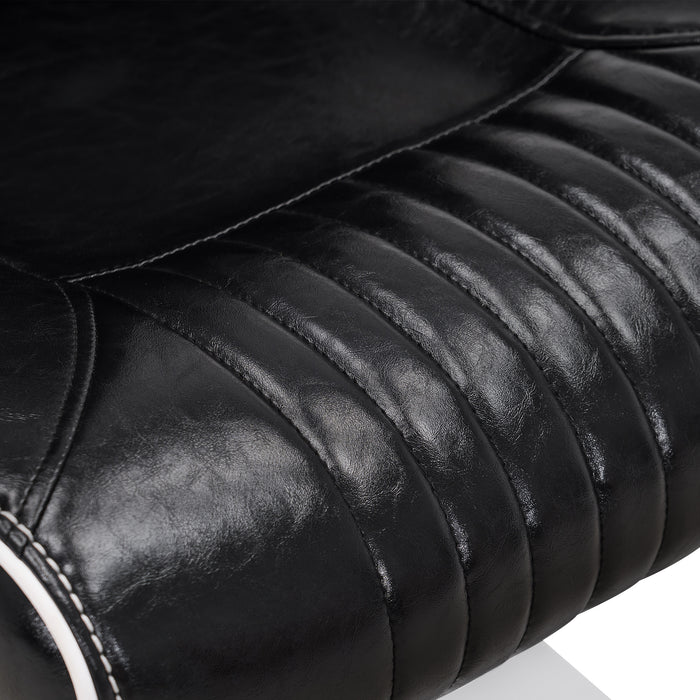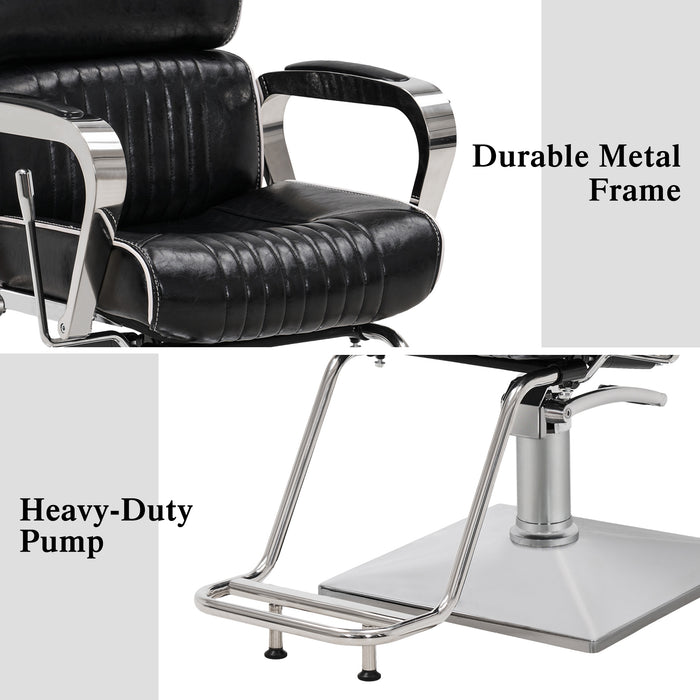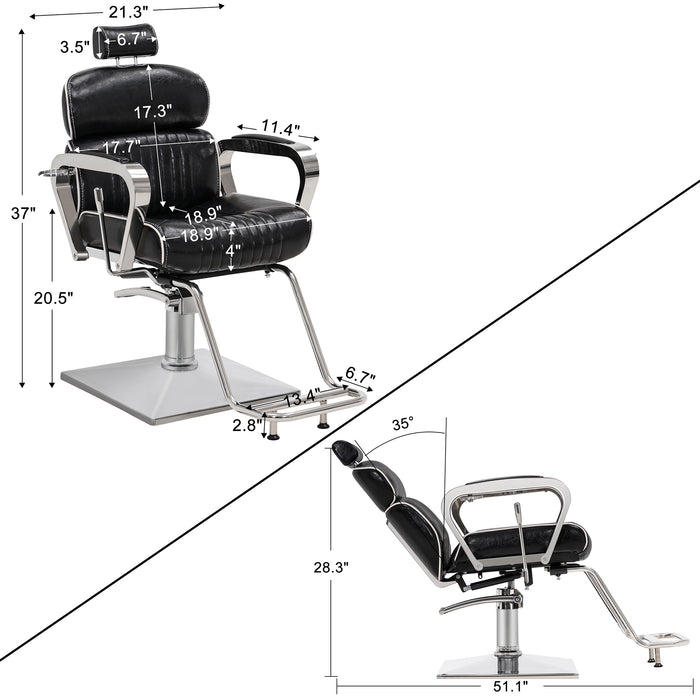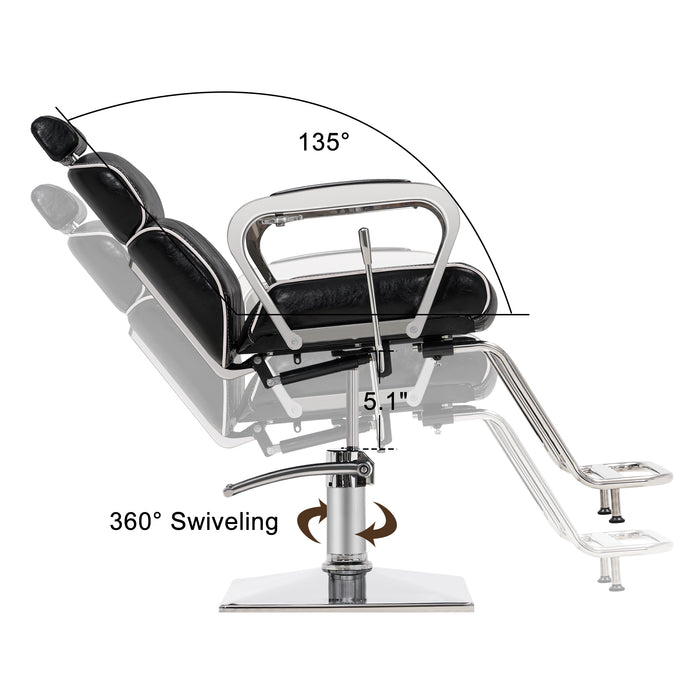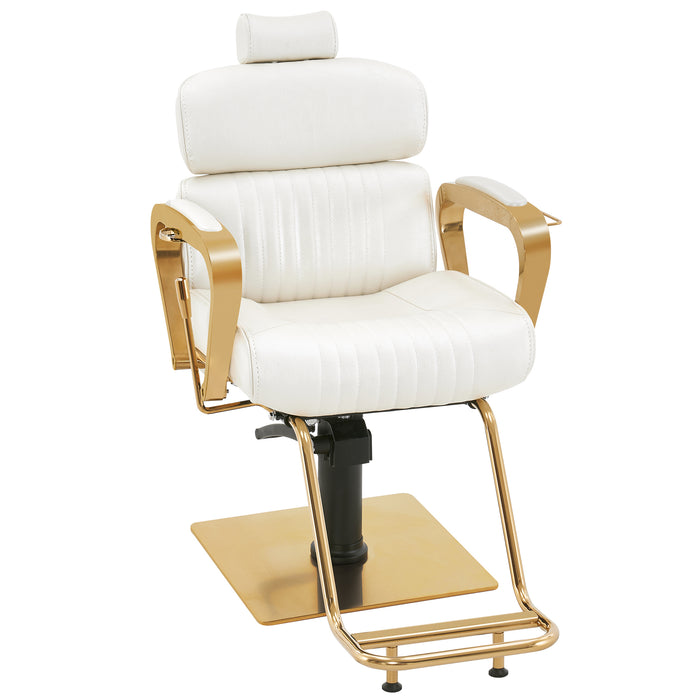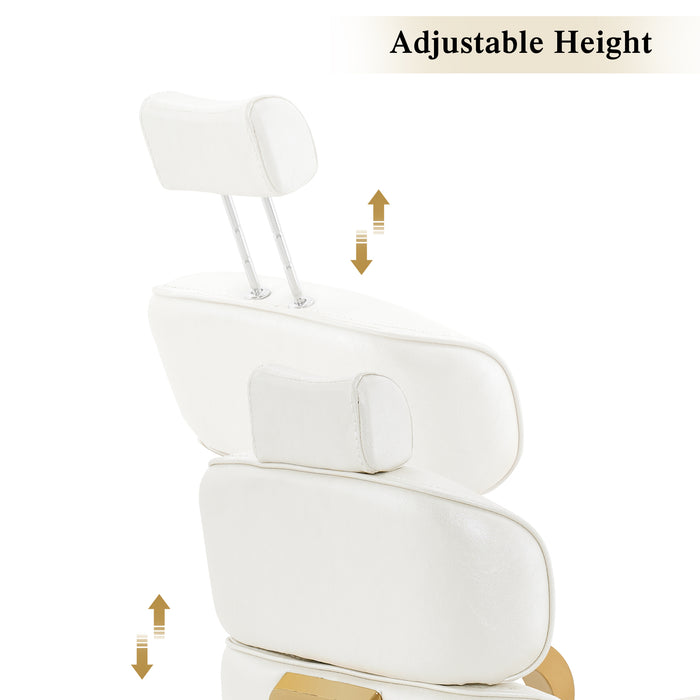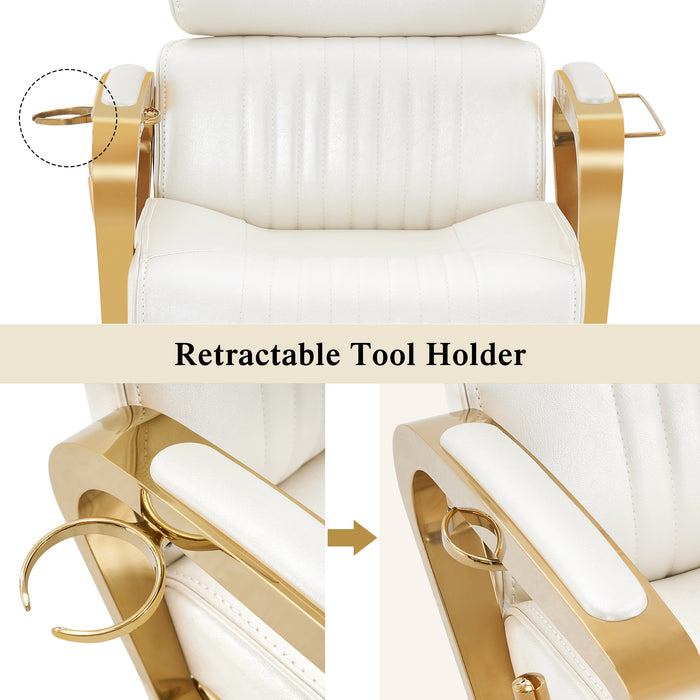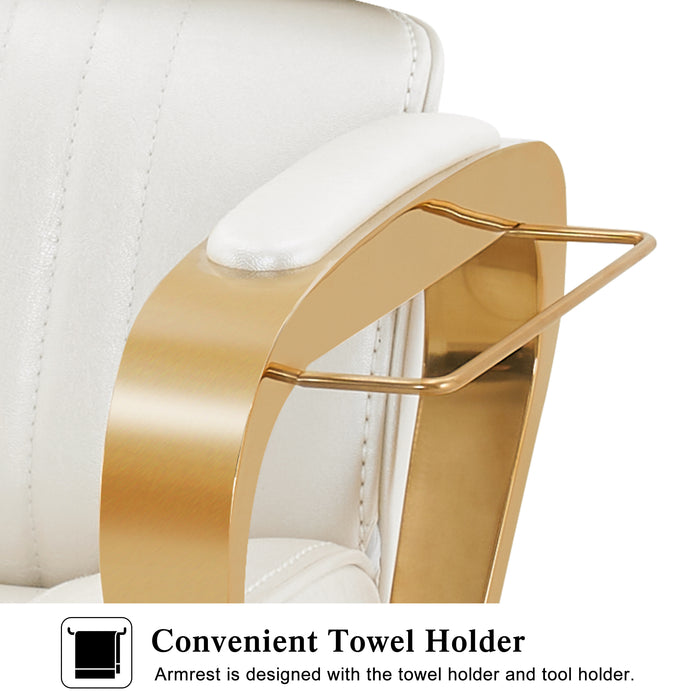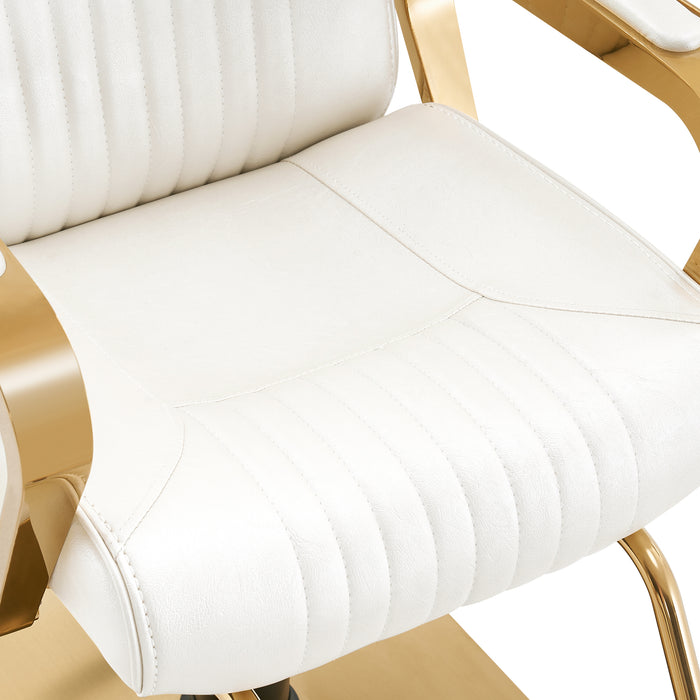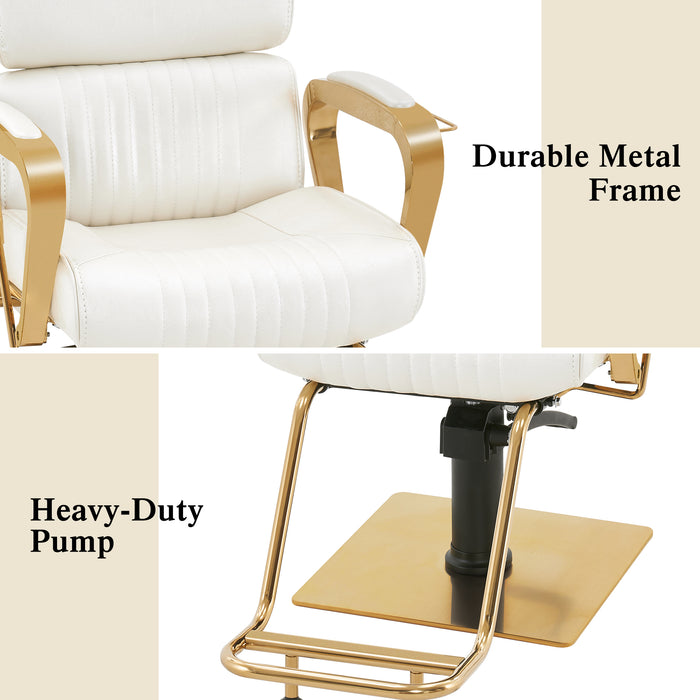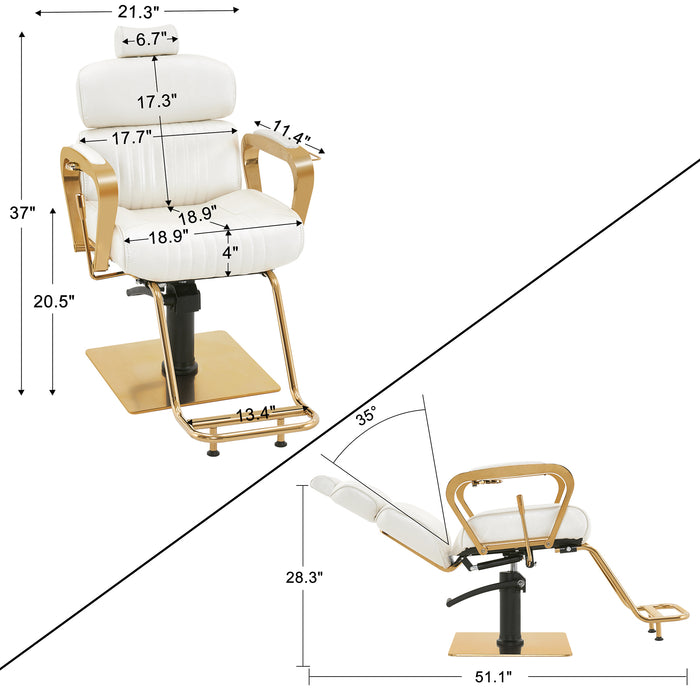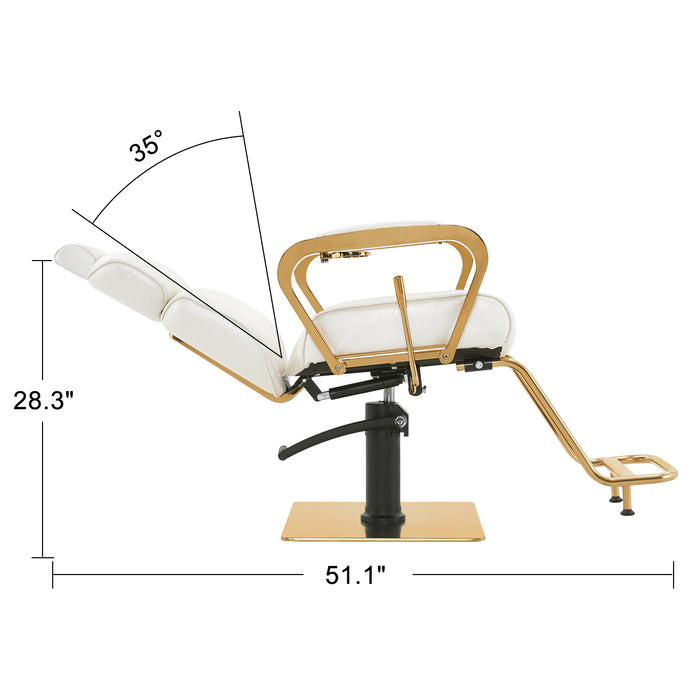 BarberPub Luxurious Barber Chair Metal Hydraulic Recline Beauty Spa Styling Equipment 3078
Pre-sale: 6154-3078 Champagne color will be in stock on 11/20/2023.
Item Description:

If you want a luxurious and artistical barber chair, if you are finding an elegant and comfortable barber chair and more importantly, if you want a durable and stable chair. You could choose this barber chair for your barber shop!
Item Features:
Special Design:All metal frames including square base are designed with classic and unique color-silver. Bi-cast leather is designed with exquisite turner wiring. The towel holder and tool holder provide better convenience.
Easy Adjustment:Adjustable Headrest could be flexibly adjusted and removed. Backrest can be easily adjusted to multiple locking positions. Hydraulic Pump makes it easier to adjust height, maximum to 5.1 inches. 
Improved Stability:Thick metal pipe provides better comfort and double footstakes and hydraulic pump make better stability. Square Base also provides stability.
Unimaginable Comfort:The seat is made with high density memory sponge which has good resilience. The seat back can reduce the intervertebral disc pressure which is designed based on ergonomics theories and optimization theory.
Quality Assurance:Oil pump enjoys one year warranty. We will pack the items in the best condition to prevent shipping damage. If there is any issue, please do not hesitate to contact us, and we would spare no effort to give you satisfied shopping experience.
Product Specifications:
Type: 6154-3078
Color: Black/Gold/Champagne White
Material: Metal Frame; Leather
Overall Dimension: 20.1"(W) x 32.3"(D) x 37.0"(H)—42.1"(H)
Seat Dimensions: 18.9"(W) x 18.9"(D)
Backrest size: 17.7"(W) x 17.3"(H)
Seat Height (adjustable): 20.5"- 25.6"
Back Incline angular: 135°
Foot Rest Size: 13.4"(W) x 6.7"(D) x 2.7"(H)
Base Size: 17.3"(W) x 17.3"(D)
Loading capacity: 330Lbs
Gross/Net Weight: 93lbs/83lbs
Kindly Note:

Warranty and service:All of our items come with a 90-day manufacturer's warranty. During this time we will replace and/or assist in repairing any items deemed damaged during shipping or defective from the manufacturer. This warranty does not include wear from normal use and/or damage due to incorrect use of the product.
BarberPub Return policy:All of our items come with a 30-day return/replace During this time, we will cover the shipping cost of return and replacement for defective and damaged chair, through provide pre-paid return label or pick up service for customer's convenience. And during this time any unopened and unused merchandise can be returned at the customers expense for a full refund.
How to select an Ergonomic Chair?
Check the chair seat, also called a seat pan. It should feel comfortable and fit you properly.
Select a chair that allows you to adjust the height. You should be able to adjust it so that while you are seated, your knees are level with your feet on the floor.
Scrutinize the recline function of the chair to see if it supports your back. You should be able to move your back into different positions comfortably.
Examine the chair's armrests, which should be wide and contoured. An ergonomic chair will have armrests that you can adjust in and out to fit your comfort level.
Swivel the chair as you would in your daily activities. If you find it difficult to perform this task in the chair, then keep looking. You haven't found an ergonomic chair for you.
About BarberPub
After nearly ten years of business progress and brand upgrade, BARBERPUB has been widely recognized by customers. Our goal is to bring customers cost-effective and high-value products with satisfactory customer service. In order to better supplying our U.S.A customers, we have distribution centers in Los Angeles CA , Memphis TN, and Wilmington DE, providing efficient chain distribution and localized customer services.