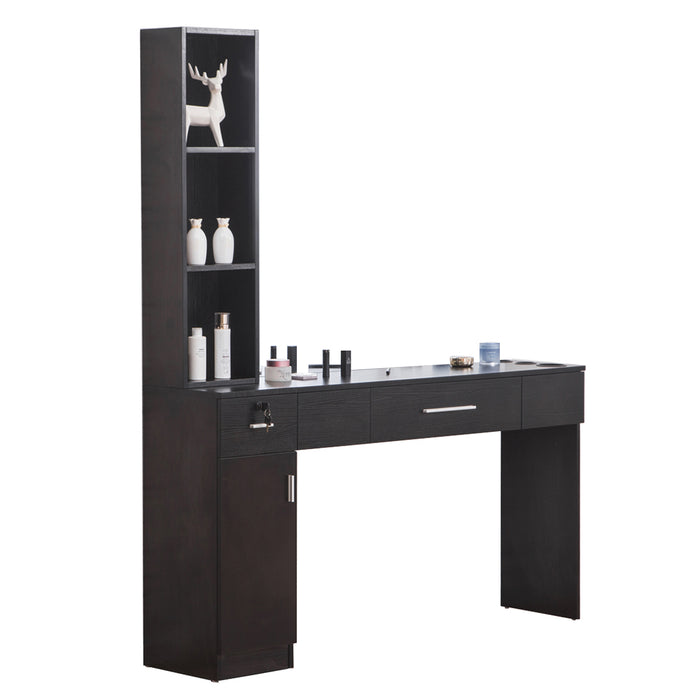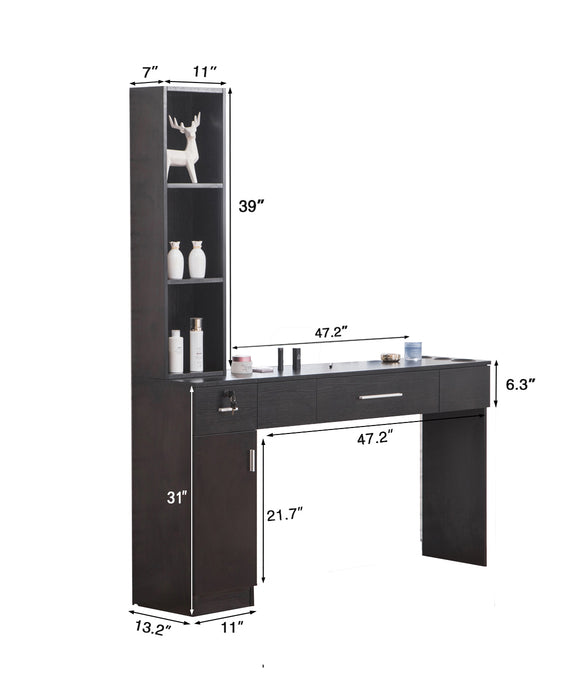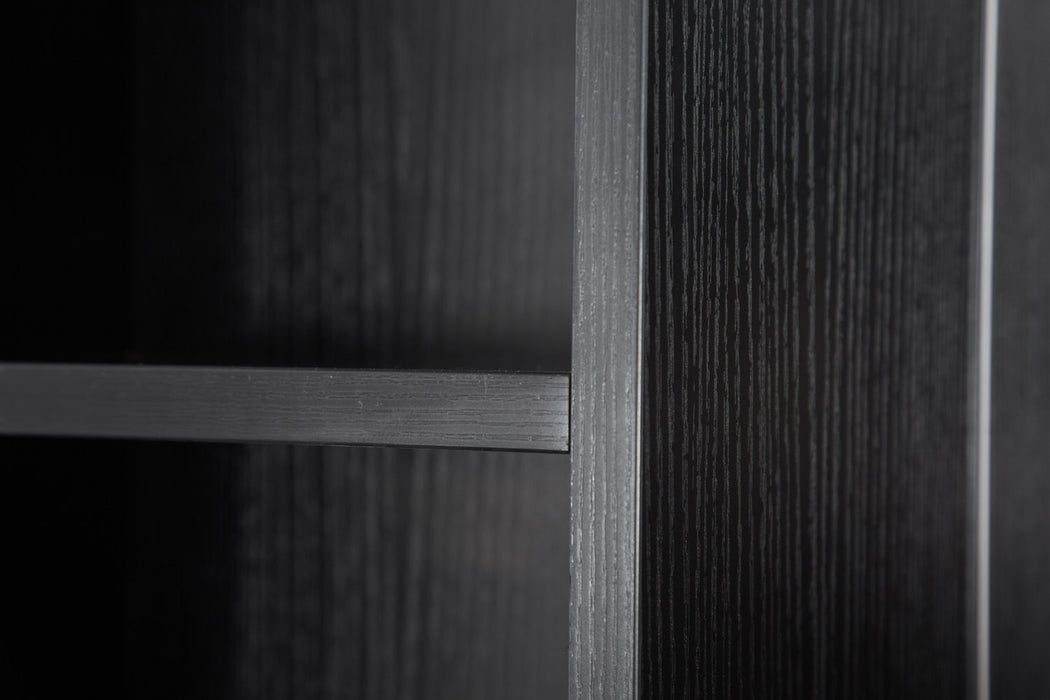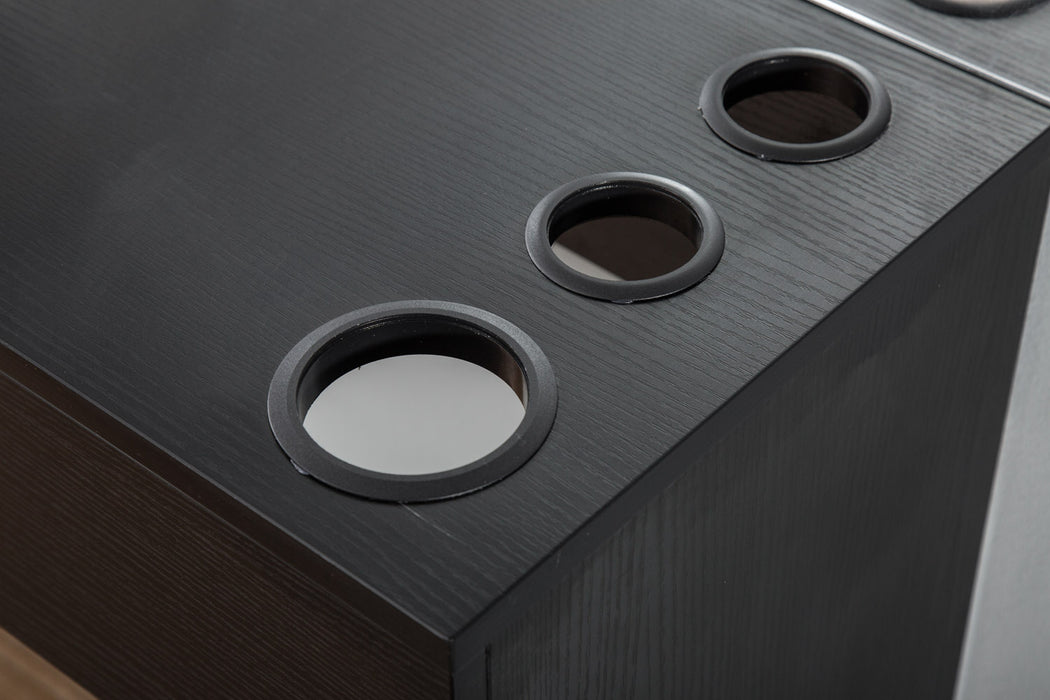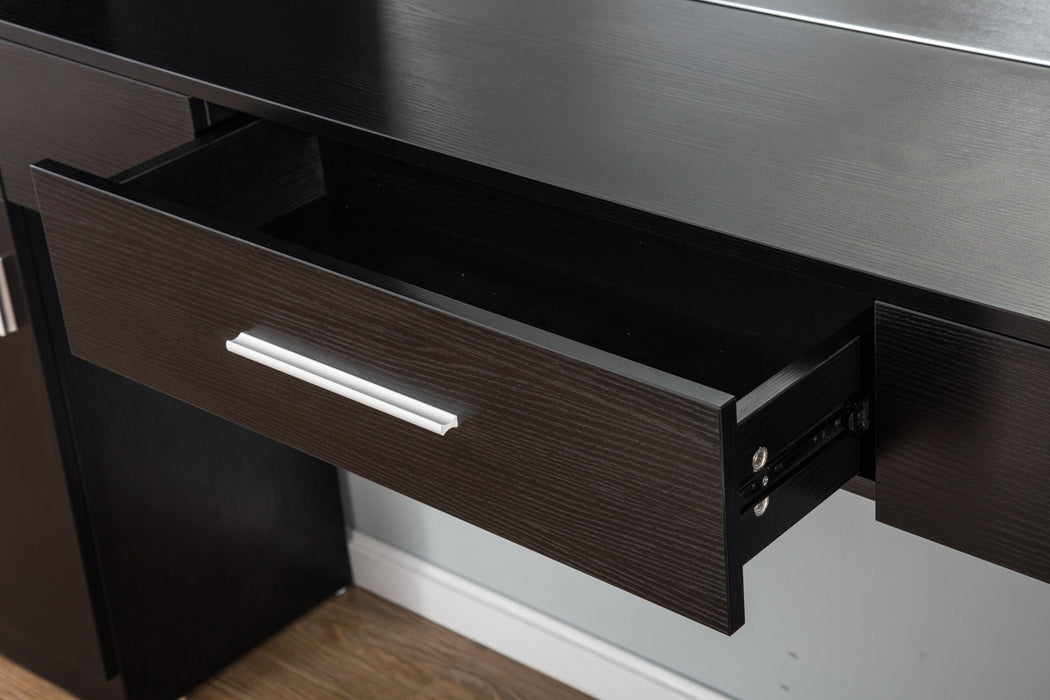 BarberPub Locking Wall Mount Hair Styling Barber Station Dressing Table Without Mirror 3046BK-1-2
Item Description:

This wall-mounted styling station is a multifunctional workstation with ample storage. It is European contemporary style design.The streamline design makes it a beautiful look in just about any salon. The station frame is made from particle board. The particle board surface is veneered in slick uniform black/red color. The veneer decorative board increases the brightness of the surface, protects the surface from worn, and is easy to clean.
Item Features:
NOTE: Not include half body mirror. Easy to install (assembly required).
This station comes in three pieces -- top shelf, mid cabinet, and bottom cabinet.
This station is made from particle board.
2 Drawers -- one is lockable to provide a secure storage for your valuables.
3 Shelves to present or to store products.
1 big storage at the bottom
3 hot tool holsters -- For easy handling of heated items, such as store irons, blow-dryers, and other heated tools.
Damper Hinge Door -- Even if you slam the door, it will also make the door gently shut and make sure the movement is slow and quiet.
Item Specifications:
Color: Black
Material: Particle Board
Shelf Dimension: 9.9"(W) x 12.2"(H) x 7"(D)
Drawer Dimension (Inner): 9.2"(W) x 10.9"(D) x 3"(H); 19.7"(W) x 9.5"(D) x 3.7"(H)
Cabinet Dimension (Inner): 9.9"(W) x 21.3"(H) x 11.9"(D)
3 hot tool holsters Dimension: 2 x 2"; 1 x 3"
Overall Station Dimensions: 58.2"(W) x 70"H x 13.2"D
Gross/Net Weight: 95/87lbs
Assembly Required: Yes
About BarberPub:
After nearly ten years of business progress and brand upgrade, BarberPub has been widely recognized by customers. Our goal is to bring customers cost-effective and high-value products with satisfactory customer service. In order to better supplying our U.S.A customers, we have distribution centers.