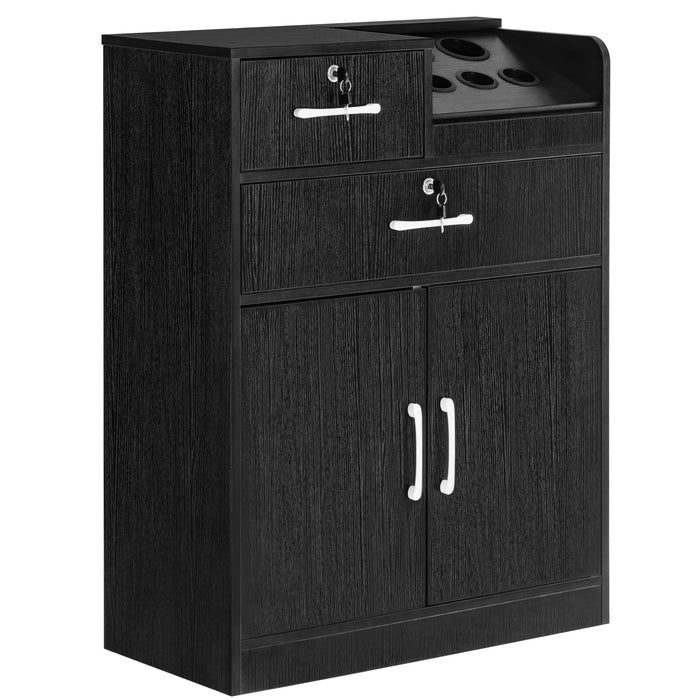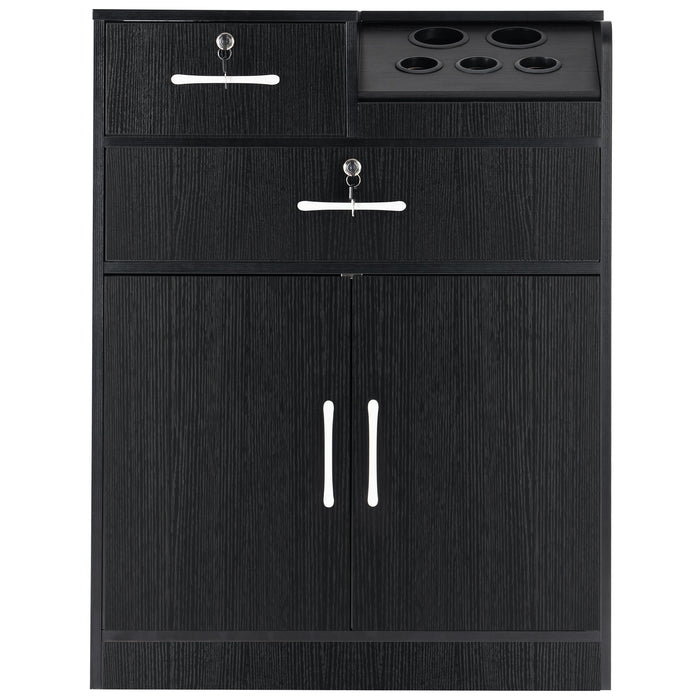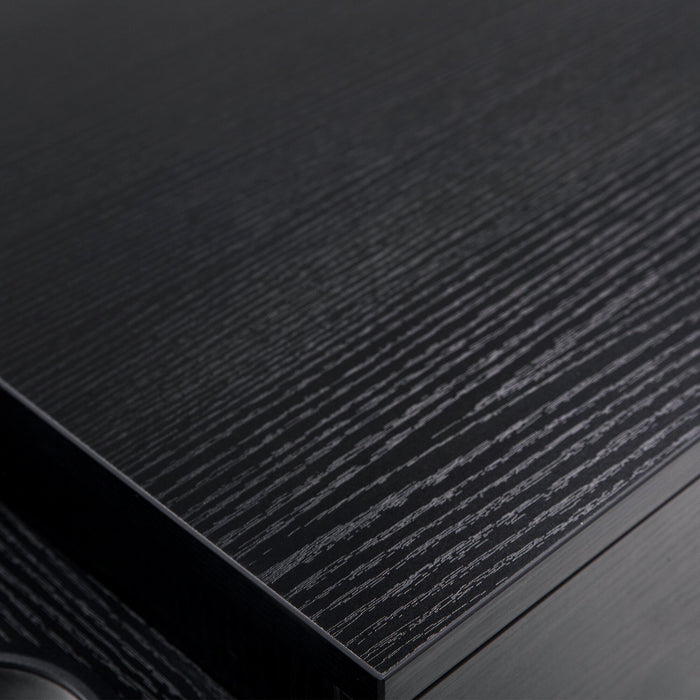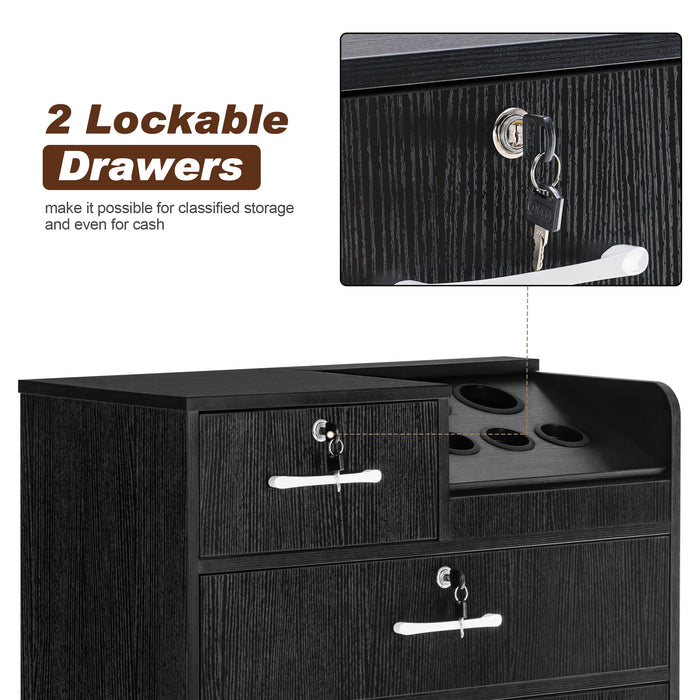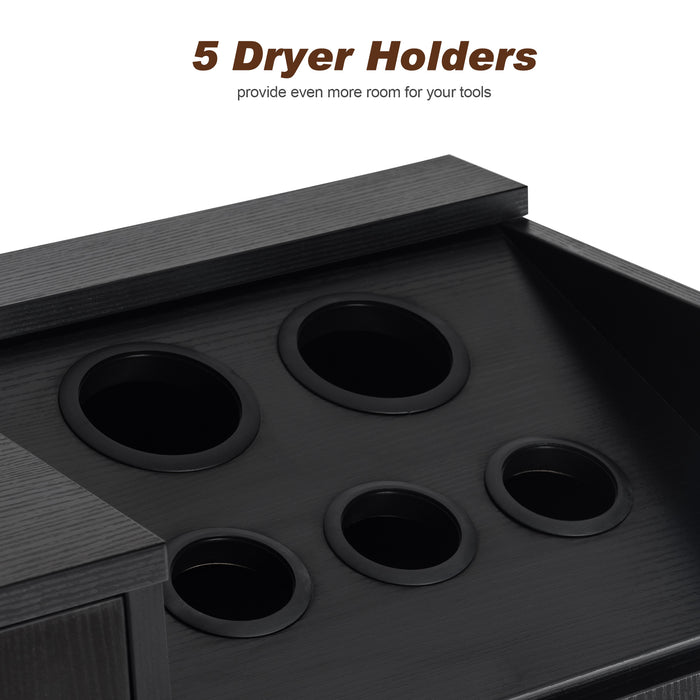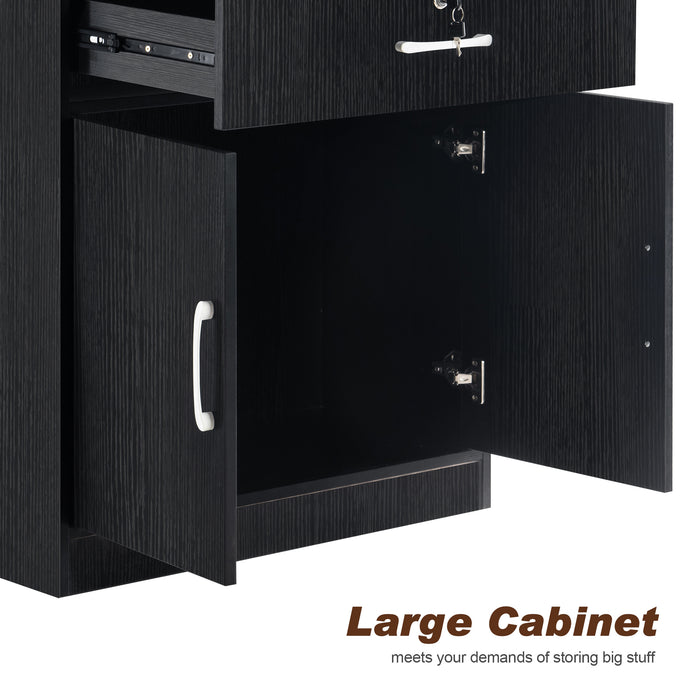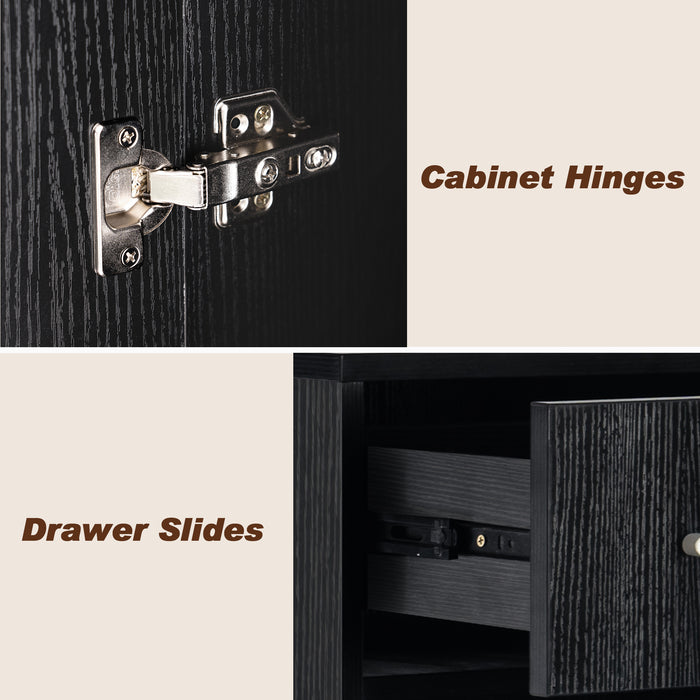 BarberPub Locking Storage Cabinet Barber Utility Unit Beauty Salon Station with Holders Styling Equipment with Drawers 2032
Item Description

This Locking Barber Cabinet will match the one you've been waiting if you are looking for a salon station with many storage room. With 2 lockable drawers, you can store your valuable things even cash here. Also there is a huge cabinet which provides room for big stuff. 5 tool holders of 3 sizes are included for a diversity storage of salon equipment.
Item Features
QUALIFIED MATERIAL: This station is made from particle board (MFC) and the laminated durable melamine surface is stainless, a little wet cloth would remove the dots off.
SPACIOUS STORAGE SPACE: This salon station has 2 slide drawers which are lockable to preserve your valuables. This beauty station also has one large cabinet at bottom for storing heavy items.
MORE HOLDERS: This metal utility have 5 hair dryer holders which provide more room that can be used to hold tools like curling irons, dryers, and other relative tools. Please note that the heating or just used tools should not be put into the holder since it is very hot and so the holders can be melted.
SMOOTH & QUIET: This storage cart adopts precise standards for every connective hardware to keep noises away. The high quality hardware including drawer slides and damper hinges make the open/close easy, quiet and gentle.
KINDLY REMINDER: This item comes in 2 boxes. Please follow the instruction to assemble items. Part list and detailed installation steps are included in the instruction. We will pack the item with buffer in the box to protect it from shipping damages. If there is any quality problem or damage, please contact us and we will offer replacements service.
Item Specifications
Type: 6154-2032
Color: Black  
Material: Particle Board (Melamine Faced Board)
5 cubicles for 3 specifications Dimension: 3* 2.17" & 2* 2.95"
Small Drawer Dimension (External): 14.3*6.5
Big Drawer Dimension (External): 28.0*6.5
Overall Station Dimensions: 38.7*29.5*13.8
Gross/Net Weight: 86/77
Assembly Required: Yes
Buyer reading
Please be sure to inspect your goods at time of delivery for any possible shipping damages, if you saw any damages on the shipment or you did not receive your full order, please let us know first and offer us pictures of damaged part, we will solve the problem as the way you want.
Please check the dimensions of the salon cart before purchase.
Please be sure to provide us with business address for shipping including a valid phone number for contact.
About BarberPub
After nearly ten years of business progress and brand upgrade, BarberPub has been widely recognized by customers. Our goal is to bring customers cost-effective and high-value products with satisfactory customer service. In order to better supplying our U.S.A customers, we have distribution centers.