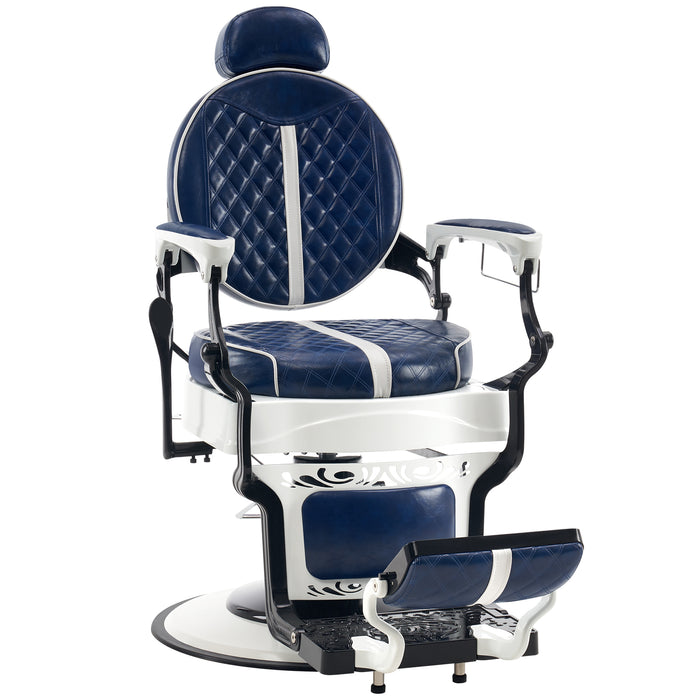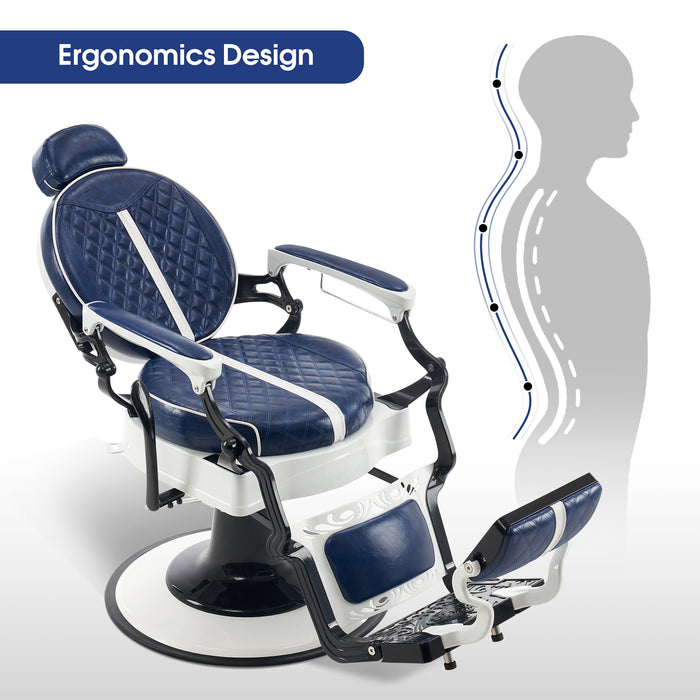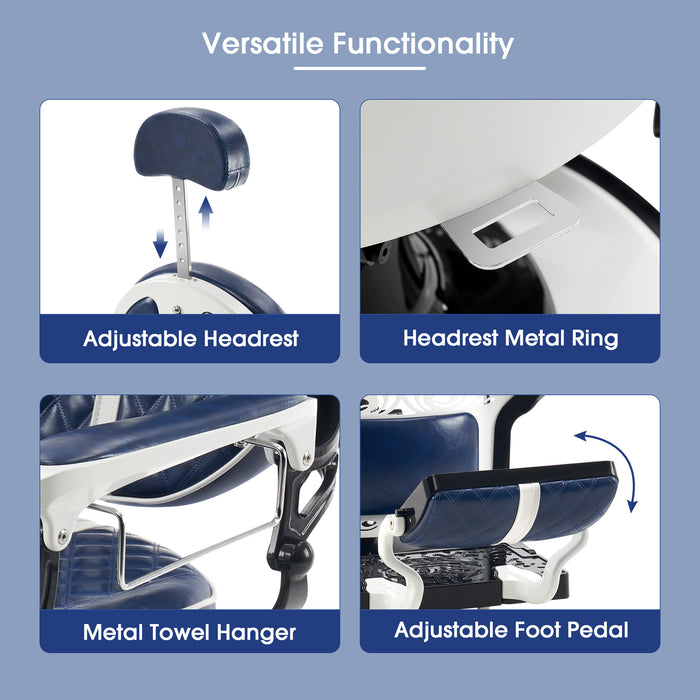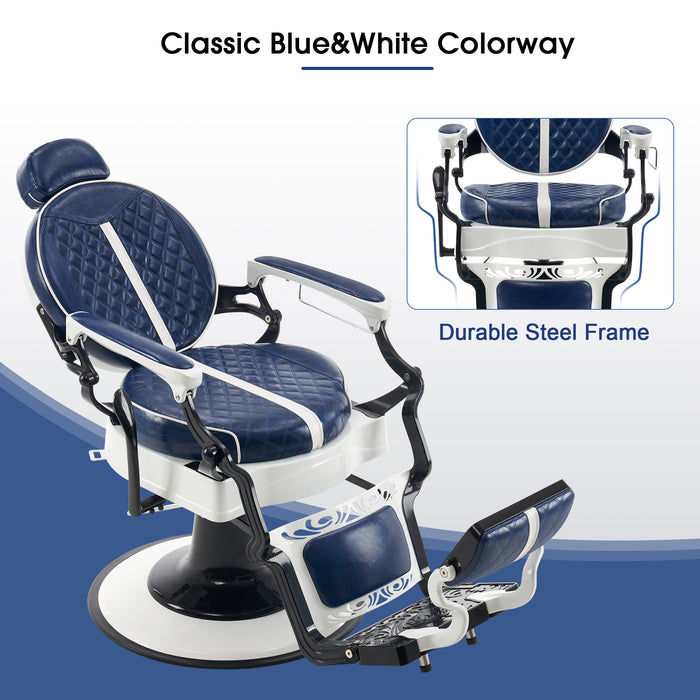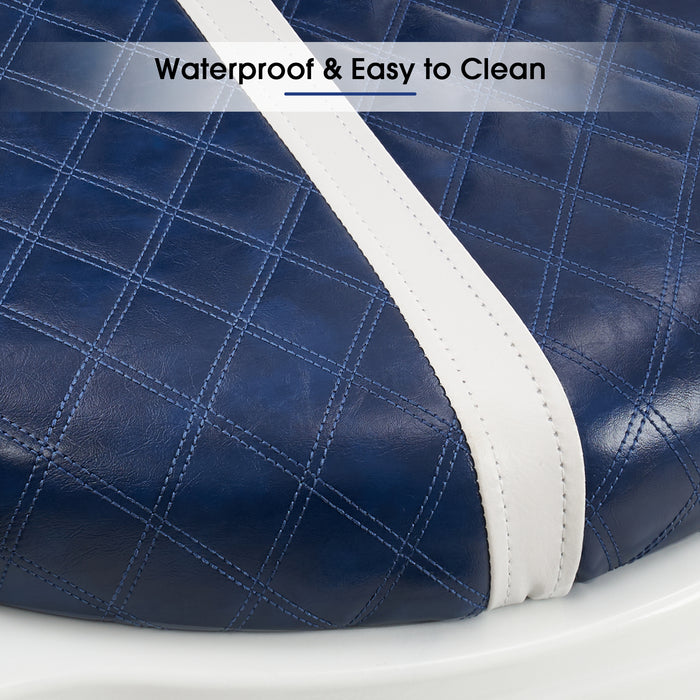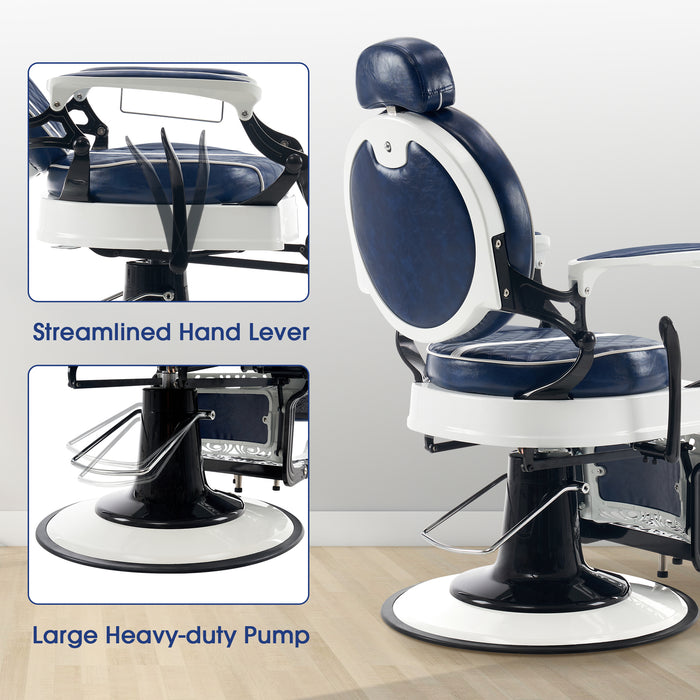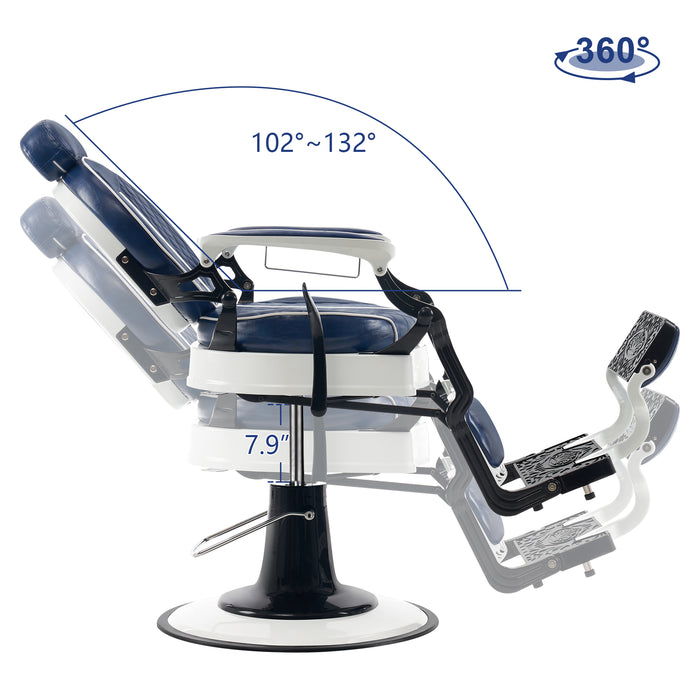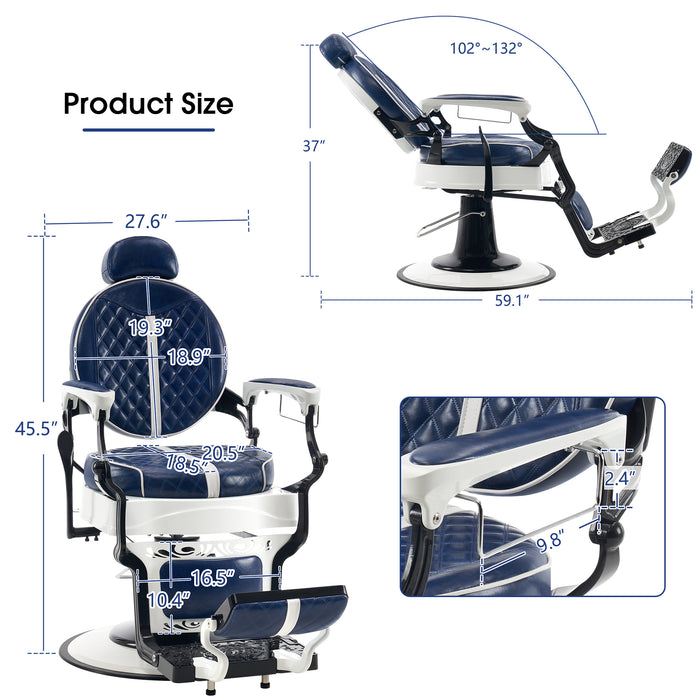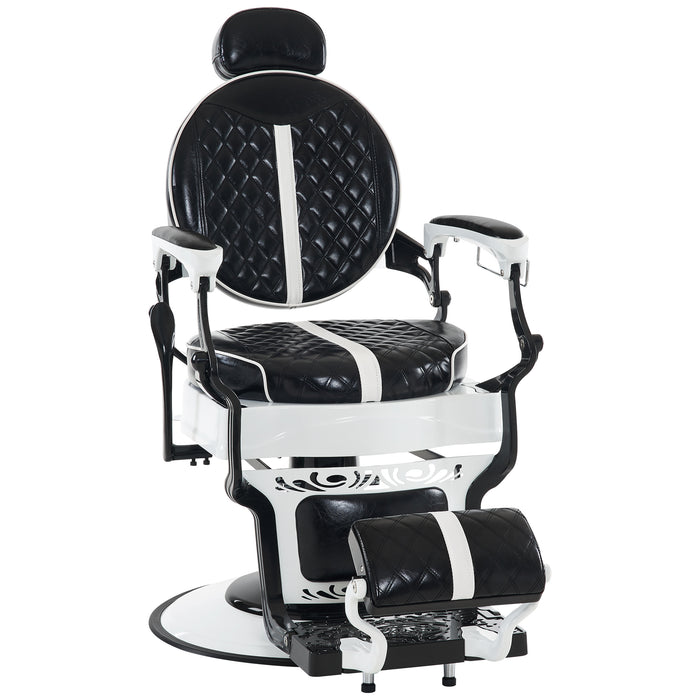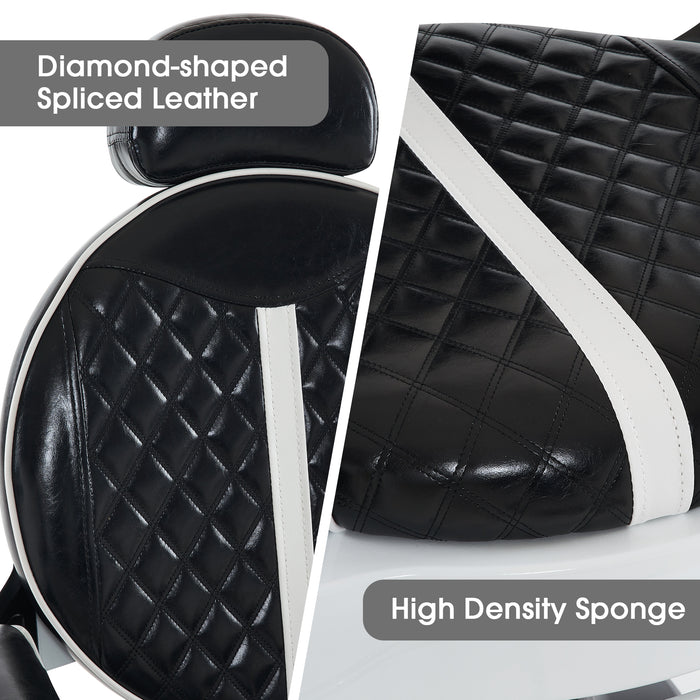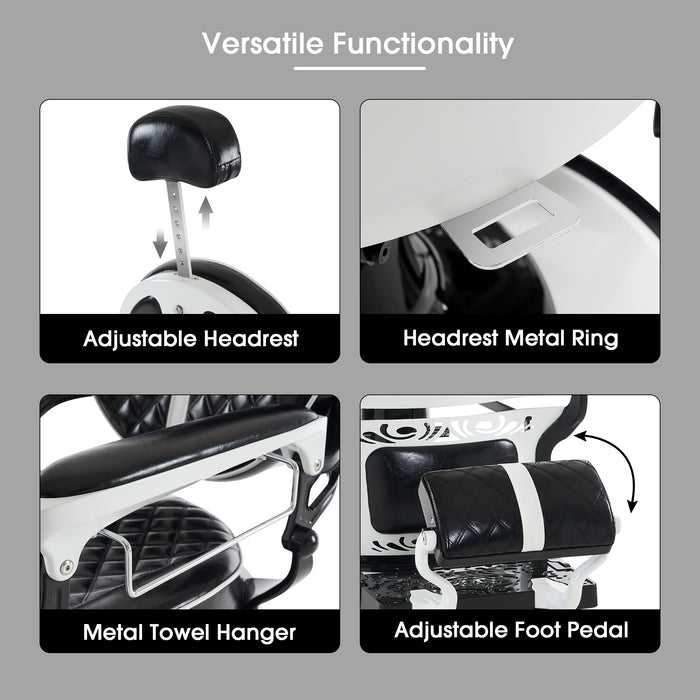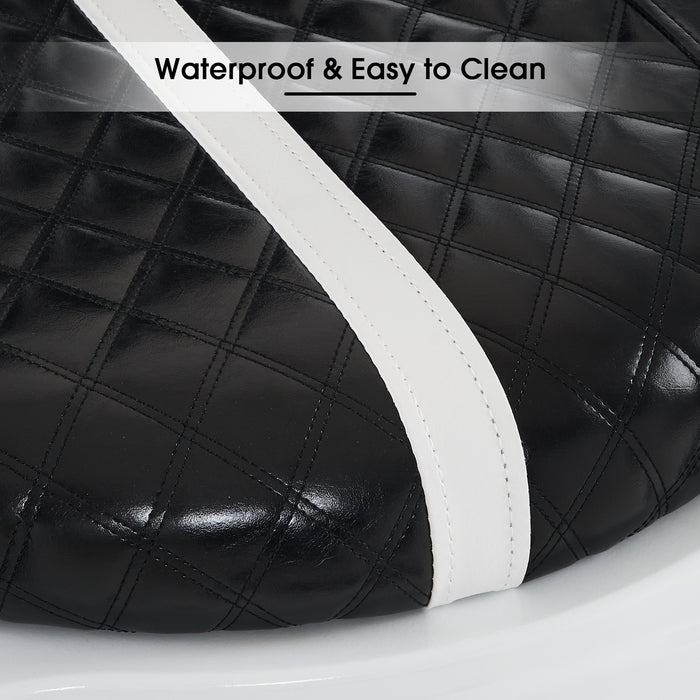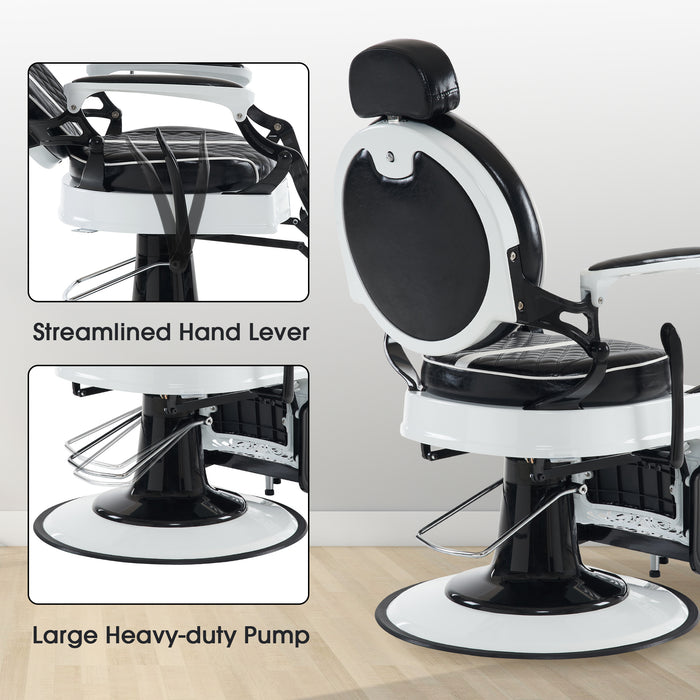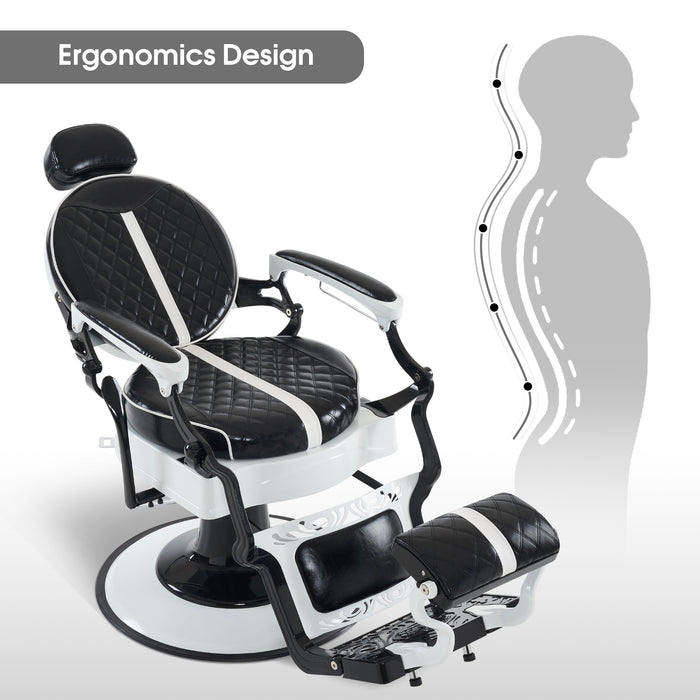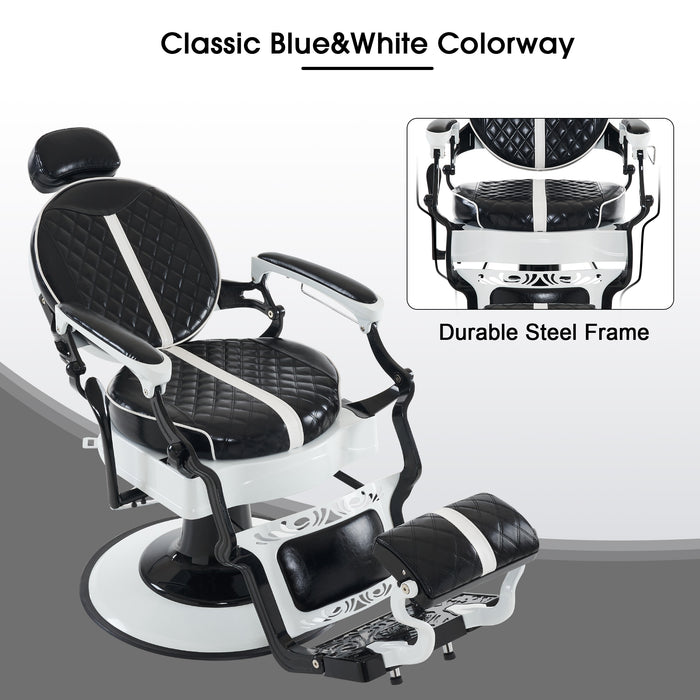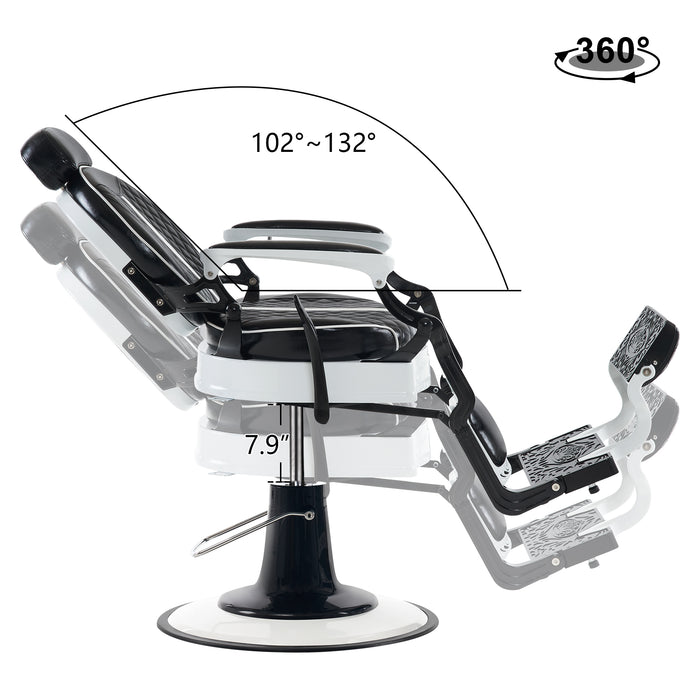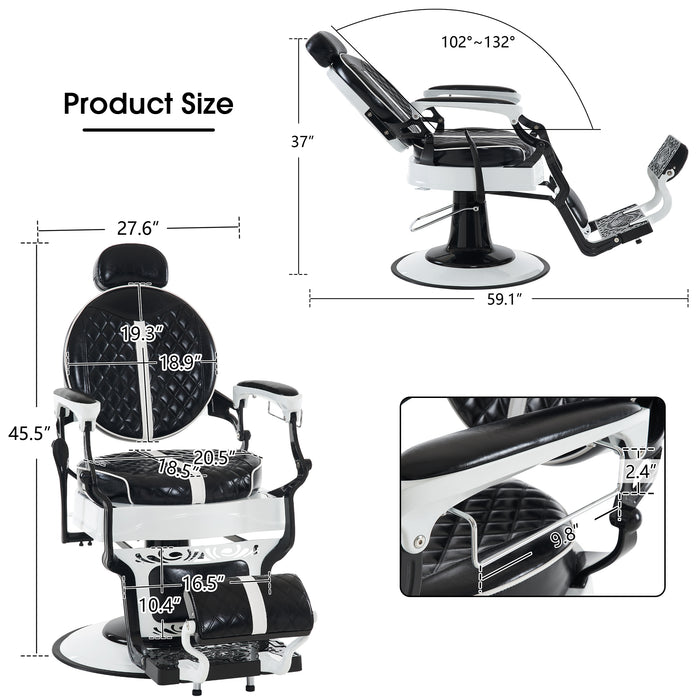 BarberPub Heavy Duty Metal Luxury Vintage Barber Chair All Purpose Professional Hydraulic Reclining Salon Beauty Spa Chair Styling Equipment 8739
Pre-sale: 6154-8739BLUE will be in stock on 10/10/2023.
Product Description:

This modern vintage luxury professional barber chair comes in a classic blue & white colorway that stands out among the solid color barber chairs. High-quality leather and multi-functional reclining hydraulic piston adjustable design can meet the diverse needs of your hair salon, beauty salon, home salon, tattoo parlor and other places!
Item Features:
【Retro&Vintage Design】This retro barber chair comes in a classic blue and white color scheme, luxurious, classic and premium for hair stylist. Seats and backrests have different designs in different areas. There is a duckbill level on the right. This barber chair has a modern composite aesthetic, ingenious manufacturing and a user-friendly design. Perfect for barbershops and salons with a corresponding decor.
【Various Functions&Ergonomic Structure】This chair has a soft and adjustable headrest, adjustable leg rest and foot pedal to meet your diverse work, while making your customers feel more relaxed about their content needs. The backrest and seat cushion are designed according to ergonomic theory to fit the lumbar spine and make your customers more comfortable.
【High Quality Leather&Manufacturing】Equipped with high quality PVC leather and heavy duty hydraulic pump. Textured finish is water, stain and easy to clean. Equipped with aluminum alloy frame and stainless steel parts, while ensuring the sturdiness of the chair, the hollowing process is added to the leg rest. We've added a metal towel rail and headrest metal ring to this retro barber chair to bring more convenience to your daily work. The thickness of the middle and sides of the seat cushion is different, which allows customers to sit on the chair more stably and snugly, increasing comfort.
【Stability&Flexibility】Heavy duty hydraulic pump with a maximum support weight of 700 lbs. Easier height adjustment with hydraulic pump up to 7.9 inches. The height of the headrest can be adjusted in 7 positions, or removed completely as required. The chair supports 360-degree rotation, and the duckbill level adjusts the inclination of the backrest and leg rest. The backrest can be reclined up to 132 degrees to meet your various shaving, grooming, shaving needs.
【Tips】The headrest is detachable and the chair can be reclined. All the accessories of this chair are packed in two separate boxes and need to be assembled upon receipt. A parts list and detailed installation steps are included in the instructions. We will pack items in the best possible condition to prevent shipping damage. If you have any questions, please feel free to contact us, we will spare no effort to provide you with a satisfactory shopping experience.
Item Specifications:
Type : 6154-8739BL
Color: Blue&White
Material: Metal Frame/PVC Leather
Back & Seat Fill Material: High Density Sponge
Overall Dimension: 27.6"(W) x 59.1"(D) x 45.5"(H)—53.4"(H)

Hydraulic Height Adjustment: 7.9"

Seat Dimension: 20.5 "(W) x 18.5"(D)

Backrest Dimension: 18.9"(W) x 19.3"(H)
Base Diameter : 27.8"
Loading Capacity: 700 lbs
Gross/Net Weight: 153/118 lbs 
Buyer Reading:
Please make sure that the dimensions of the chair meet your needs before purchasing. The frame and seat of our chair are prefabricated.Please note that this chair comes in a two-box set.
Please be sure to check your barber chair for any shipping damage when you deliver it. If you find any damage to the goods or you have not received a complete order, please indicate it on the invoice when the driver asks you to sign. 
Warranty Information:
Hydraulic Pump: 1 Year
Frame & Base: 1/2Year
About BarberPub
After nearly ten years of business progress and brand upgrade, BarberPub has been widely recognized by customers. Our goal is to bring customers cost-effective and high-value products with satisfactory customer service. In order to better supplying our U.S.A customers, we have distribution centers.