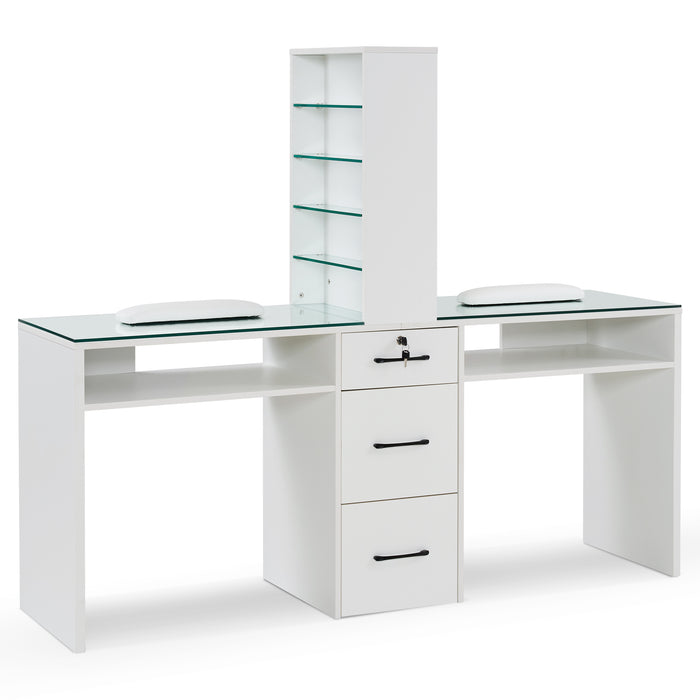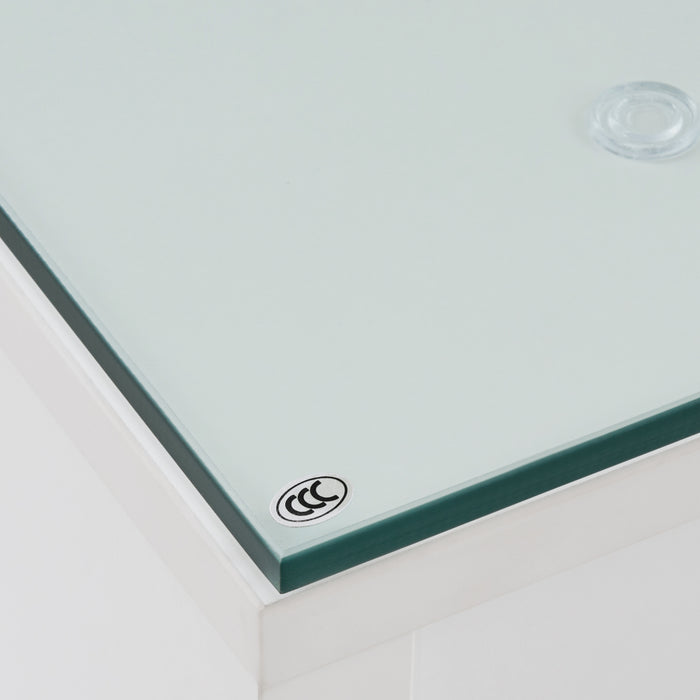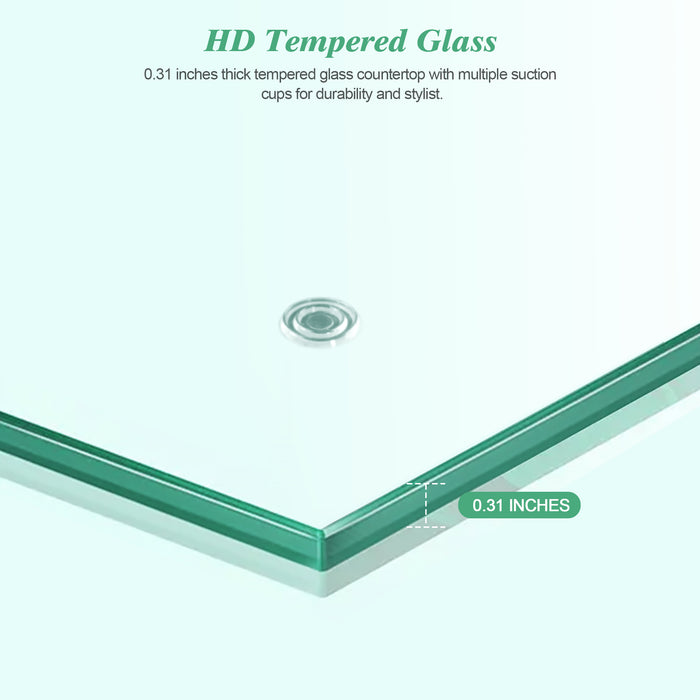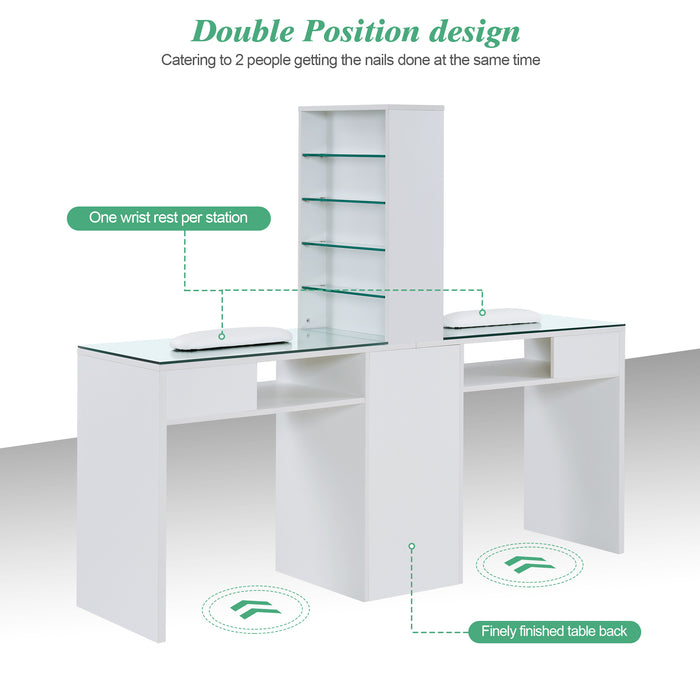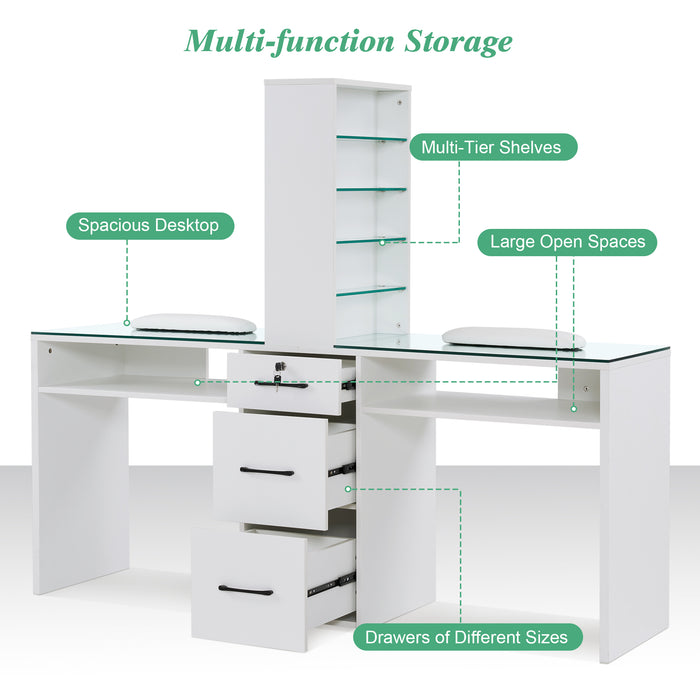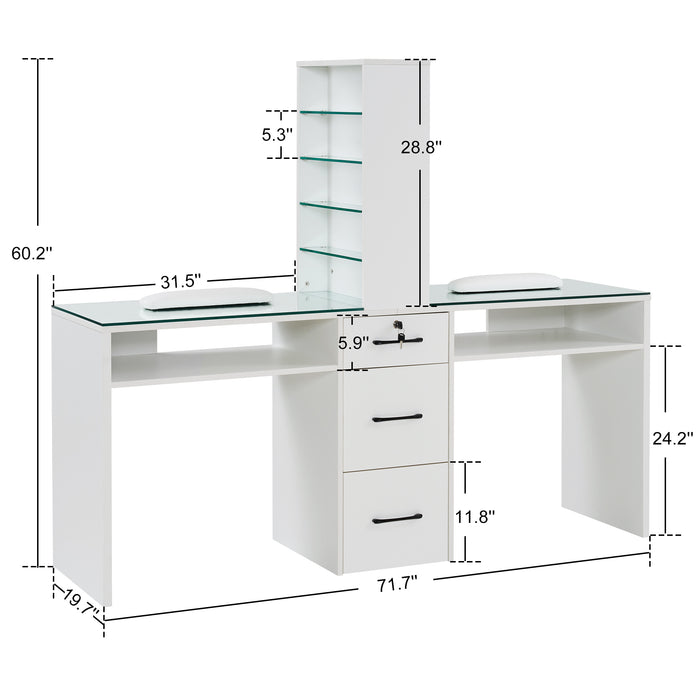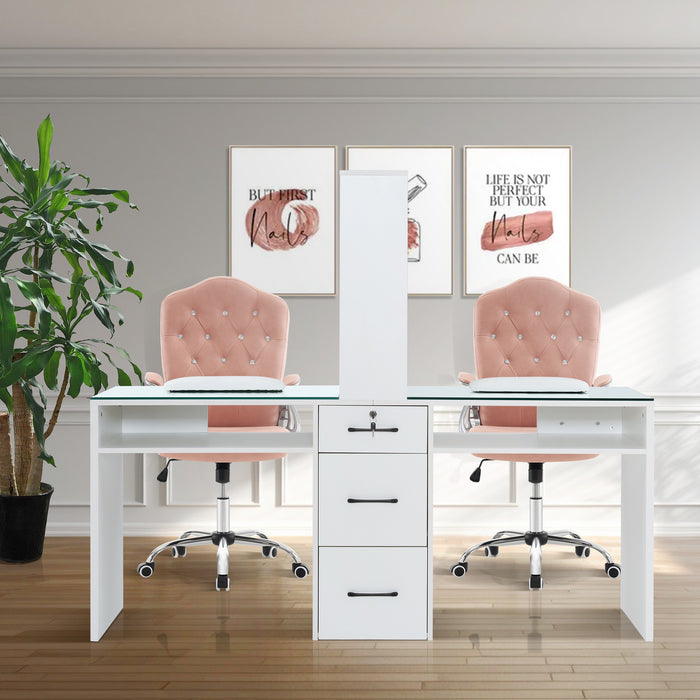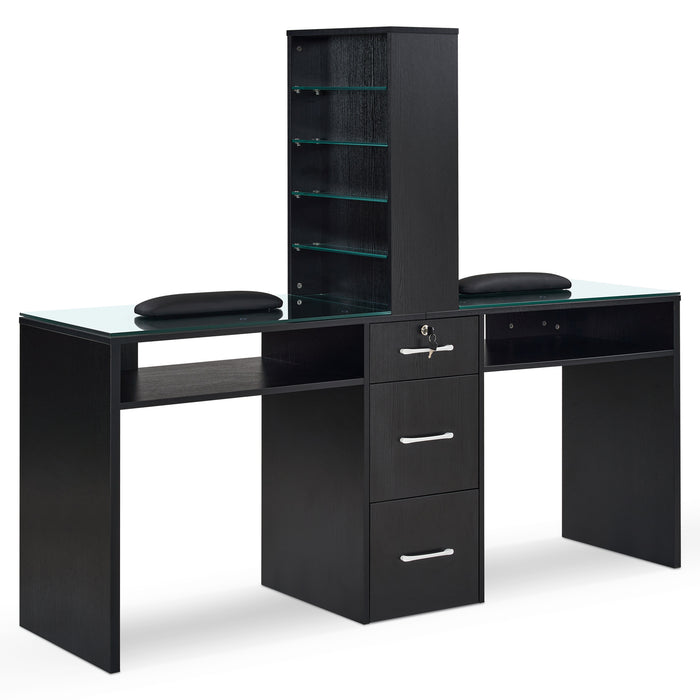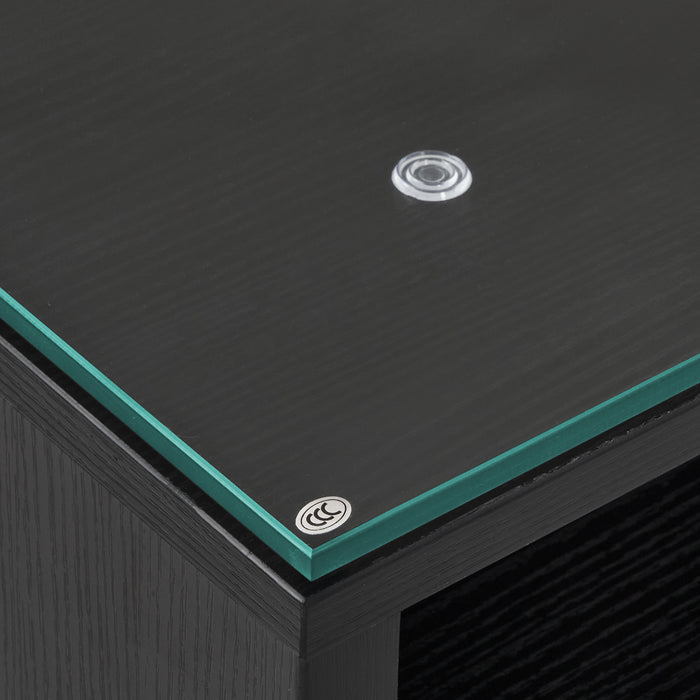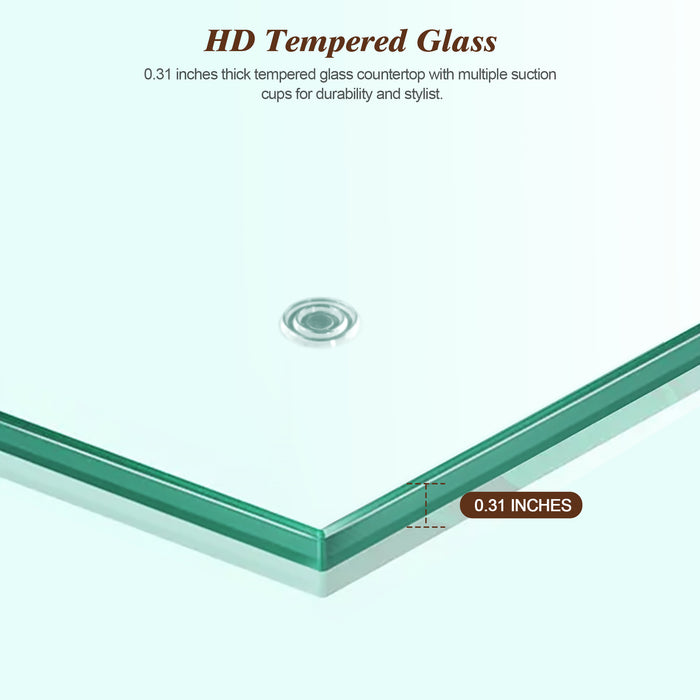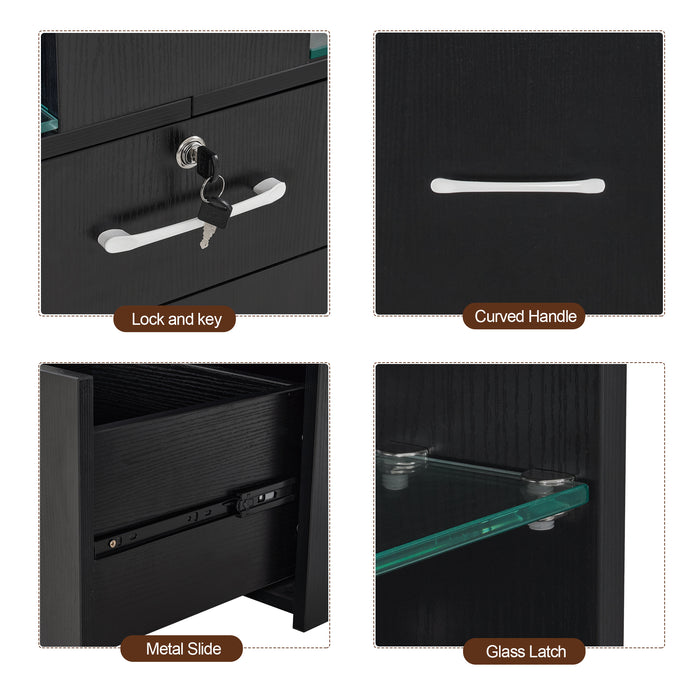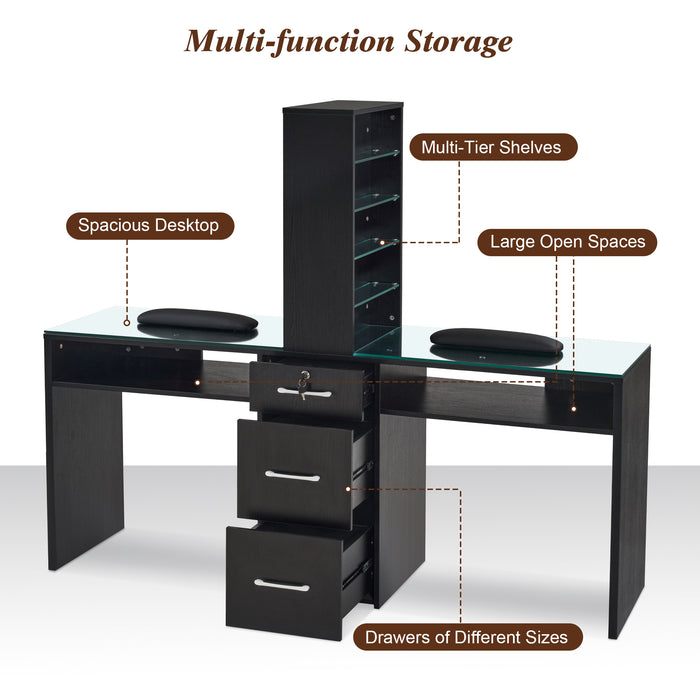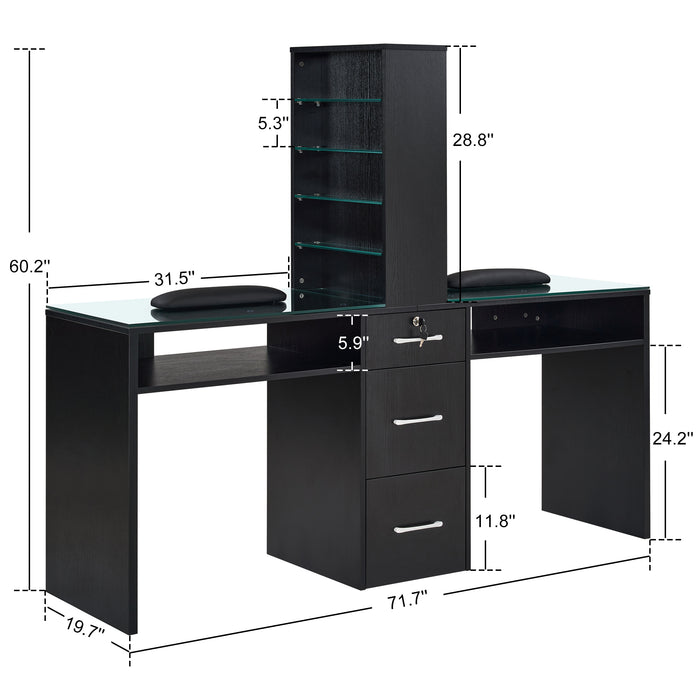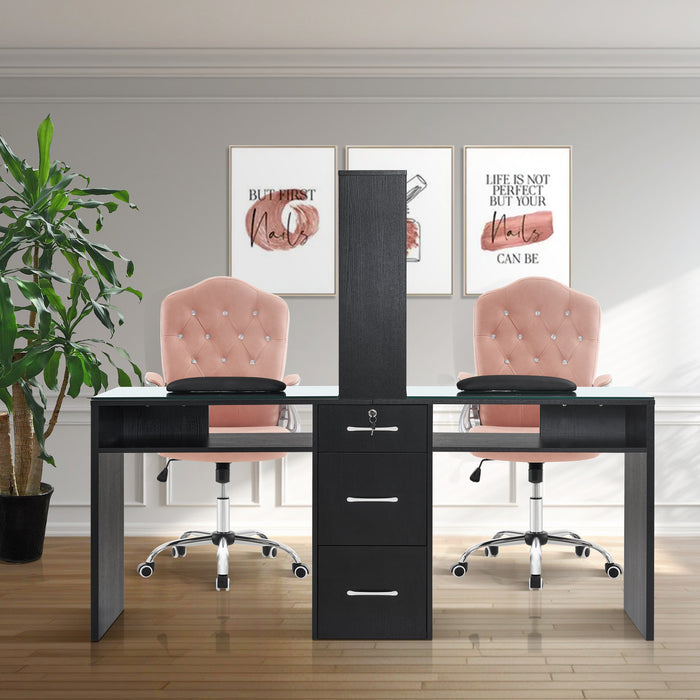 BarberPub Double Manicure Table for Storage, Beauty Nail Desk with Glass, Modern Nail Salon Makeup Station, Functional Manicure Workstation, Spa Equipment with Drawers & Shelves 2666
Item Description
If you're in search of an exquisite and exceptionally practical double manicure table, this one is a right gem for you! This dual nail desk leans towards a modern and minimalistic design, featuring classic shades like white and black as its primary palette, which are versatile and a timeless appeal. Its versatile storage space and the ability to accommodate two clients simultaneously promise a distinctive and enhanced experience for both salon owners and customers.

Item Features
• Premium Material: Made of high-quality particle board and tempered HD glass, this double manicure table boasts a desktop that not only offers a sleek and durable surface but also presents a beautiful appearance. With its specially designed wrist rest, it ensures customers enjoy a comfortable experience.
• Diversified Storage: The beauty desk includes multi-tiered storage shelves, 3 drawers of varying sizes and spacious open compartments, which can excels in organizing tools efficiently. And the lockable drawer also provides a secure and tidy place to store personal belongings.
• Personalized Design: The standout characteristic of this nail table is that it can accommodating two individuals concurrently, resulting in enhanced work efficiency. Furthermore, it offers ample legroom, ensuring clients can sit comfortably and move with ease.
• Effortless Maintenance: The glass surface is remarkably easy to clean, requiring only a simple wipe with a cloth and detergent to restore its pristine appearance. Additionally, the large open shelf is ideal for storing manicure lamps, enabling customers to more convenient to get their nails done.
• Kindly Reminder: Item comes with FOUR separate packages and assembly is required. We will pack the item with buffer in the boxes to protect it from shipping damages. Please install carefully to avoid deformation or damage to product.

Item Specifications
Type: 6153-DC2666
Color: Black/White
Main Material: Particle Board & HD Tempered Glass
Overall Dimension: 71.7"(L) x 19.7"(W) x 60.2"(H)
Packing Size: 39.76"(L) x 23.62"(W) x 4.73"(H) --- First Box
34.25"(L) x 23.62"(W) x 5.32"(H) --- Second Box
33.86"(L) x 23.62"(W) x 5.91"(H) --- Third Box
32.48"(L) x 23.62"(W) x 5.91"(H) --- Fourth Box
Package Quantity: 4
Gross/Net Weight: 216.28/199.31 lbs
Assembly Required: Yes
Buyer Reading
Please be sure to inspect your goods at time of delivery for any possible shipping damages, if there is any damage after delivery or you did not receive your complete order, please tell us immediately and offer us pictures of the damaged parts, we will solve the problem as soon as possible.
The Double Manicure Table is more large in size, please be sure to check the dimensions of the Double Manicure Table before purchasing.
Please be sure to provide us with the correct address for shipping including a valid phone number for contact.
Please wipe the acetone spots on the desktop in time to better preservation this acetone-resistant nail table.
About BarberPub
After nearly ten years of business progress and brand upgrade, BarberPub has been widely recognized by customers. Our goal is to bring customers cost-effective and high-value products with satisfactory experience. In order to better supplying our U.S.A customers, we have distribution centers.