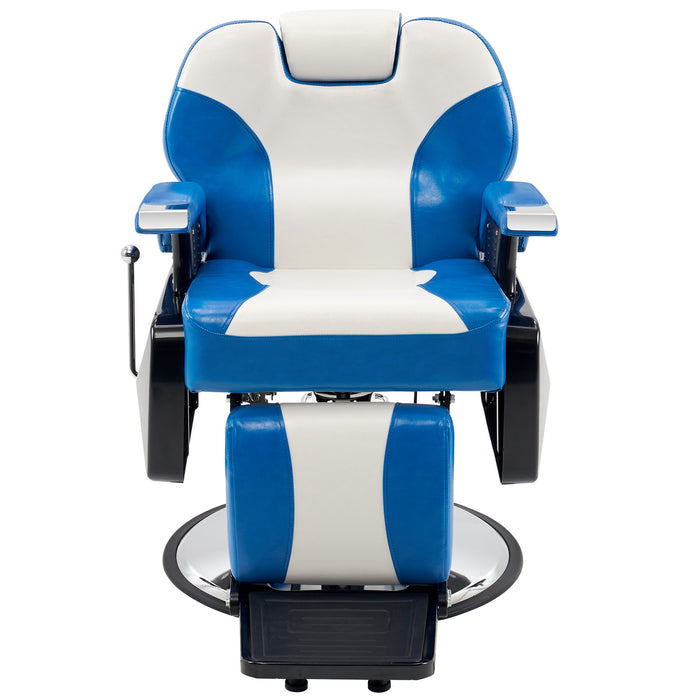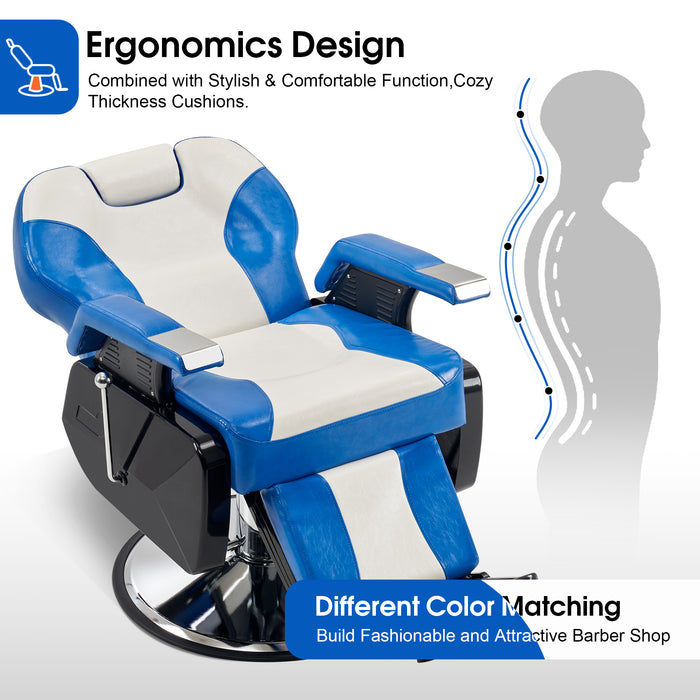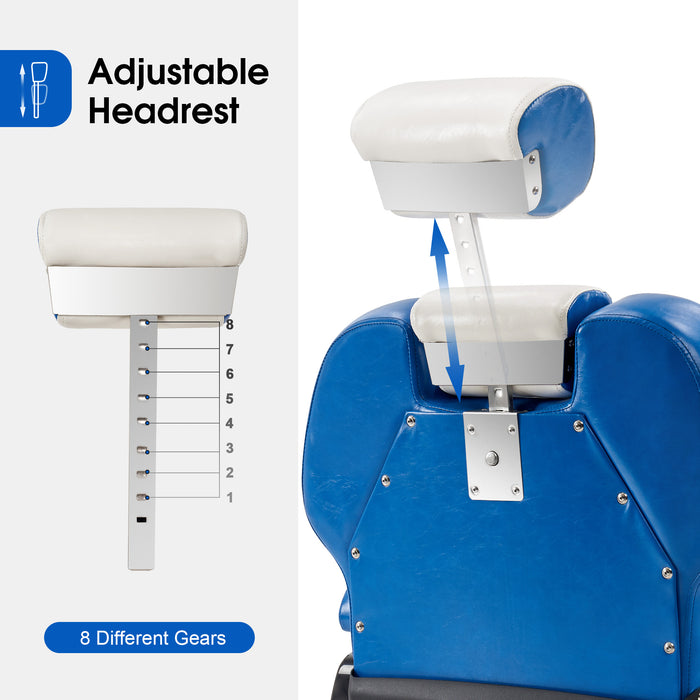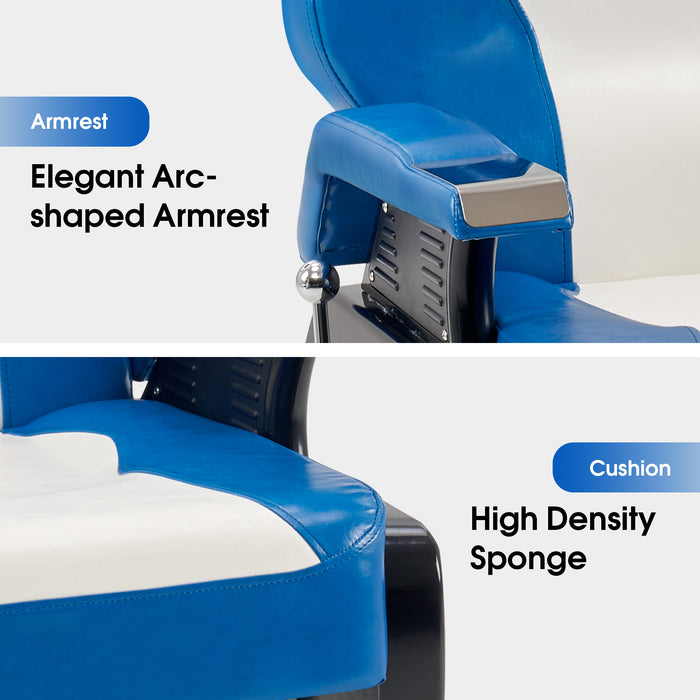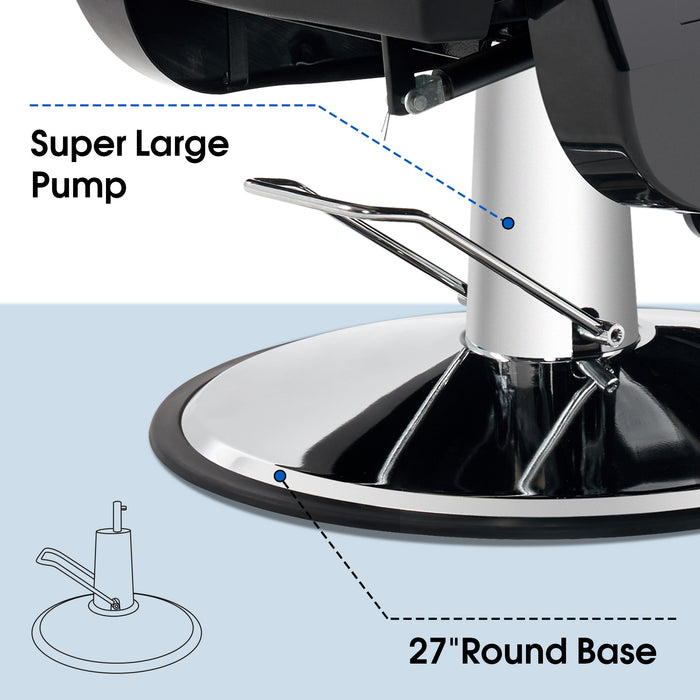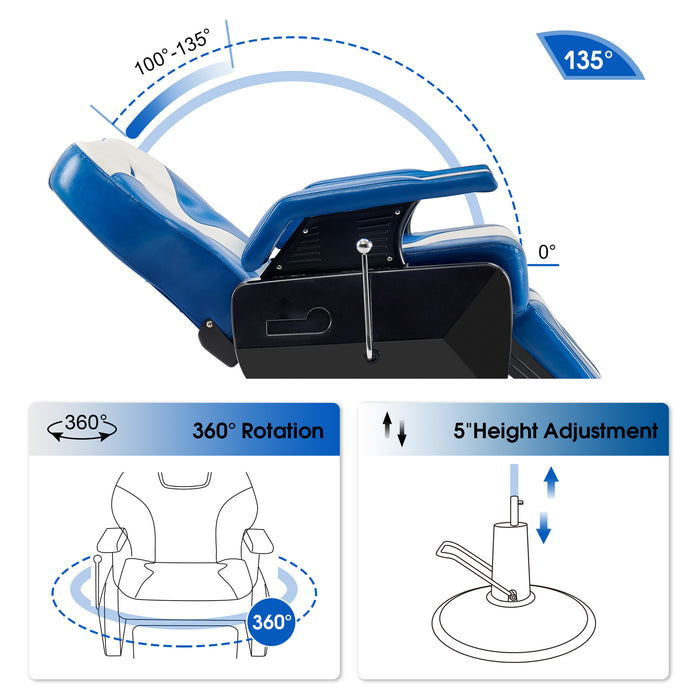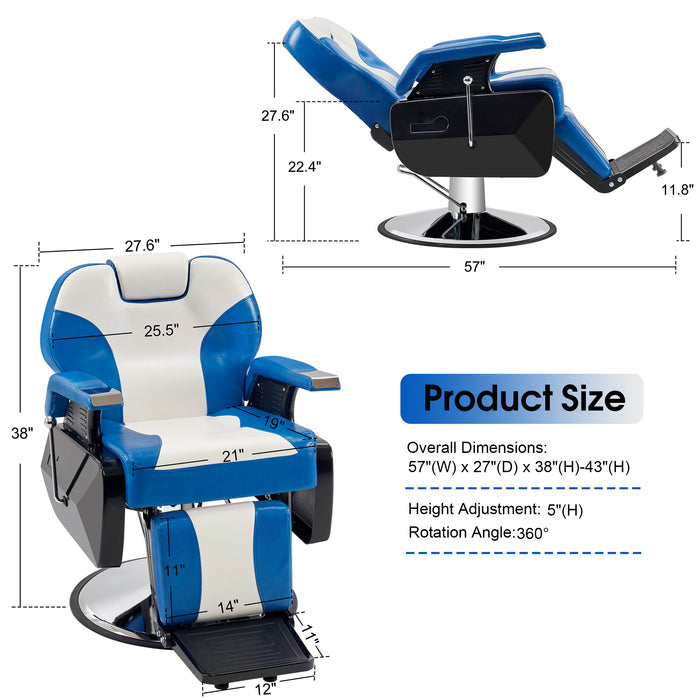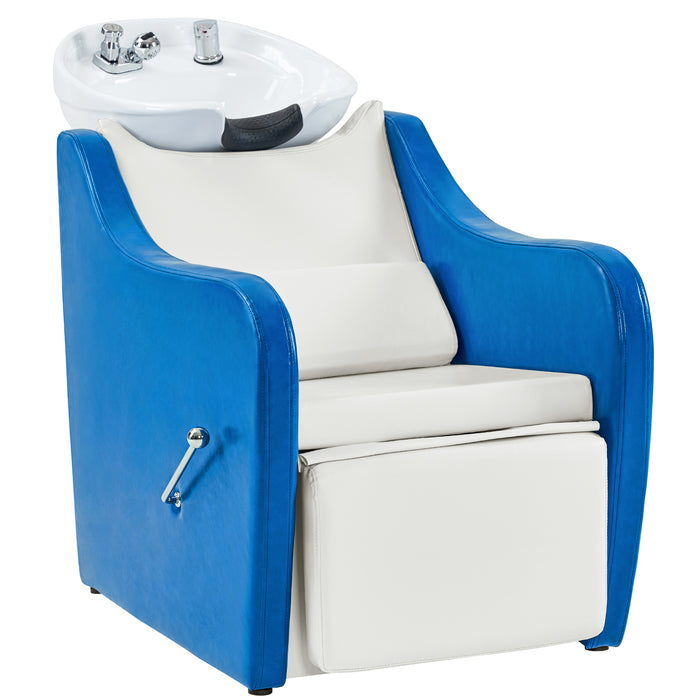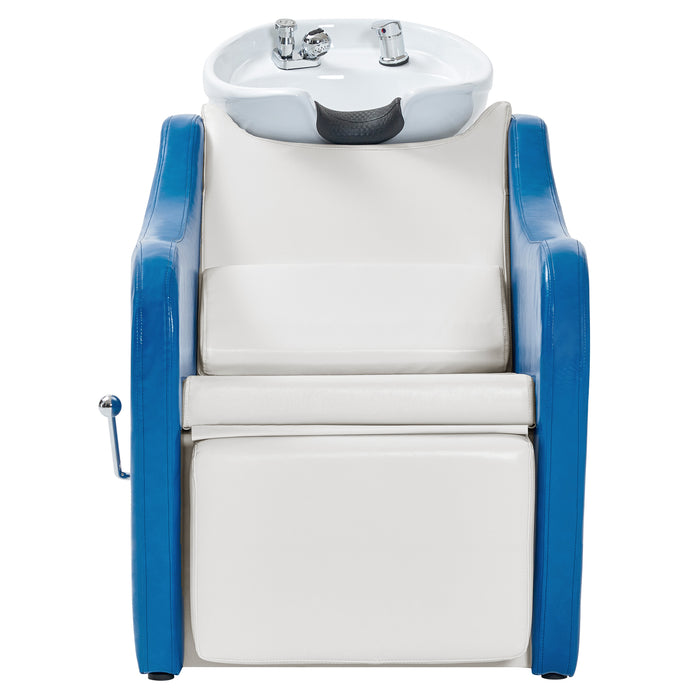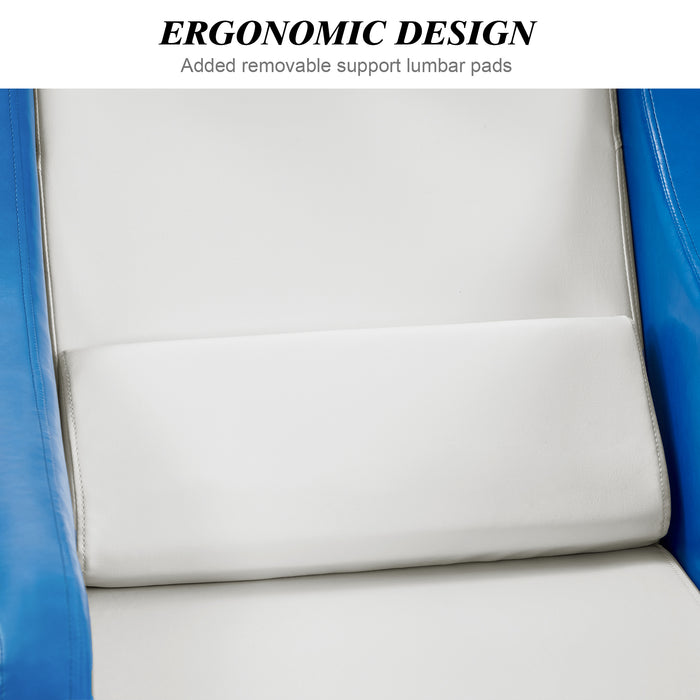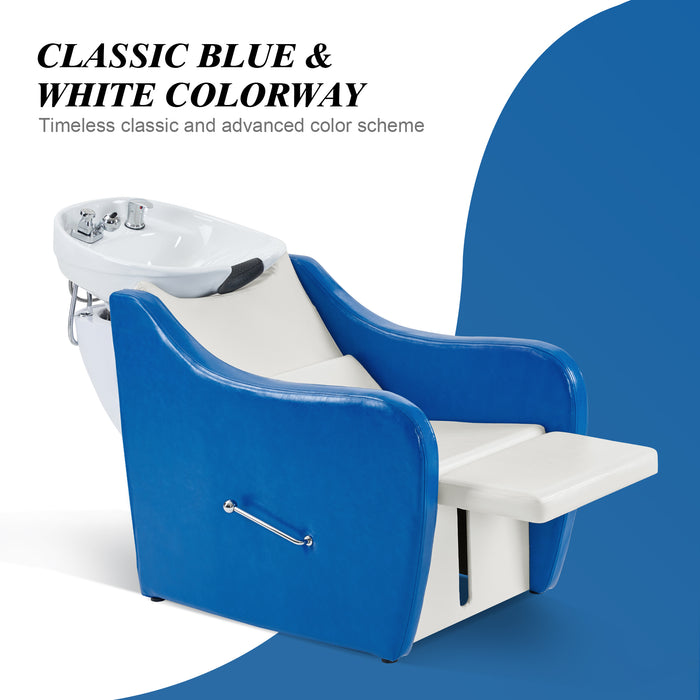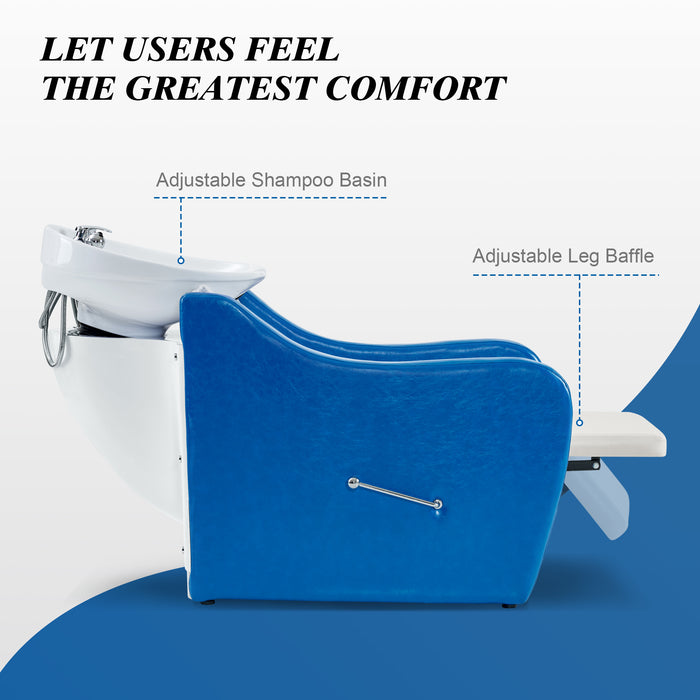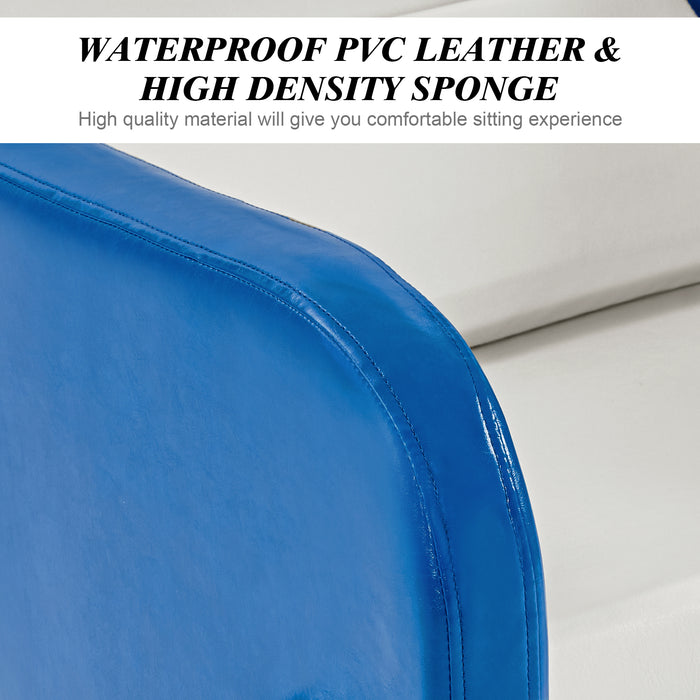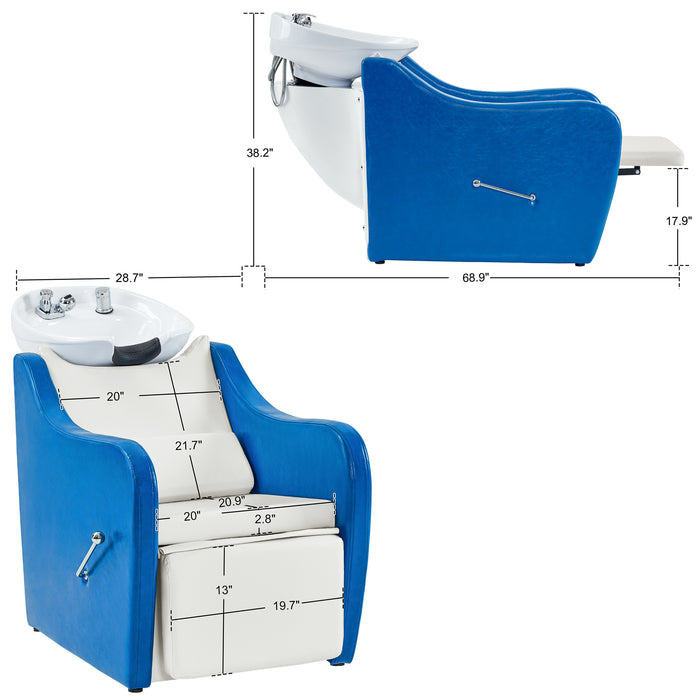 BarberPub Hydraulic Recline Barber Chair with Shampoo Backwash Ceramic Shampoo Bowl Sink Chair Station for Salon Beauty Spa Styling Equipment 2688&9090
This is our new attempt to introduce a combo product, when you buy this combo product, you will receive a blue & white 2688 barber chair plus a 9090 shampoo chair in the same color scheme. We offer you a 10% discount on the price. If you have any questions feel free to contact us!
Below is more specific information about each of these two products for your reference!
Item Features:
6154-2688 Barber Chair
DURABLE AND STURDY: Large Size Heavy duty hydraulic pump with an estimated 450lbs loading capacity. 27" Chrome Base provides better stability to customers.The heavy duty steel frame under the seat cushion prevent unsteadiness from various movements.
HIGH QUALITY LEATHER: Exquisite stitching makes the chair surface stronger and adds a touch of beauty to this barber chair.High-quality textured satin PU leather that withstands more than 40,000 rubs.And it is waterproof and easy to clean.
FREE ADJUSTMENT: Backrest reclines up to 135°(Backrest can be easily adjusted to multiple locking positions by a gas-piston lock & release mechanism). Fully adjustable Headrest with 7 hole sites extends up to 8.7". Bottom lever makes height adjustment easier, maximum to 5". 360°Swivel with locking mechanism provides better versatility. Headrest and foot rest can be easily removed.
WORK IN ALL PLACES: Classic styling and mature design are suitable to all populations and barbershops, salon spa, tattoo shop.Very popular among our hair stylists and customers due to its attractive look and flawless quality.
WARM TIPS AND WARRANTY: We will pack the item in its best condition and add buffers in the box to protect it from shipping damages. All of our products come with a 1-year manufacturer warranty. Please feel free to contact us if you meet any problem and we will reply immediately. Also please feel free to contact us if you have any questions for this product so we can help you immediately.
6154-9090 Shampoo Chair
Fastidious Materials: Solid wood frame + high-elastic sponge + enhanced PVC leather +high-quality fiberglass+ high-quality ceramic + UPC standard sprinklers.
Great Comfort: A fold-down foot rest can be achieved by pulling on the chrome handle to bring the full length of the seat out to 35 inches, which releases legs completely. Featuring a tilt-bowl with adjustable height so you can easily adjust the chair for maximum comfort.
Modeling Human Nature: The design of streamline body structure with perfect radian make it elegant and relaxing for customers to lie down. The 22-inch seat depth brings more space and the presence of removable support lumbar pads which can relieve stress and fill the lumbar vertebrae.
High Quality Leather: The chair features enhanced PVC leather, with a smooth surface and a slight sense of friction. It is waterproof but also easy to clean and wear resistant.
Stellar Service & Warranty: The chair comes with the best condition and package before shipping out. 1- Year Warranty to protect your shopping experience. Should you have any query, please feel free to contact us and we will help you immediately.
Item Specifications:      
Model: 6154-2688 Barber Chair

Color: Black/ Red/ Brown/ White/ Black&Red/ Black&Brown/ Black&White/ Orange/Champagne/White&Blue/Yellow&Red/Yellow


Material: Steel Frame/ Faux Leather

Overall height/Distance from Headrest to Bottom(Adjustable):38''--43''

Headrest Size: 8'' (L) x 5'' (H)

Headrest Adjustment: 8.7"

Backrest Size: 25.5" (L) x 19" (H)

Seat Size: 20"(D) x 21" (W)

Seat Height(adjustable):23.6"-29"

Footrest Size: 12" (L) x 11" (W)

Loading Capacity: 450Lbs

Package Quantity: 2

Gross/Net Weight:Box 1 of 2 66/60lbs;Box 2 of 2 65/51lbs
Model: 6154-9090 Shampoo Chair

Overall Dimension(without the fold-down footrest): 25''(W) x 58''(D) x 39''(H)

Overall Dimension(including the fold-down footrest): 25''(W) x 71''(D) x 39''(H)

Seat Area: 19.6''(W) x 22''(D)

Backrest Area: 19.6''(W) x 17.7''(H)

The Distance Between Two Armrest: 25.2''

The Height from the floor to the armrest:25.2"

The Height from the floor to the top of the bowl: 39"

Bowl Dimension: 23.6''(W) x 20.0"(D) x 7.9"(H)

The Depth of The Bowl: 5.5''

Support Lumbar Pads Dimension: 19.6''(W) x 7.9''(H) x 2.4''(D)

Weight Capacity: over 500lbs

GW/NW:154/139Lbs
About BarberPub
After nearly ten years of business progress and brand upgrade, BarberPub has been widely recognized by customers. Our goal is to bring customers cost-effective and high-value products with satisfactory customer service. In order to better supplying our U.S.A customers, we have distribution centers.