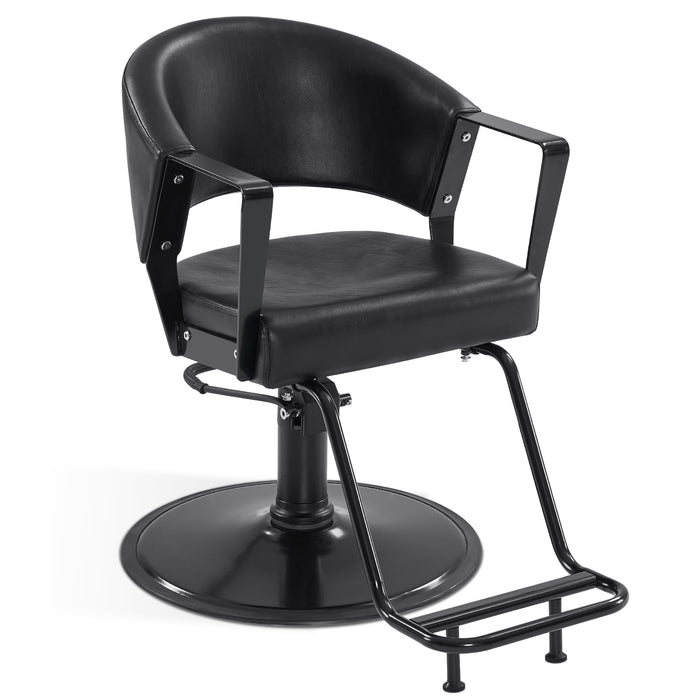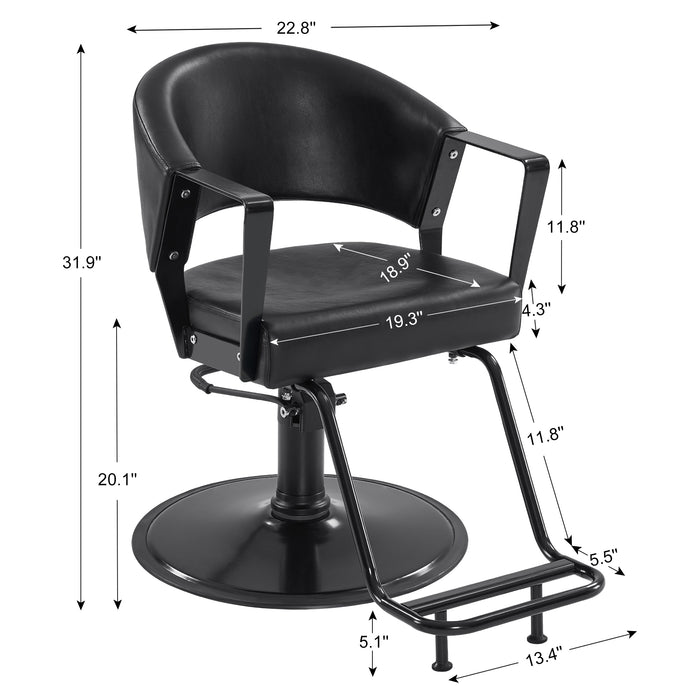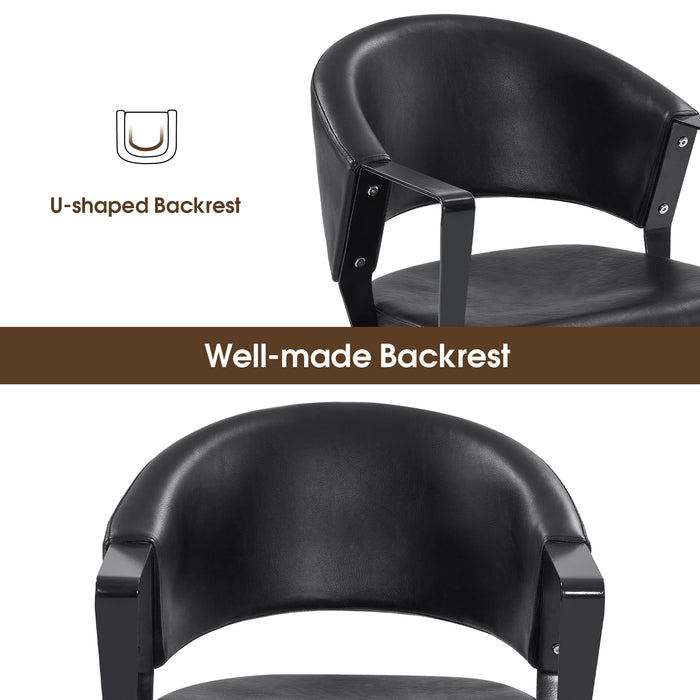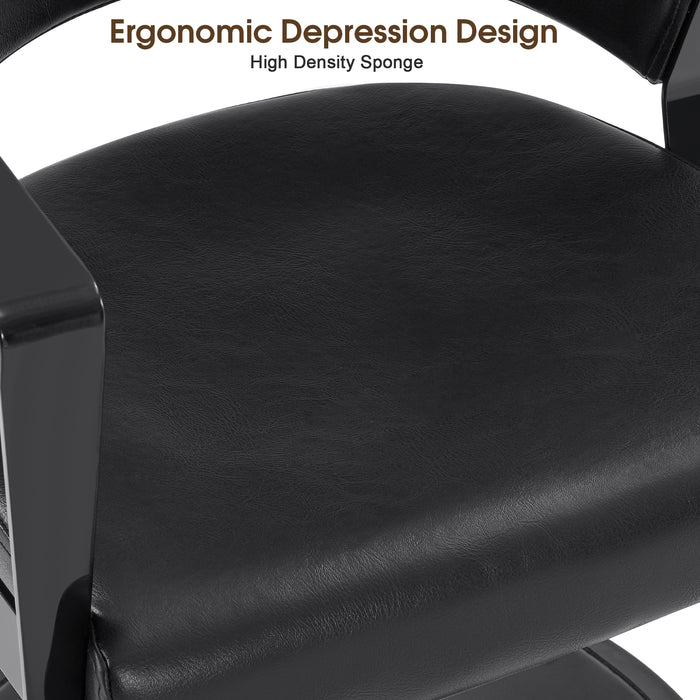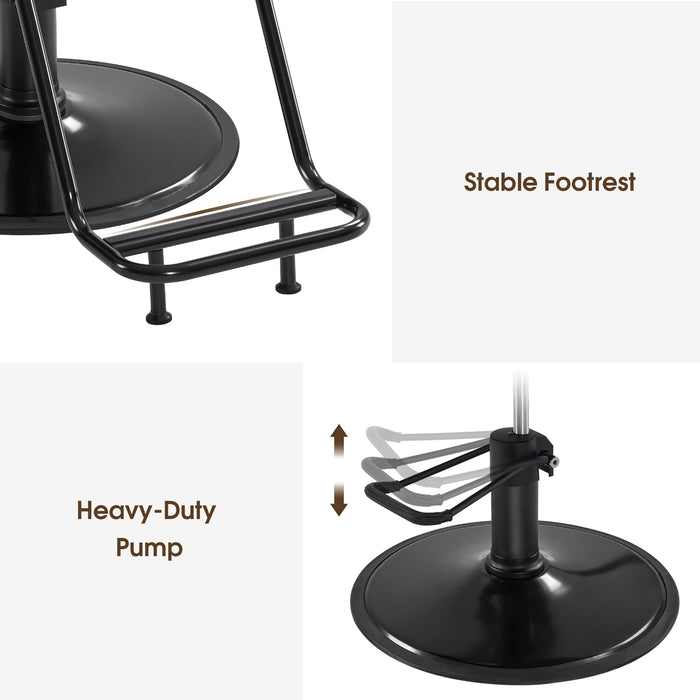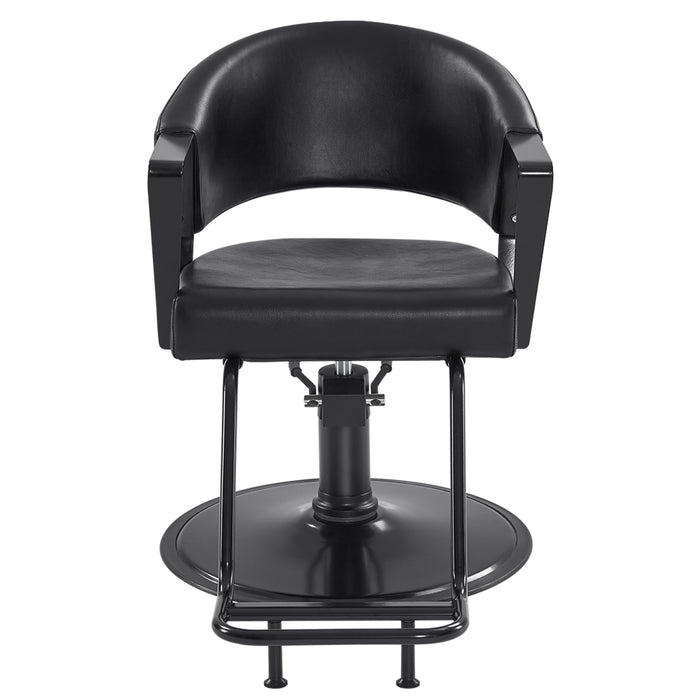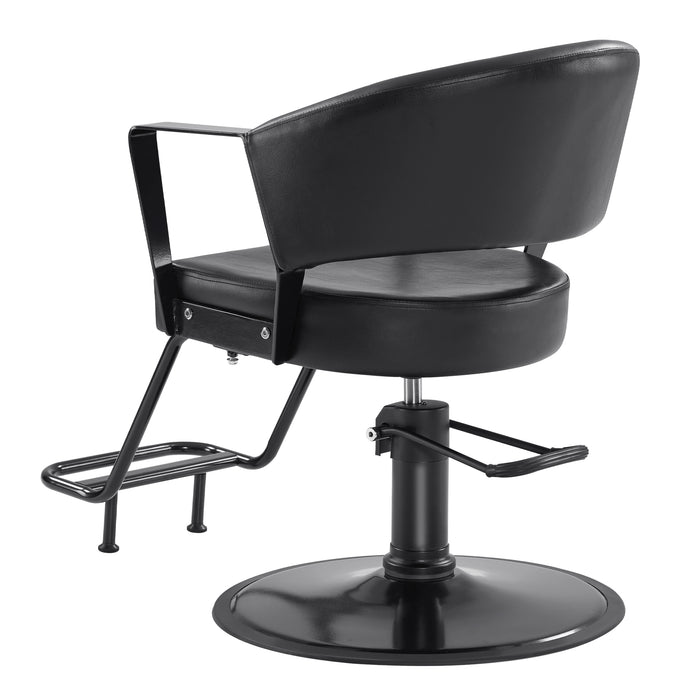 BarberPub 440lbs 6.3" Adjustable Hydraulic Pump Salon Chair, 360° Swivel Classic Modern Hair Styling Barber Chair, All Black Curved Wooden Hair Cutting Salon Beauty Spa Equipment 8517
Item Description:
In an exquisite beauty salon, a striking all-black heavy duty salon chair stands out among the rest. Placed at the center of the hairdressing room, it exudes an air of elegance. The salon styling chair features a clean and minimalist design, with the black base and iron frame.
When customers walk into the salon, their attention is naturally drawn to this all black curved wooden hair cutting salon chair. Sitting in this chair, customers will feel the modern and stylish atmosphere of the beauty space and fully enjoy the unique and exceptional beauty and hairdressing experience offered by the hair stylist.
Item Features:
Fashion All-black Appearance: In order to adapt to changing trends and customer preferences, we have incorporated new ideas into this beauty spa salon stylist chair. The armrests and footrest are made of smooth black iron, giving the sillas salon belleza a modern touch. Both the pump and base have been upgraded, changing the previous stainless steel color and adopting a black iron design.
Flexible Adjustment: This hydraulic pump salon chair features a 360 degree swivel function. The height of the black salon chair seat to the floor can be adjusted from 20" to 26.3", ensuring that hair stylists can easily find the right height to meet the haircut and beauty needs of customers.

Curved Wooden Structure: Hairstylist salon chair adopts curved wooden structure, which can not only provide customers with more back support, but also add natural beauty. U-shaped backrest design can increase the stability and durability of the styling chair.

Comfortable Seat Cushion: The cushion of salon essentials hair stylist chair is filled with high-density sponge, ensuring comfort, durability and support. High density sponge filling of the cushion helps to protect the customer buttocks and lower back. It provides additional support and comfort and relieves the pressure on these areas during sitting, enabling the customer to relax while enjoying a beauty or hairdressing service.

Easy to Install & Clean: The installation of this all-black hair cutting salon chair is very simple. We have pre-installed the chassis, pump and foot lever for you, and the complete curved back and seat cushion are more conducive to your cleaning.
Item Specifications:
Type: 6154-8517
Color: Black
Material: PU Leather/Iron
Overall Dementions: 22.8"(W) x 39.4"(D) x 31.9"(H)—38.2"(H)
Backrest Size: 13.4"(H)
Seat Size: 19.3"(W) x 18.9"(D) x 4.3"(H)
Seat Height (adjustable): 20"(H)--26.3"(H)
Base Diameter: 22.8''(R)
Cushion Thickness: 4.3''(H)
Backrest recline angle:109°
Loading Capacity: 440lbs
Gross/Net Weight: 61.3lbs/54.7lbs
Number of Packages (one set):1
About BarberPub:
After nearly ten years of business progress and brand upgrade, BarberPub has been widely recognized by customers. Our goal is to bring customers cost-effective and high-value products with satisfactory experience.