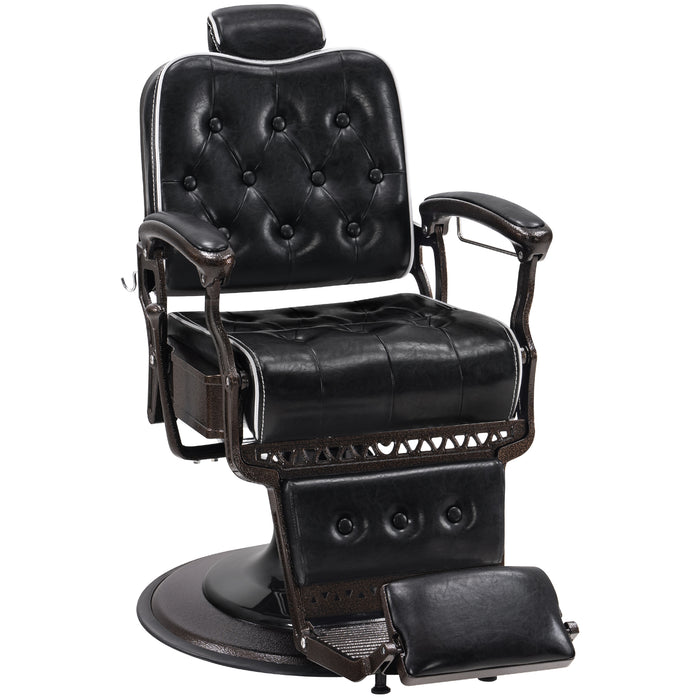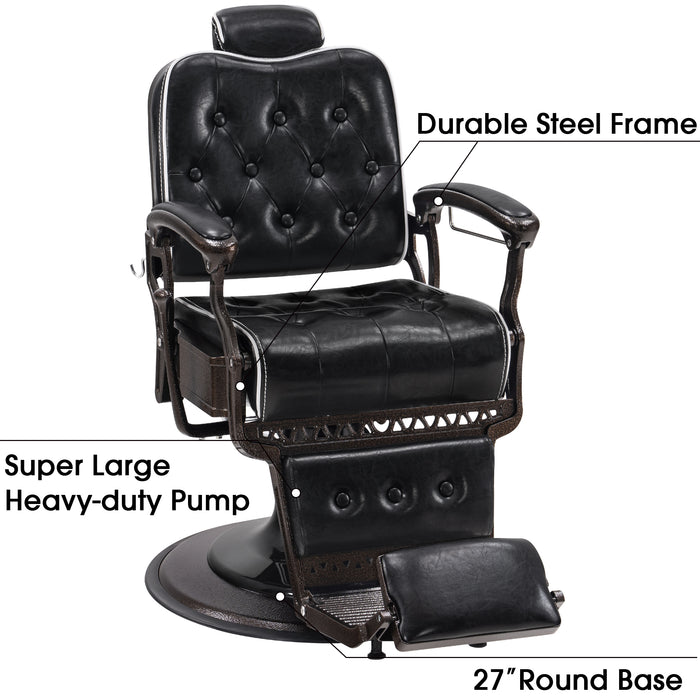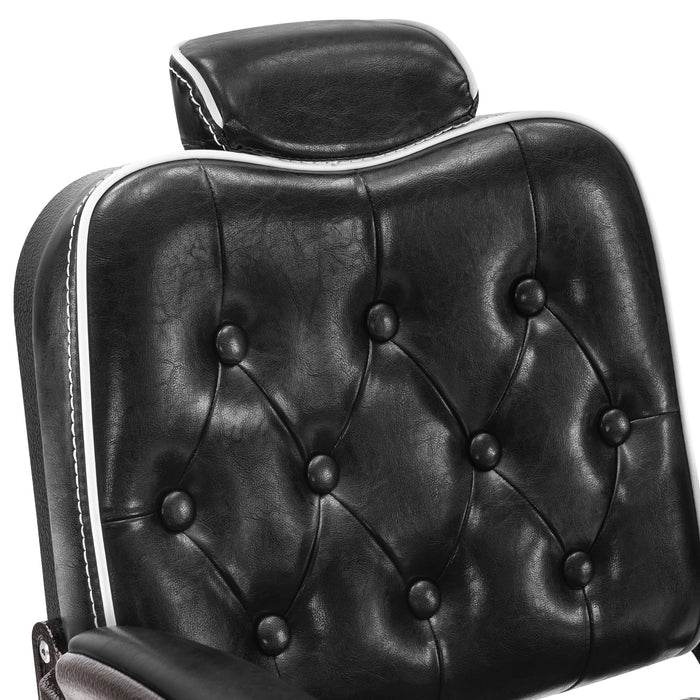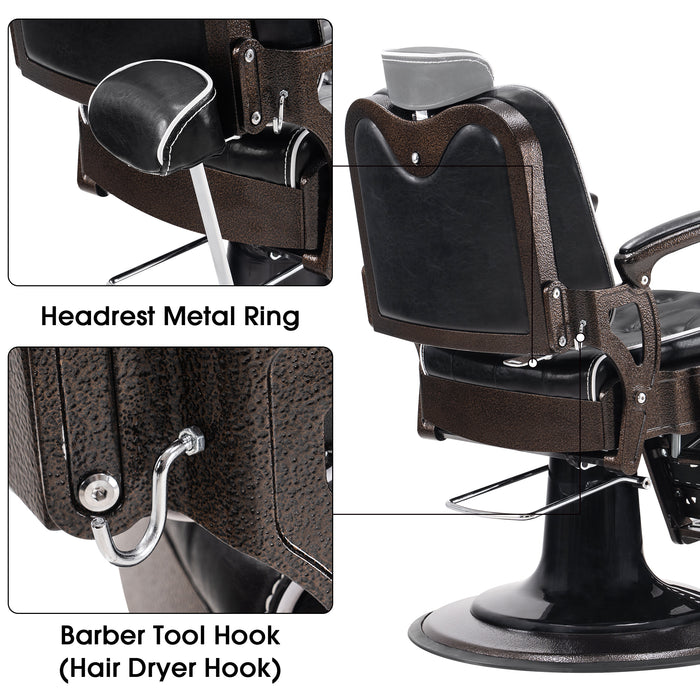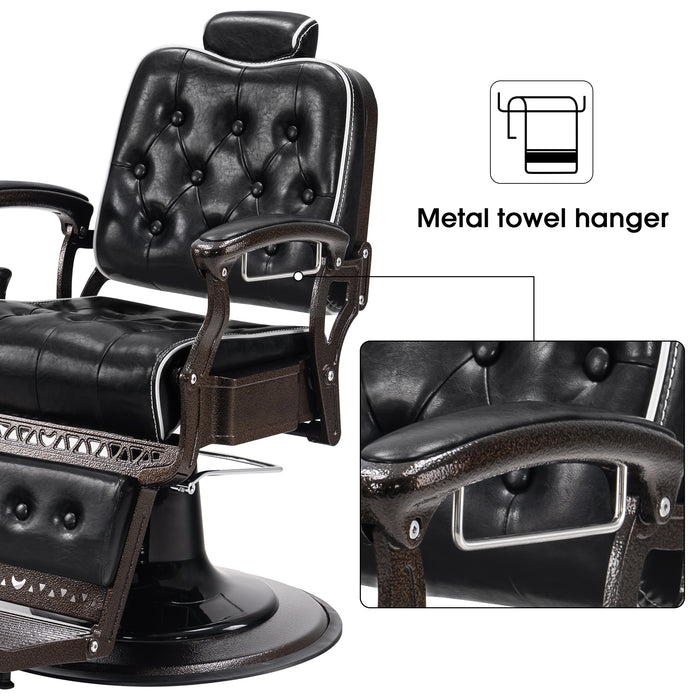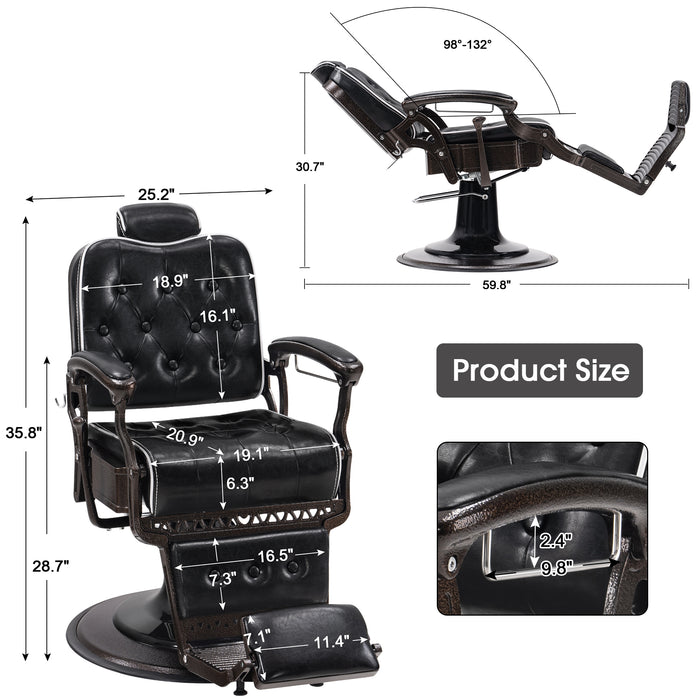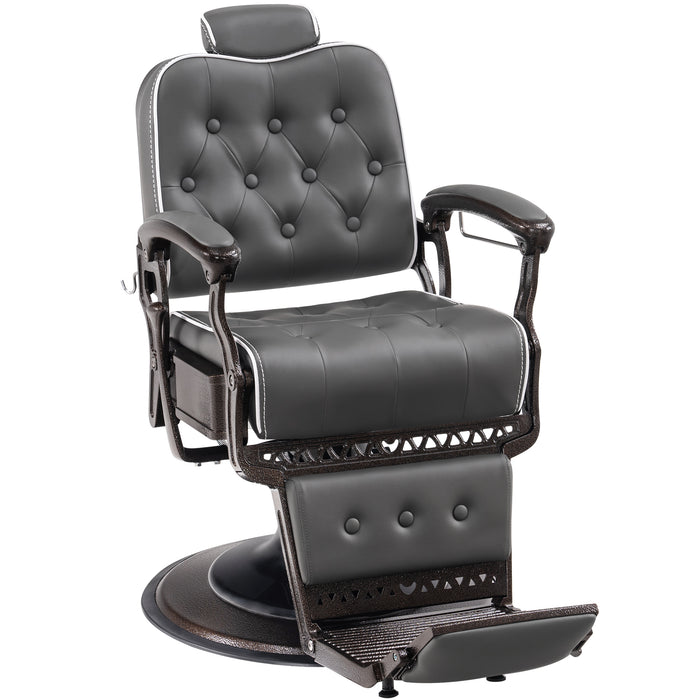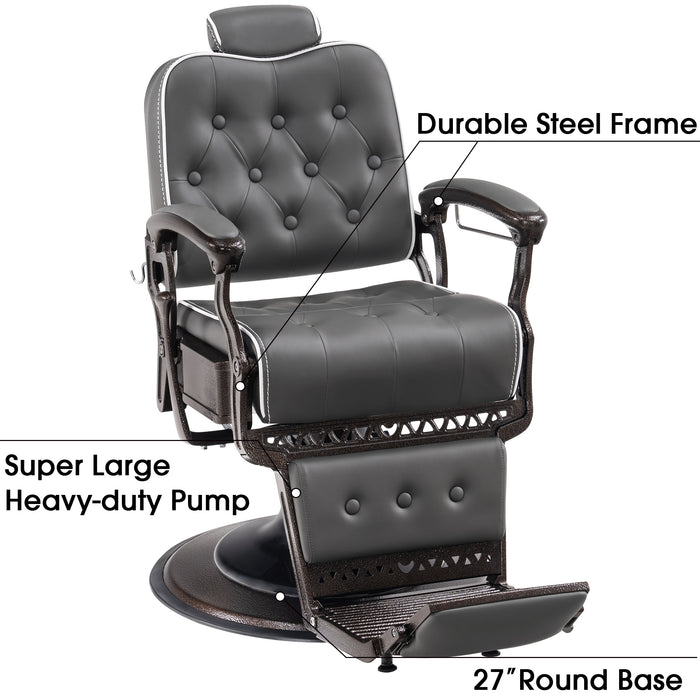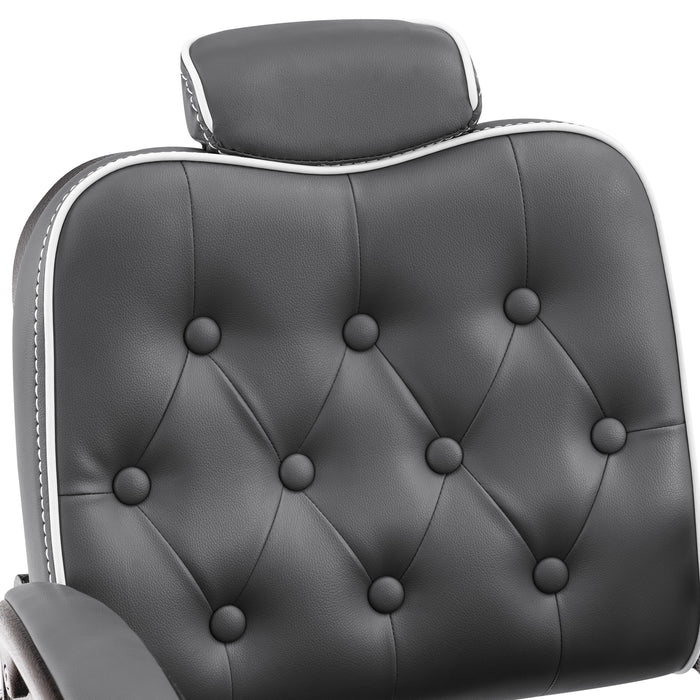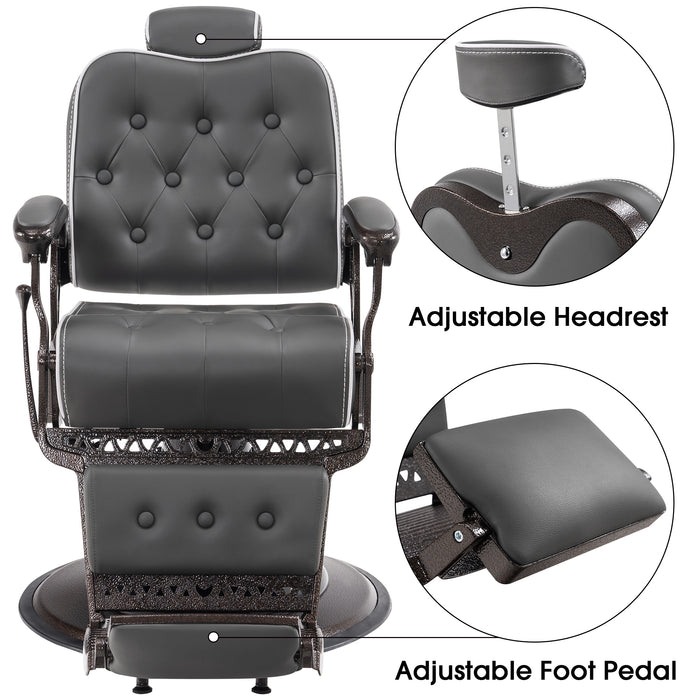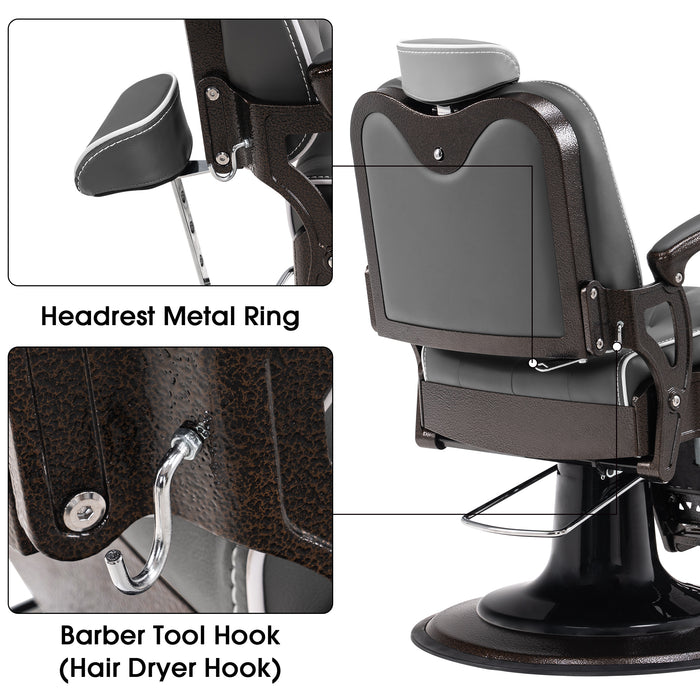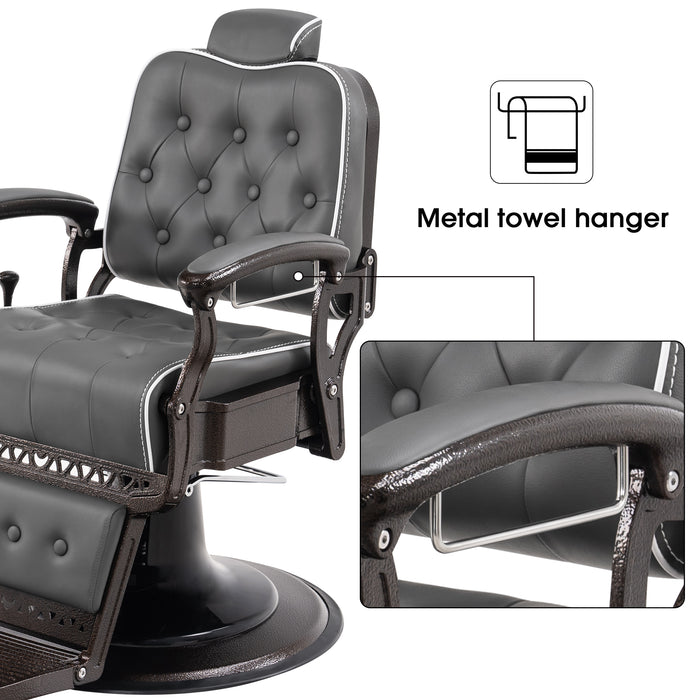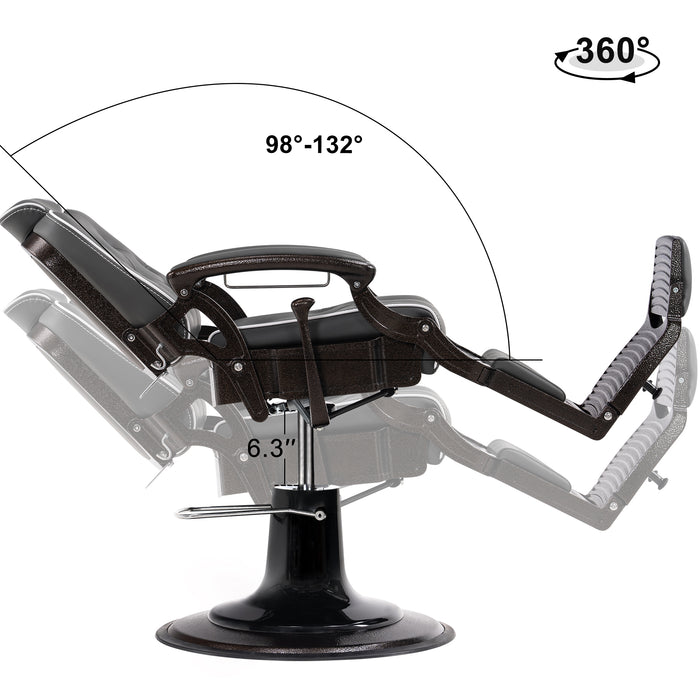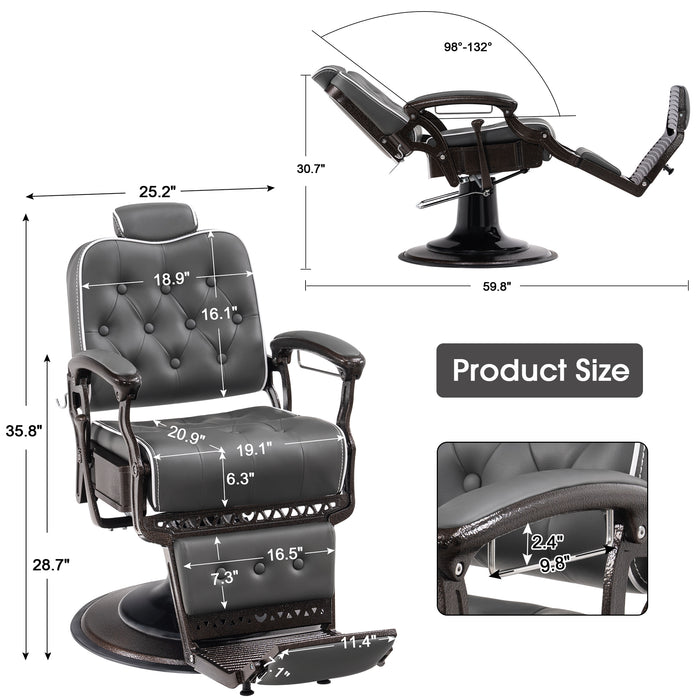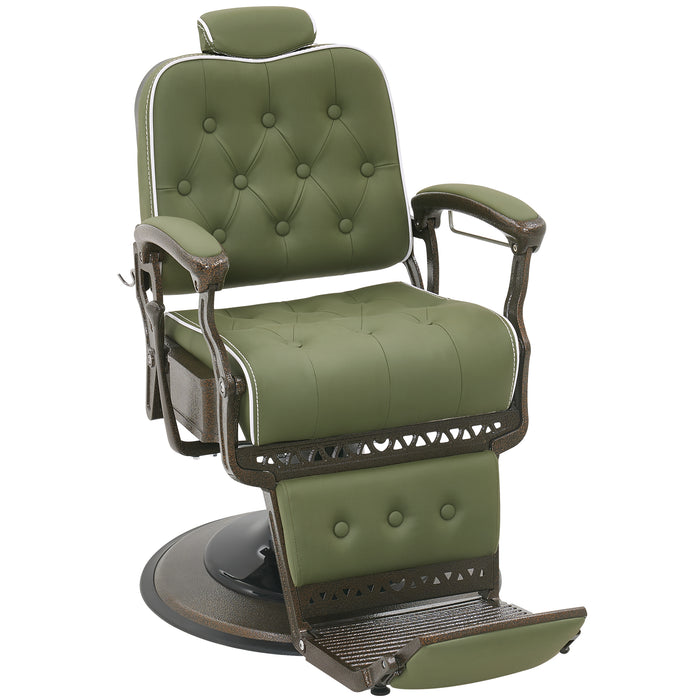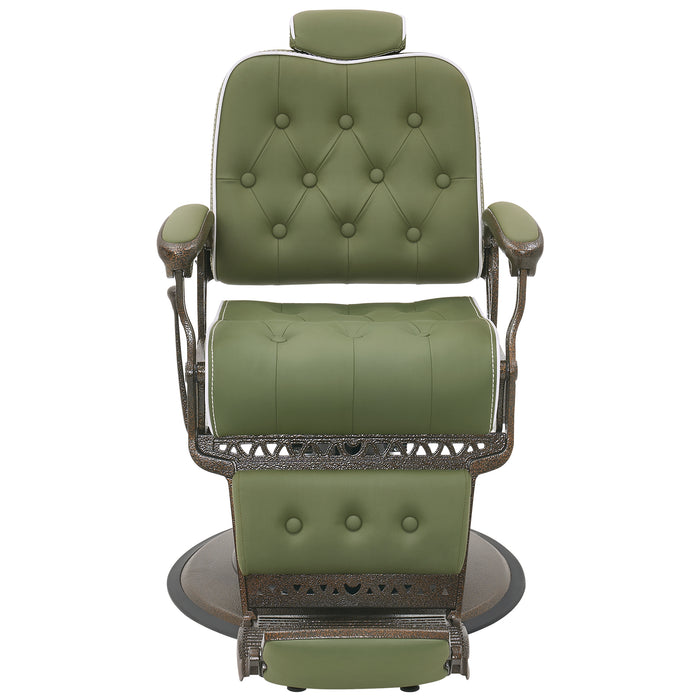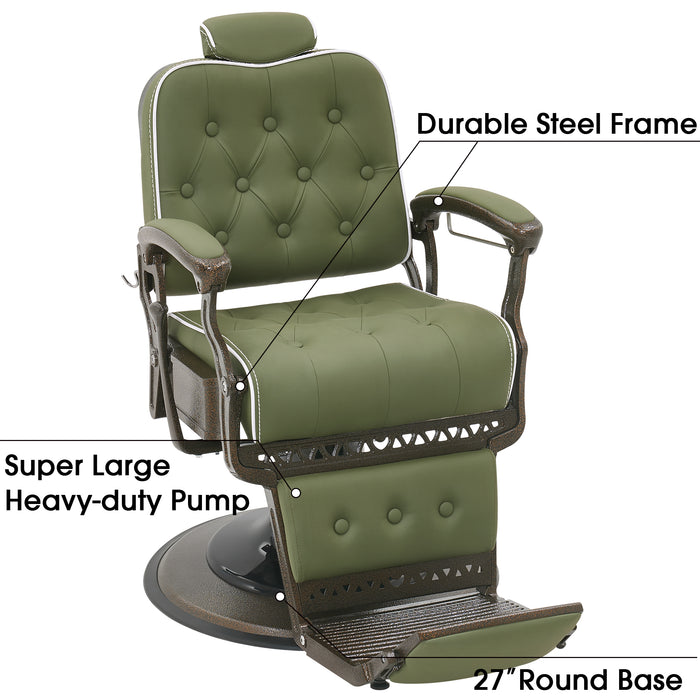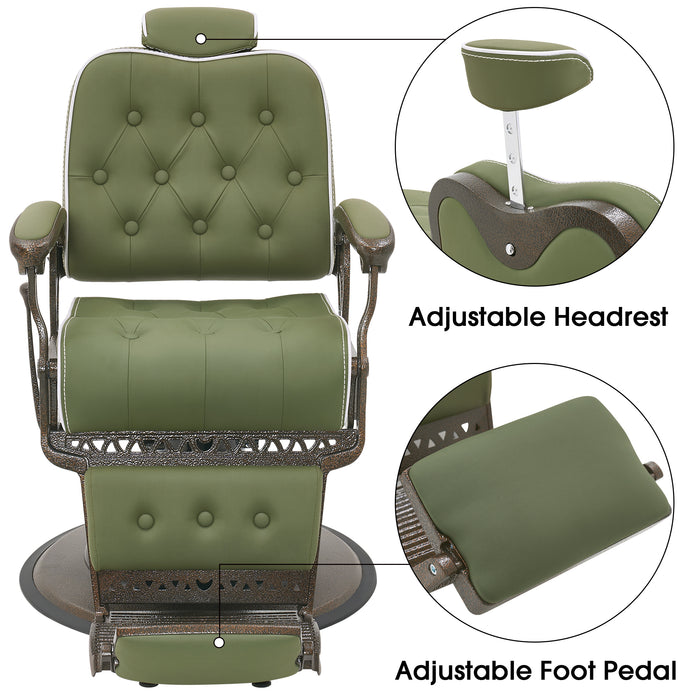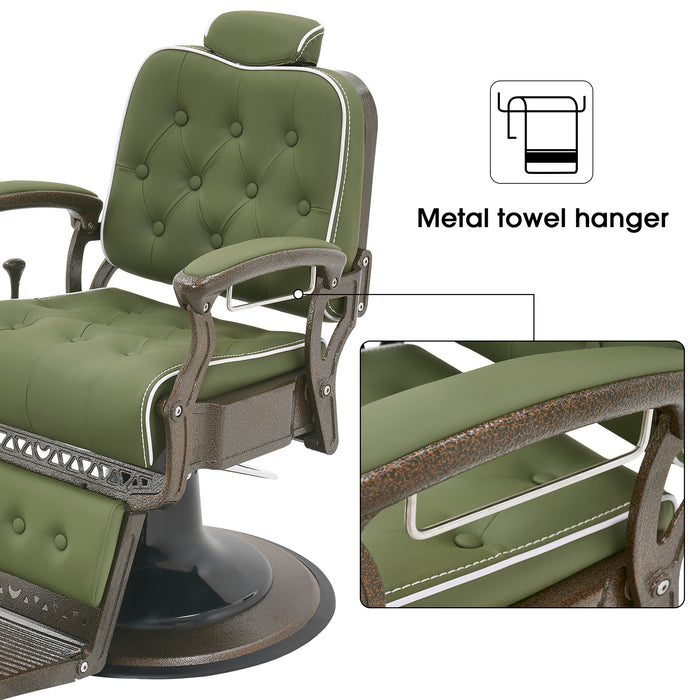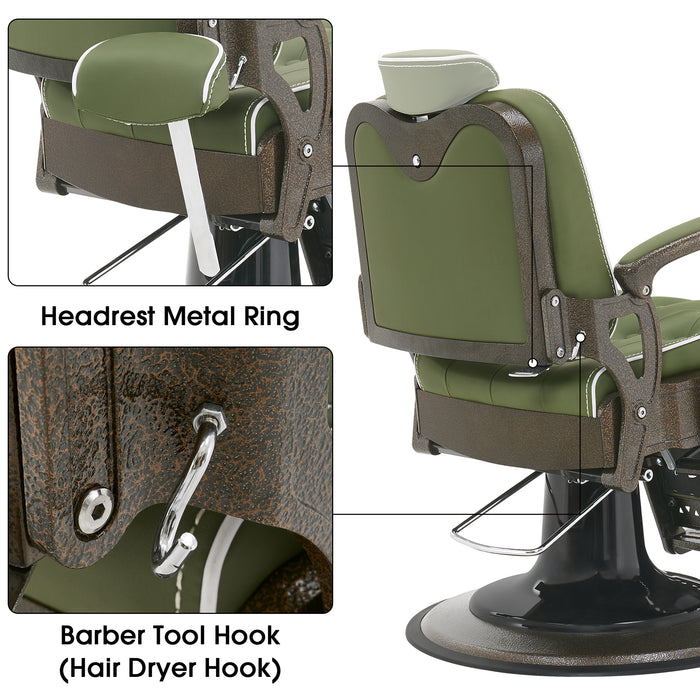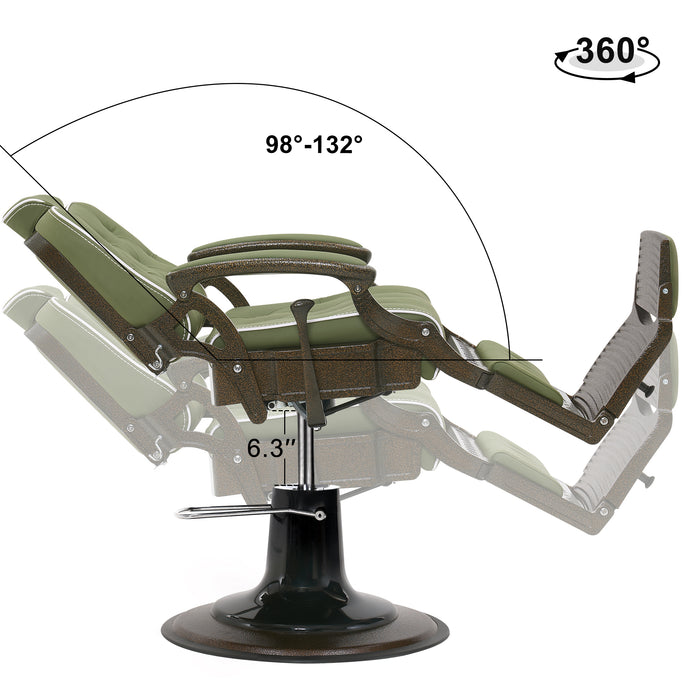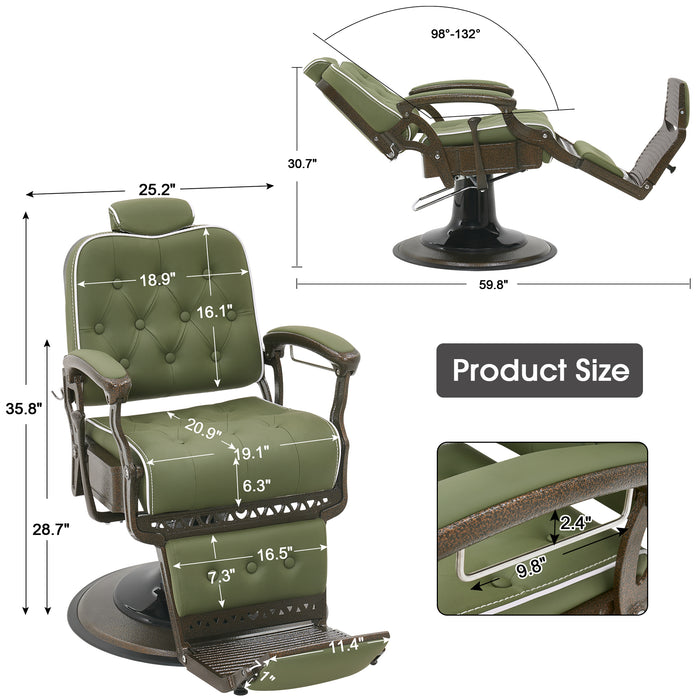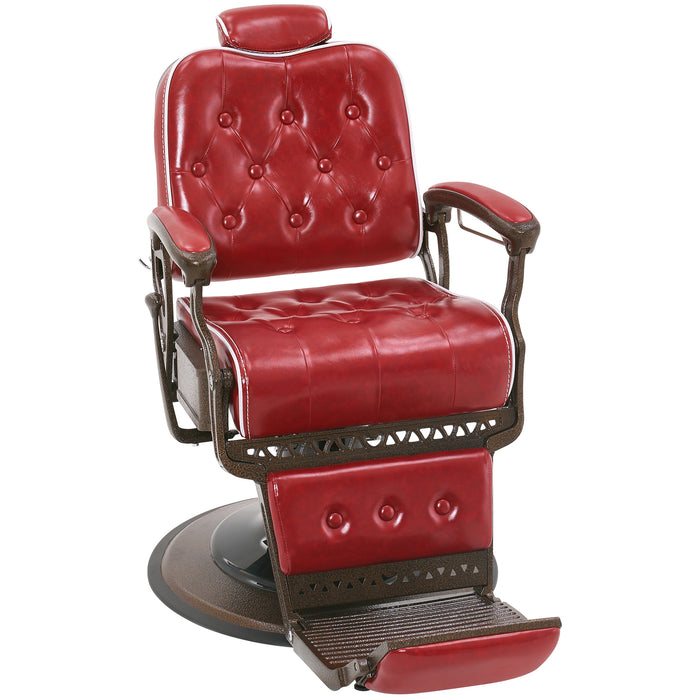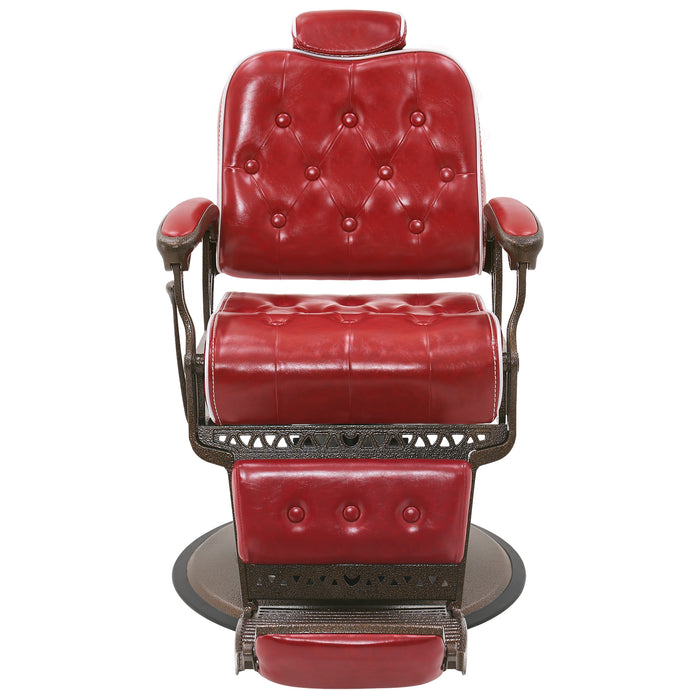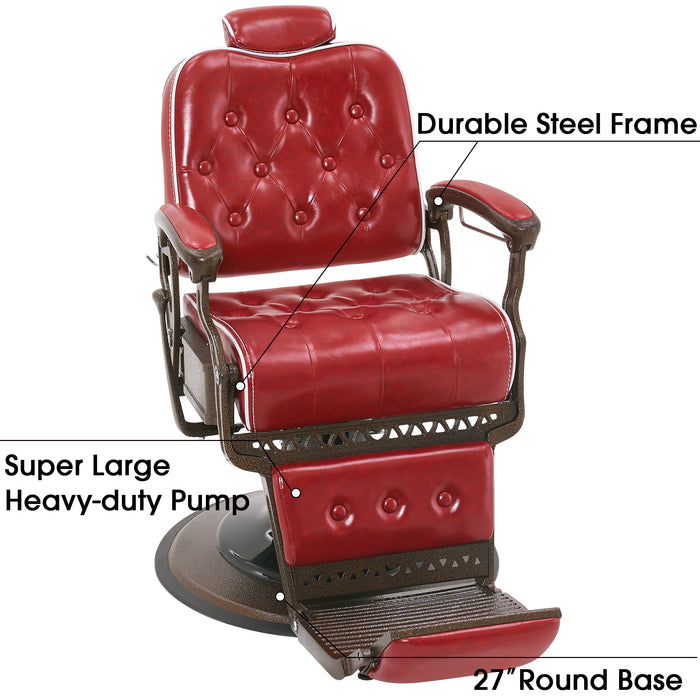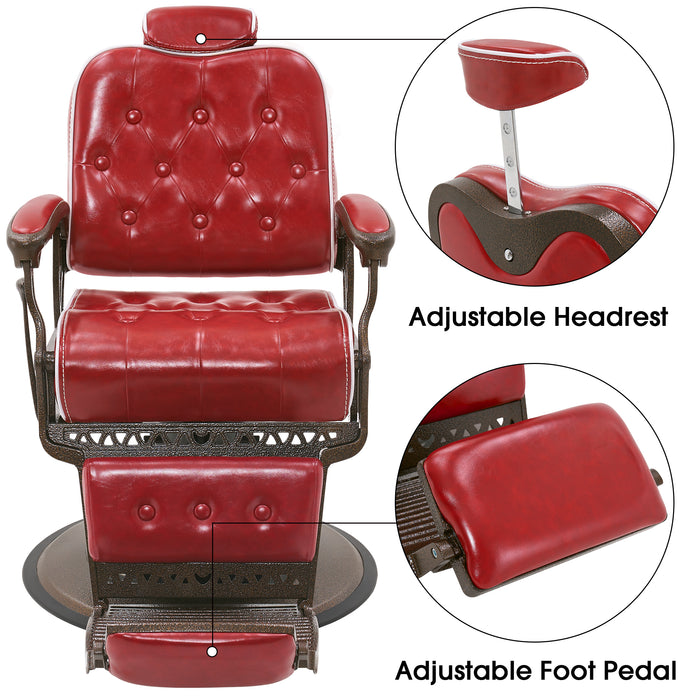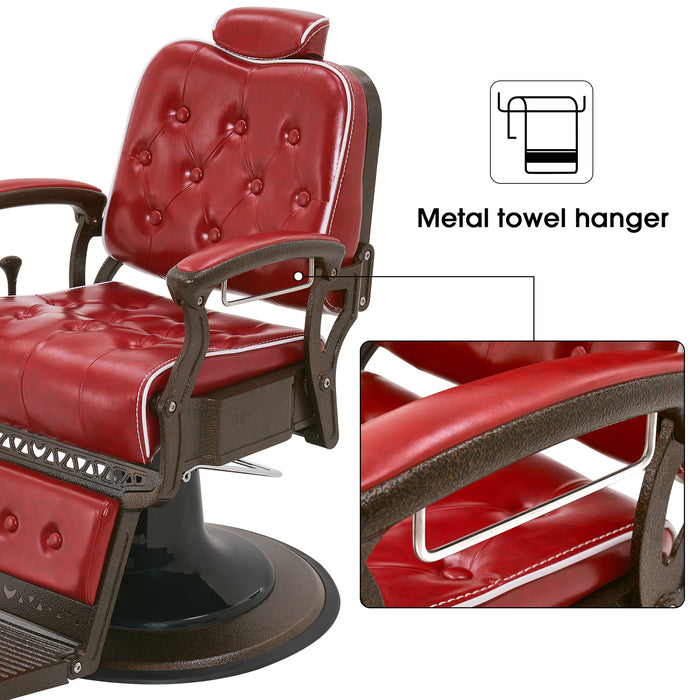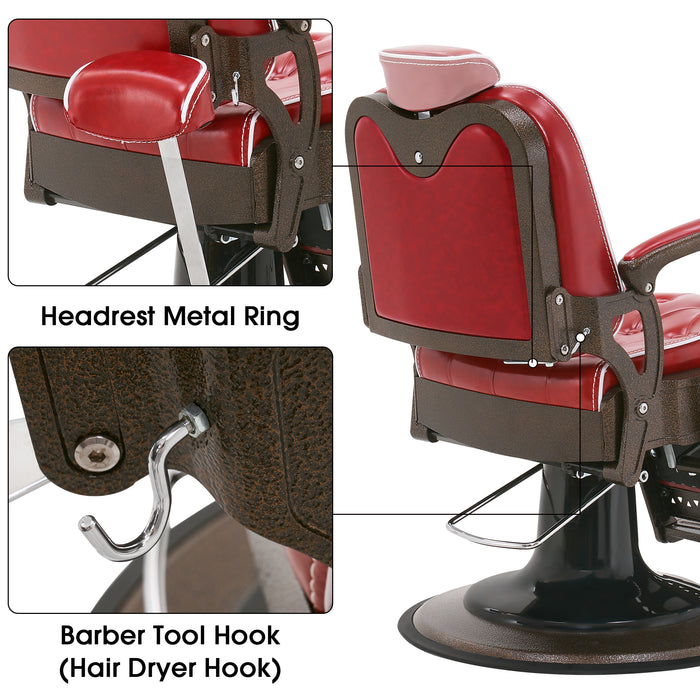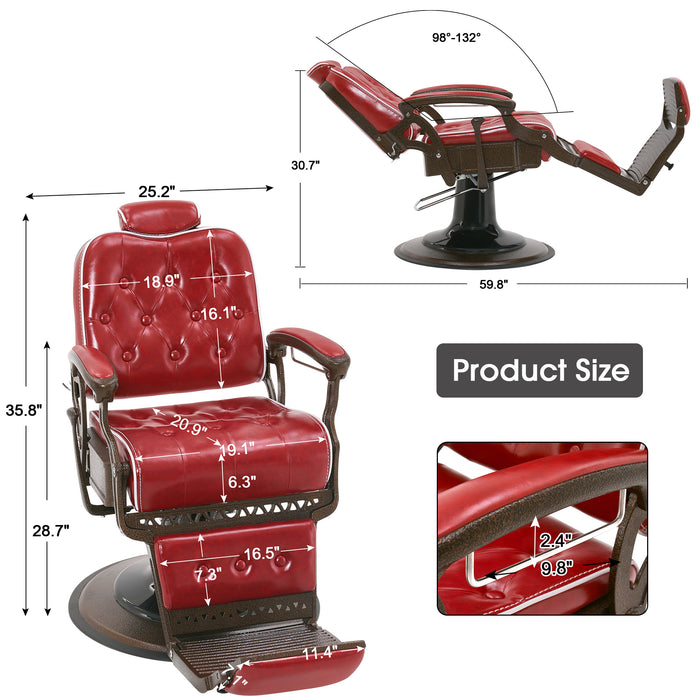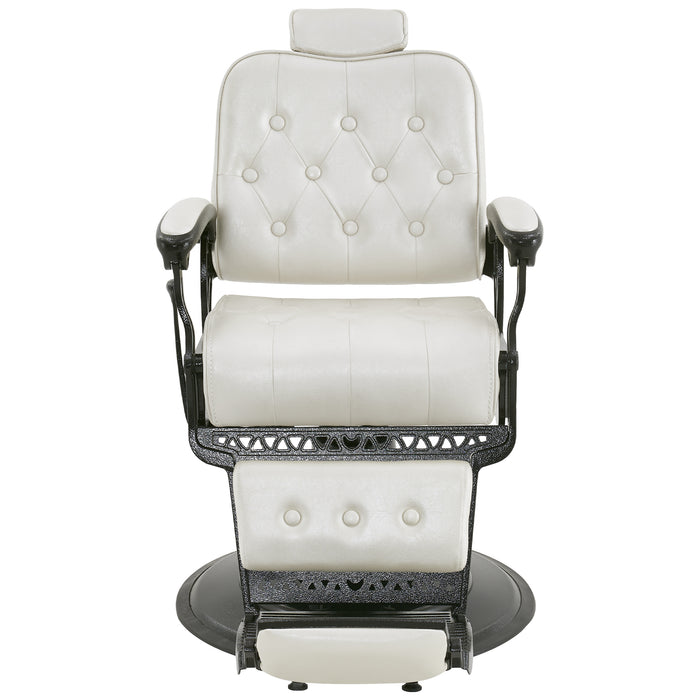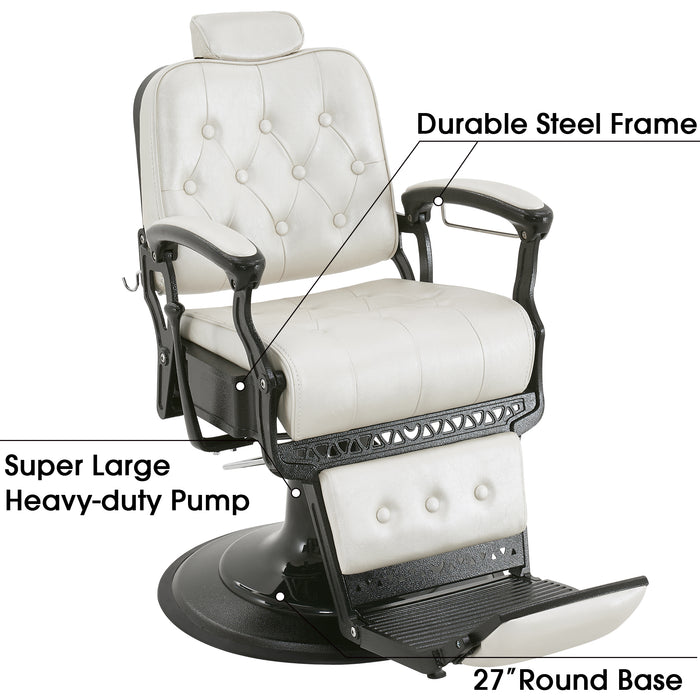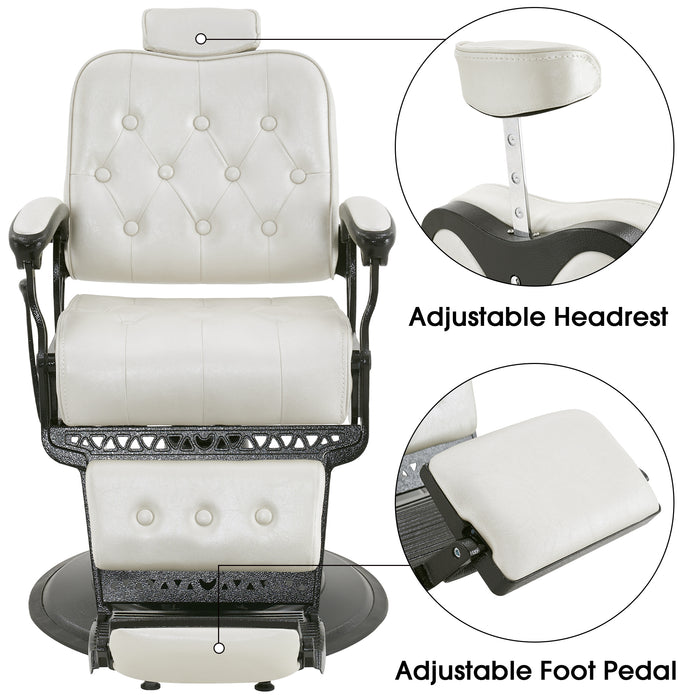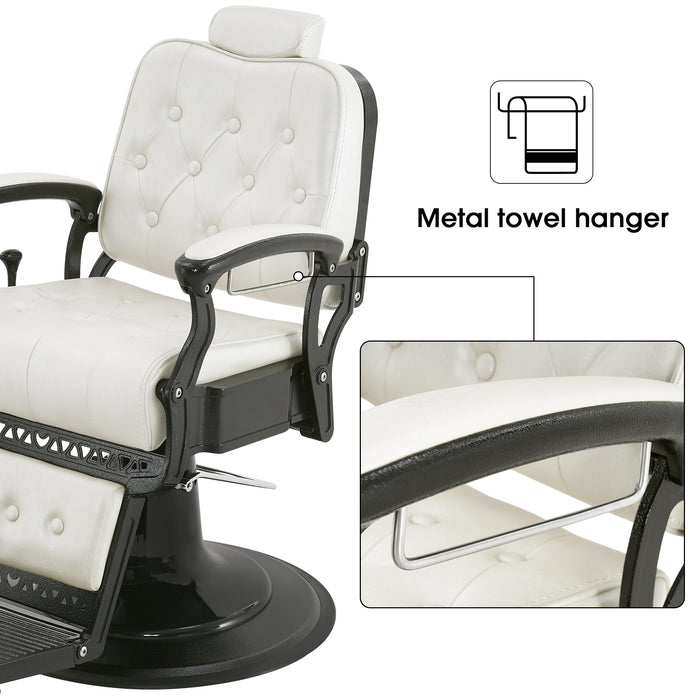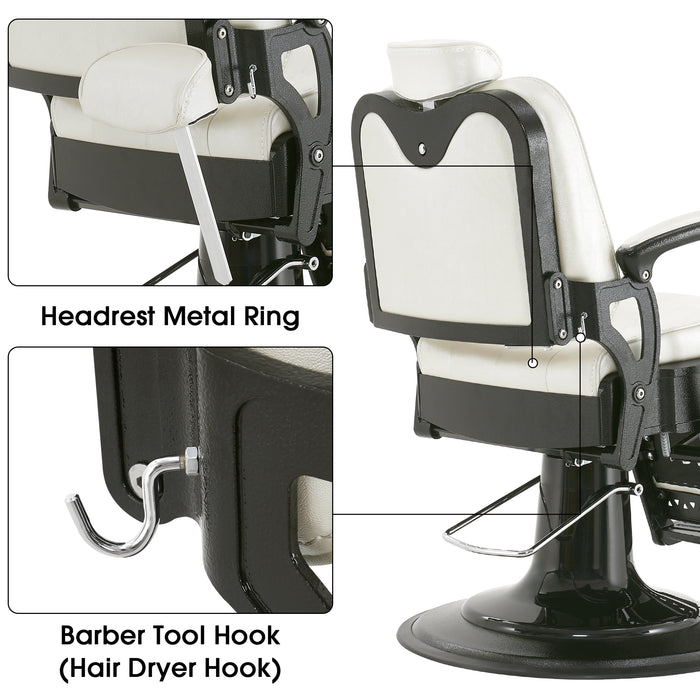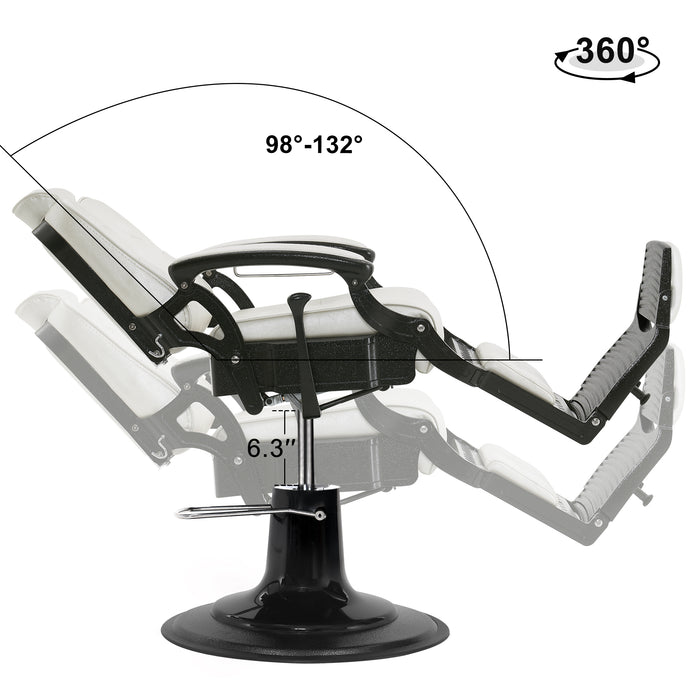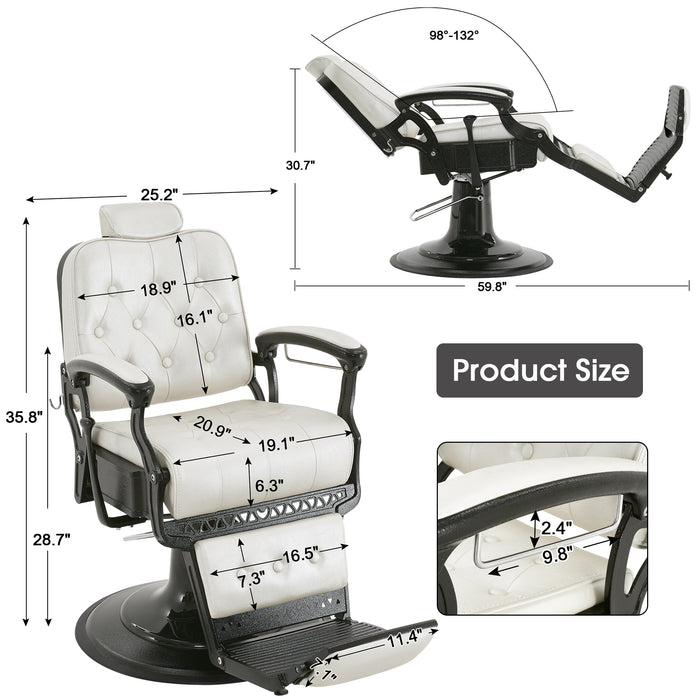 BarberPub Heavy Duty Metal Vintage Barber Chair All Purpose Reclining Hydraulic Pump Salon Beauty Spa Chair Hair Styling Equipment 9218
The White,Green,Red are new optional colors.
Item Description:

This classic retro reclining barber chair has a ultra-wide and high memory elastic backrest and seat.The backrest cushions are designed with diamond pattern and unique buttons, which can provide soft body feeling and firm support with your customer's lower back.The adjustable backrest and leg rest make your barber shop business more diverse and convenient. If you want to make your barber shop more honorable and elegant,this chair will be your best choice!
Item Features:
【Vintage Style&Ingenious Design】This barber chair has a retro classic style, with it your barber shop will become more classic, retro, high-level and elegant.The design of the diamond-shaped backrest and cushion greatly enhances the durability and aesthetics of the chair.
【Rotatable&Adjustable】360 degree swivel with locking mechanism provides versatility and backrest reclines up to 132 degree for a wide adjustment of back position (backrest can be easily adjusted to multiple locking positions by a gas-piston lock & release mechanism).The heavy duty adjustable hydraulic pump can freely adjust the seat within 6.3 inches.
【High-Quality Leather&Functional Diversification】Covered with PVC leather, which is skin-friendly, breathable, wear-resistant, easy to clean, and is also waterproof, scratch-resistant and stain-resistant.Using heavy-duty hydraulic pumps, the maximum supporting weight of this vintage barber chair is 600lbs.Equipped with towel rack, tool rack and a metal ring for the headrest,Detachable headrest, adjustable backrest and foot pedal will bring more convenience to your work.
【Ergonomic Structure】The thick high-density sponge and the button design allow you to sit on it and enjoy the extraordinary comfort. The ergonomic construction can improve the coordination and firmness of the chair while making your customer more relaxed.
【Easy To Assemble&Clean】Removable Headrest,Could Recline. The frame and seat comes PRE-BUILT. The vintage barber chair only needs you to go through a few simple steps to complete the installation. With a dry duster cloth, you can wipe all the dust off of the chair. If this barber chair has hair dye, perm or any other hard to clean items on the surface, a little cotton cloth with a little gasoline would make this vintage barber chair clean. 
Item Specifications:
Type : 6154-9218
Color: Black/Grey/White/Green/Red
Material: Metal Frame/ Plastics /PVC Leather
Back & Seat Fill Material: High Density Sponge
Overall Dimension: 25.2"(W) x 59.8"(D) x 35.8"(H)—42.1(H)
Hydraulic Height Adjustment: 6.3"
Seat Dimension: 19.1 "(W) x 20.9"(D)
Backrest Dimension: 18.9"(W) x 16.1"(H)
Base Diameter : 27"
Loading Capacity: 600 lbs
Gross/Net Weight:152/128 lbs 
Buyer Reading:
Please make sure that the dimensions of the chair meet your needs before purchasing. The frame and seat of our chair are prefabricated.
This vintage barber chair is shipped by freight. Please be sure to provide us with the shipping address of the delivery, including a valid phone number, so that we can be contacted to arrange delivery.
Please be sure to check your barber chair for any shipping damage when you deliver it. If you find any damage to the goods or you have not received a complete order, please indicate it on the invoice when the driver asks you to sign. 
Warranty Information:
Hydraulic Pump: 1 Year
Frame & Base: 1 Year
About BarberPub
After nearly ten years of business progress and brand upgrade, BarberPub has been widely recognized by customers. Our goal is to bring customers cost-effective and high-value products with satisfactory customer service. In order to better supplying our U.S.A customers, we have distribution centers.